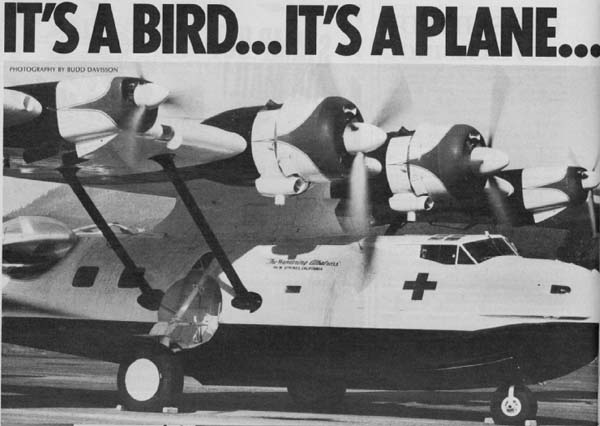 Budd Davisson, Air Progress, May, 1973
---
Four-Engine Catalina cum Innovator
Completely renovating, modifying and generally spiffing up a PBY Catalina isn't a project your average backyard homebuilder is likely to tackle. But Dr. Forrest Bird, an ex-ferry command pilot and aero engineer turned heart-lung specialist, happens to be one of those scientific renaissance men we hear so much about but never meet.
When he's not at his Palm Springs teaching/manufacturing facility, he's either zipping around the country at the controls of his Lear 25 or thinking up some new medical concept at Bird Lodge, his Howard-Hughes-like retreat that cantilevers out over a lake at Sand Point, Idaho. It's about ten miles from the Sand Point airport to Bird Lodge, but his Cessna 185 on amphibious floats makes short work of that trip. (The Cessna has its very own knotty-pine- paneled waterside hangar in the back of the lodge.)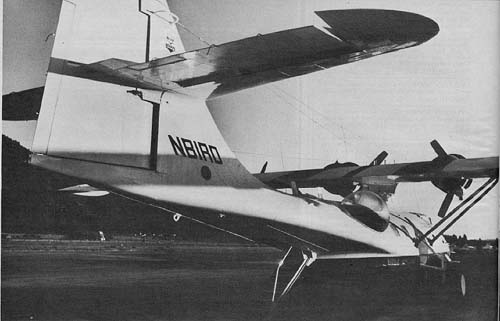 A J-3 on floats is for guests to play with. A thundering old (but very elegant) Howard 500 completes the stable. Which brings us back to Bird's re-building project, intercontinental transportation machine, medical lab-oratory, and classroom-the Bird Innovator PBY.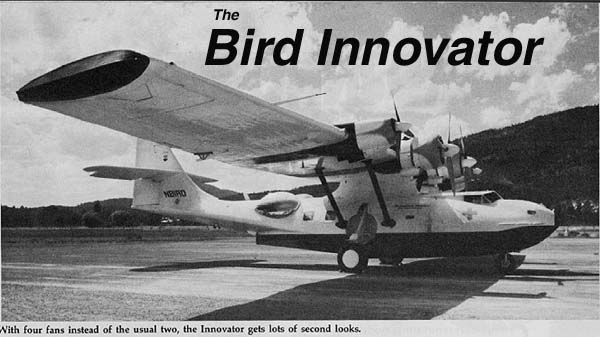 The most obvious and controversial modification is the pair of GSO-480 Lycomings outboard of the R-1830-94 P&Ws. The obvious question is, how can an extra 760 horses help an airplane that already has 2,700? Doc Bird has the answer to that. According to him, the outboard section of the Catalina wing never did do the job, especially at slow speeds. It's so big and rough that the airflow tends to break up prematurely. The contribution of the Lycomings is not to add horsepower, but to act as exotic flow straighteners and aerodynamic boosters for those huge outer wing panels. The slipstream from the Lycomings makes that portion of the wing much more effective and dramatically drops the Vmc with one of the main engines out. They increase cruise speed 20 mph, to a not-too-impressive 150 mph, and drop stall speed at least 5 mph.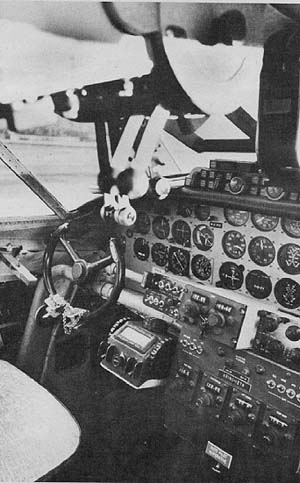 Of course, Bird didn't stop with the engines. PBYs have never been known for their Pitts-like controls, so he added Fletners (flush-mounted rollers at the hinges to retard flow separation) to the ailerons to lighten things up. He also enlarged the vertical tail surfaces, which did wonders for the single-engine control. All of the flight engineer's controls have been moved into the main cockpit so that one pi-lot can handle all the flying.
Since Bird likes to go to South America and Europe and doesn't like airliners, he's enlarged the Cat's fuel capacity to a staggering 2,500 gallons-good for about 20 hours and 3,000 miles at 130 gph. It has a stainless-steel galley and shower complex and if the passengers should get tired after a day aloft, the Innovator sleeps four.
In many ways, Doctor Bird looks at the Innovator as an aerial classroom, as well as a research platform. The aft galley and observation bay are completely equipped for almost any type of surgery. Cathode-tube-monitors, pressure gauges and stainless-steel hospital hardware abound. It's perhaps the best-equipped and most mobile emergency/rescue craft anywhere---it even carries its own rowboats under the wings. The entire interior of the airplane is lined with stainless steel and it has it's on onboard steam generating unit which is used to sterilize the entire inside of the airplane. When the open-heart surgery is being done in the blisters, observers can stand on rails on either side of the fuselage to watch the proceedings. Pretty wild, huh?
You can buy engineering drawings and STC rights from Dr. Bird, if you're so inclined. Where else can you get a transcontinental operating room that sleeps four and scares the hell out of lineboys?