NOTE: If you want to tell me I'm full of crap
SEND COMMENTS TO webmaster@airbum.com :
Quote of the Month: May
A man can never have too much red wine, too many books, or too much ammunition.
– Rudyard Kipling
11 May 2013 — Kid Brother
I absolutely did NOT intend on writing this. I'd already posted a piece full of politics and bull sh*t. Then the country song "This is what Brothers are For" came on the radio and I suddenly welled up, tears started running down my cheeks and I sobbed like a baby. And still am. Goddamn I miss my brother. Dammit!

It'll be 28 years in November. Today, he would have been 69 years old. My kid brother would have been a senior citizen like me. But, he was a young, vital 42, when we lost him. And that's how I picture him. He had this crazy resemblance to Tom Selleck and once in a while, we'd be walking down the street and girls would lean out a car window, "Hey, Tom… lookin' good!" He was 6' 3" embarrassingly good looking and the kind of a person that became a friend of anyone who talked to him for more than about two minutes.

Brother or not, I've never met anyone like him in my entire life. A psychologist by nature, as well as by training (a practicing PhD), he was just the kind of person everyone on the planet willingly welcomed into their life almost as soon as he opened the door. He was the very definition of "good guy" and you sensed it in the first 30 seconds or so.

But, he was probably fated for an early departure from the beginning. Early childhood diseases said he wasn't supposed to make it past 10 years old, but he more than over came that. He was a natural born athlete in all sports and was actually scouted by major league baseball teams. But his head went another direction. Hence the PhD. Hence the service with the Phoenix court system as their child psychologist. His interest was people. And helping them. He'd followed his natural make-up into a profession.

Funny! It's not until just this second that I realized that technically he was Dr. Davisson, but not once in our lives did I ever hear the term used. He was just Gary, the guy who was here to help in anyway he could.

But, no one could help him.

First, he contracted a nearly fatal case of Valley Fever, one of Arizona's best kept secrets. Usually benign with passing cold or flu like symptoms, when it gets into your blood stream it becomes very serious, very quickly. And that was him. At the time he was helping terminal cancer patients using bio-feedback to fight their disease. He couldn't work, so he closed his practice, climbed into his Chevy van and hit the road, seeing the world and using his own feedback concepts on himself. And it worked. But I remember him telling me in a quiet moment, "If you have a choice, don't ever be alone. Ever!" The months as a road gypsy sound romantic, but they weren't.

Then he met Betsy and he became complete. He was a fantastic father to her kids. But life caught up with him late one night and I got the call at 2:30 in the morning. He was gone. A major heart attack took him in only a few minutes. Betsy holding him as he left. So, he wasn't alone. That's important. Very important!

I was in shock. The next couple days were a blur of airlines, cities and memorial services. NJ to AZ. Memorial service. Then I was entrusted with his ashes to take to Nebraska for internment next to our folks' plots. But he got there before them. The ultimate pain for a parent. I carried him in my clothes bag on the airplane andtalked to him all the way.

Every time I'm back in Seward, I stop by to see him. I sit on the grass next to him. And we talk.

Only God knows how much different my life would have been if his hadn't ended. But at least we had each other for the time we had. They were glorious years. And I'm thankful for them.

But, damn it hurts! Still, I hope the day never comes that I don't unexpectedly have these tears coming down my cheeks. They mean that somewhere within me, he still lives. And just knowing that makes the pain worth it. bd


4 May 2013 — Catching up on Current Craziness
Until last Friday, I was out of touch with the cyberworld for well over two weeks. That also means I was out of touch with the world in general. These days, when electrons stop doing their thing, you totally lose touch. And let me tell you, when you try to catch up, it's painful. Especially on the news front.

Take my advice: don't ever try to catch up on two or three weeks of news in a single sitting, as I did when sifting through nearly 3,000 backed-up e-mails. It'll cause brain damage. Just in case you missed some of them, here are a few highlights I ran across. This is only about a weeks worth. I've attached attribution for most, but I haven't taken the time to verify them all, so take them what they're worth.

I've put in the entire link so you can cut and paste them in case the links don't work.

Is this a sweetheart deal or what???
It turns out that the US Government has entered into a contract with a single firm to sell 56 buildings that currently house US Post Offices. The buildings are surplus and the sales will bring in billions of dollars. But millions of dollars in commissions will also be paid to that firm. The firm is chaired by Richard Blum. Know the name? He's the husband of Senator Dianne Feinstein. Hmmmmm! She's also the one who is trying so hard to disarm us.
http://www.dailykos.com/story/2012/12/01/1165912/-Selling-off-the-Post-Office-Berkeley-calls-out-Richard-Blum
Urban Legends says it's true at:
http://www.snopes.com/politics/business/blum.asp

And Then There's Boston
It's hard to believe it has been three weeks since the Boston bombings. During that time we've seen the best and the worse of government in action. I'm personally blown away by how good of a job the FBI did in figuring this thing out so quickly. At the same time, I'm disgusted by the obvious intervention by top levels of the government. Something smells in this one. Regardless, here are some good points about the incident. However, every day we hear something new, so even though this is less than a week old, read it in the context of what we know today.
http://theconservativetreehouse.com/2013/04/27/occams-razor-robert-bob-baer-and-the-tsarnaev-boston-bombing-plot/#comment-379473

A Less-than-hopeful Note about Economic Take-over
This is from Forbes, not a super-right wing wacko source. Forbes may be conservative, but in an intelligent sort of way, so it's worth reading.
http://www.forbes.com/sites/jimpowell/2012/04/29/obamas-plan-to-seize-control-of-our-economy-and-our-lives/

Napolitano says Prez Can Pick the laws he Wants to Enforce
It just keeps getting better. Her comments are based on the below, which would appear directly opposite to what our founding fathers (and the population) think was/is right.
http://www.breitbart.com/Big-Government/2013/04/24/Big-Sis-declares-Obama-has-power-to-pick-which-laws-to-enforce-as-immigration-bill-would-grant-admin-more-authority.
Also, http://www.justice.gov/olc/nonexcut.htm.

An Interesting Look at "W" Bush That I Agree With
Although I didn't always agree with "W", I've never thought of him as being anything other than a worthwhile human being who was doing what he thought was right for the country. And I've seen no one since Reagan that I would have rather had in the saddle after 911 than him. http://fullcomment.nationalpost.com/2013/04/26/charles-krauthammer/

We're Buying Russian Helicopters to Give to Afghanistan
HE promised Vladimir Putin, through Medvedyev, that he would have more flexibility after the election. This is part of it. While the United States Air Force is grounding 17 squadrons because of $591 million dollars in budget cuts, we have the money (borrowed from China) to give Afghanistan $700 million dollars in Russian, not even US, helicopters. Shall we talk about unemployment, Mr. Prez? As Beck says, my head is going to explode!
http://en.rian.ru/military_news/20130405/180451358/Pentagon-to-Buy-Russian-Helicopters-Despite-Ban.html

You May be Penalized for Saving too Much?
The Obama administration is now officially proposing (I haven't verified a source on this) that no one be allowed to save, via IRAs or 401Ks, more than $2.7 million. Financial experts and Wall Street annalists are expecting this to lead to confiscation, one way or another, of retirement funds invested through IRAs and 401Ks, in excess of that $2.7 mil number (cause the government "needs" money NOW). They appear to be patterning it on Canada's proposed system. See http://www.globalresearch.ca/the-confiscation-of-savings-in-canada-cyprus-style-bail-ins-proposed-by-ottawa-government/5329263.

And Don't Forget Syria
This is a helluva good analysis of the Syrian situation and why we shouldn't get involved. It's from Stratfor, which is a non-partisan global intelligence/research group. Good information to have in your back pocket should BHO start talking about backing up his "red line" boast. This one would be messier and more costly than anything we've seen since Vietnam. In my book, you stay out of civil wars.
http://www.stratfor.com/weekly/redlines-and-problems-intervention-syria.

Finally one of HIS Teaching Associates Speaks up
This is just me passing along info that I think is vaguely entertaining and not surprising. http://clashdaily.com/2013/05/chicago-law-prof-on-obama-professors-hated-him-because-he-was-lazy-and-unqualified/#ixzz2SEijOrHu.

And Now for Some Pleasant Stuff
As if to balance off all the BS that arrived during the week, this showed up this morning. If you skipped all of the above, watch this one. It'll make your day.
http://www.theblaze.com/stories/2013/05/03/let-this-compilation-video-of-good-deeds-caught-on-dashcams-restore-your-faith-in-humanity-today/

This is a good one too, but don't watch it without some tissues handy. It's guaranteed to touch you.
http://www.theblaze.com/stories/2013/05/03/must-watch-wife-of-slain-navy-seal-chris-kyle-gives-heart-wrenching-speech-at-nra-event/

Have a good week. bd
27 April 2013 — Time, Technology and Grand Kids
To those of you who dropped me a note over the past week to check on whether I was vertical or not, thanks. It's nice to be missed. However, I've been MIA because I found that just when you've figured life out and survived, technology sneaks up and smacks you in the butt.

The reasons I've missed talking to ya'll have nothing to do with fire, pestilence or plague and everything to do with time and less-than-helpful electronics.

First, I had to travel to Florida for work (okay, so it was Sun 'n Fun, but I was still working). I came home on that Friday at 6 pm and both of my kids, my grand kids and my ex-wife and her husband showed up an hour later for a week, so it was a busy two weeks.

Just to calm your nerves: yes, you read that last sentence correctly. My ex-wife and her husband came over with my daughter and granddaughter. Further more, we had a great time. As we always do. People find it strange that Marlene and my ex get along so well. Even better, I get along with her and her husband great too. We're actually friends and laugh our butts off together. It just seems natural, although at the beginning it drove my kids nuts to see us together that way. Now, that's just the way our family functions. No big deal. I figure, hey, we share two kids and well over 25 years of memories and that had to be based on something worthwhile, so we saved that "something" and have gotten on with our lives.

As it happens, the four days everyone was here was the first day of any kind that I'd had off in 2013 and it had some really strange moments. There we were. with the exact same herd of loved ones we travel with when we spend the grand kids' spring break in California. And just like when we go see them in LA, we hit all the tourist spots our own area had to offer, ate at all of the fancy restaurants in all of the fancy parts of town and generally rooted around in parts of Phoenix/Scottsdale we almost never visit.

It is a tradition that when The Tribe gets together, we wind up traipsing from mall to mall (all of them outdoors in the sun…it's either LA or Phoenix, remember). And eating yogurt (for me). And playing arcade games. We generally cruise from place to place in a car caravan looking for what can be found. Nothing in particular. We've done that so much in LA (this was a first for Phoenix) that, as I was dragging my sagging butt through yet another women's clothing boutique, it suddenly dawned on me, "Hey! When this is over, I don't have to drive seven hours across the desert to sleep in my own bed. I'm already home!" That realization hit me at least three times at different points in the non-trip and I was lovin' it. Plus, we experienced parts of our hometown we barely knew existed. It was a trip-of-discovery for all of us and a helluva lot of fun.

One of the downsides to essentially being a gypsy in the way I make my living is that the "job" is never more than a thought away, regardless of where I am or what I'm doing. Magazine deadlines, articles, blogs and such are constantly whispering in my ear and taking tiny bites out of me. So, right at the beginning, late at night and early in the morning, I'd try to be sitting here trying to stay on top of my "real" world so I wasn't going to get hit by a landslide, when everyone left. Then the technology jumped up and bit me big time: my computer refused to compute. Microsoft Word wouldn't word. And PhotoShop wouldn't shop.

When I was on the road, I couldn't get my e-mails and found it was because my main computer was still on and was downloading them before my laptop got 'em. So, when I found my computer was dead, for all intents and purposes, I was dead too. I couldn't get at my e-mails, the Website was hidden behind the dead eye of an equally dead computer and only my laptop kept me more or less in touch with my world. In total, it turns out my computer was down for something over two weeks in addition to the travel time.

I got my Mac Medicine Man down here a couple days ago, found the problems were minor (except that one monitor actually was gonzo, so I'm down to one monitor…how Jurassic is that?!), got back on line and then sat there for about a half hour while my server vomited 2,992 e-mails (that's not a typo, nearly 3,000) into my in-box. AAAAARRRGGH!

One image in my mind made all of the hassle worth it: it was dark and we were all sitting on benches next to a sculpture in front of a PF Chang's eatery. The sculpture was probably two-stories high and, when you walked into it, you were standing inside a roughly pyramid-shaped area made of mirrors that somehow picked up the starry sky outside and reproduced it overhead inside the tip of the pyramid. Music, mostly rock and roll, was pumped into it at a tasteful level.

I watched as my three-year old granddaughter and all-around amazing organism, Alice, walked inside the sculpture and discovered the reflected images surrounding her, the stars overhead and, most of all, the music. She started weaving, then turning, then bouncing to the beat.

She then broke stride, ran out to the rest of us and started yelling, "Come on, whole family come and dance, come on!" She continued to taunt us as she returned to the sculpture to dance. In a few seconds the entire tribe, which ranged in age from three-years to 70-plus, with almost every decade in between represented, was a compact mob gyrating to the music inside a mirrored pyramid in front of a Chinese restaurant on the busiest, most up-scale corner in the fifth largest city in the country. Most of us danced like idiots, our dancing skills hidden beneath years of rust and self-consciousness. And you know what? It felt good.

So, I'm back and I have a lot to talk (complain) about.

A huge amount has happened in the last couple of weeks (obviously) including amazing statements and actions by the federal government. Next week, as I get ahead on the magazine deadlines, I'm going to try to get my head around all of the monumental stuff that took place in recent weeks that was lost in the media circus created by the Boston Bombings and do a quick summary. That'll be for my own information as much as anyone else's.

So….he's back (picture Jack Nicholsen's crazy grin). bd

6 April 2013 — Life is All About Editing
I don't think life is about DOING things right. I personally think it is all about MAKING things right after you screw them up. I think it's about developing the skills required to recognize a mistake, admit that it's a mistake, and then correct it as quickly as possible. This applies to just about everything we do in life.

When I'm flying with a student, for instance, I really don't worry if he is having trouble and makes a lot of mistakes. That's part of learning. What I'm watching closely is his ability to see those mistakes and correct them before they become serious. In fact, that's the way I personally fly and how I stumble through life: I'm not naturally good at doing anything, absolutely nothing. However, I've raised the skill of correcting mistakes to a higher art form and I consider that more important than not making the mistakes in the first place. Of course, that could just be me rationalizing the fact that I'm such a klutz at doing so many things.

When I look at life, I see it as one great big paragraph that needs continual editing and God knows, I do enough of that. No one would believe, for instance, how many times I have to go back over what I've written, pushing the words around so they make more sense. I'm not one of those magic wordsmiths that can sit down at a keyboard and the prose flows out in thoroughly logical form with grace and nuance imbedded in every line. Nope, there are times (this is one of them, btw) that I'm continually going back to re-read a sentence or paragraph and saying to myself "What the hell was I thinking, when I wrote that?" I know lots of guys who hit it right the first time the words flow through their brain, but I don't think that's the majority of people.

Incidentally, the reason some people have trouble writing is that they sit down at the keyboard and decide to "write." They change their normal mode of communication into something that's stilted and not them. My advice is to just sit down at the computer and "talk" through your fingers. Just talk. Don't use phrases or words you wouldn't use in normal conversation. There are only so many Richard Bachs, Ernie Ganns and John D. MacDonalds (look him up, the best wordsmith of the 20th century) and we ain't them. Just talk. Don't write.

That having been said, unless you're one of the blessed few that can throw words on paper and they're right every time, go back and edit the crap out of what you've written. Read a sentence and, if your eye trips over something and goes back a few words, something is wrong. Move a few words around until your eyes flow across the page uninterrupted.

The concept of editing applies to the workshop too. I've been fortunate to be close friends with a couple of world-renown craftsmen, mostly blackpowder rifle guys (the late John Bivins, for one.). And one of my close local friends restores older exotic cars for a living (mostly XKE's, Ferraris, Lambo's, etc.). I've endlessly studied the way these guys do things in the shop because I never see them junk a part and start over, as I do continually. Even I am amazed at how many times I make and re-make the same part to get it even close to right. I don't care if it's something like The Roadster or a rifle, a knife, a shelf in the hall closet or whatever, I sometimes redo the same parts so often that it's ridiculous.

Do NOT mistake the foregoing as me saying that I'm a perfectionist. That's a laughable thought. I am anything but a perfectionist. I'm a utilitarian: I want it to work and look close enough to right that I'm not embarrassed by it (there are lots of unfinished, embarrassing projects stuffed under my bench), but perfection has no part in my life (except for flying). That's just not the way I roll. Those craftsmen that I know personally, however, are perfectionists and do things that seem impossible.

A side note: one of the most impossible things I see my car restoration buddy doing is completely painting and polishing all the individual parts of an XKE that has been torn apart right down to the bare body shell, then re-assembling it and not scratching even a single part. That, to me, is pure magic. How can those guys do that!?

I've studied pilots, craftsmen and writers in an effort at understanding what they do that I might be able to apply to my own skills to improve them. The closest I've come is that universally (anyone who has gone through my ground school has heard this before), their visual acuity is better than ours: they are more attune to tiny details. They blow everything up so they see at the one and two pixel level, while the rest of us have 500-pixel vision.

We can improve, if not fix, the vision thing by just being more aware of the necessity of looking at everything we do more closely and search out the tiny details.

These folks, however, couple their visual acuity with a way of sneaking up on solutions. Because they see tiny details (the way fibers run in a very small section of wood, the activity right at the leading edge of a weld bead, the way the word being typed relates to the last one and leads into the next one) they are ahead of the mistakes they are about to make. So they don't make them. Or, if they do make a mistake, it's so small (not seen by those of us with 500 pixel vision) that they can easily work around it while smoothing up or editing the piece of work.

The super craftsmen (and women) make the same mistakes the rest of us do, but their mistakes are smaller so the time they spend editing their life is less obvious than with the rest of us. Still, I'm convinced that the difference between those folks who we hold up as being really good at what they do and the rest of us is that they spend a lot more time editing themselves even if it's in the form of practice out of the public view.

Everyone makes mistakes or becomes part of bad situations. It's how we own up to those mistakes, combined with our willingness to fix them that makes us who we are. bd

29 March 2013 — Some Day "Some Day" Will Come
Do you do the same thing I do, when the world is jumping on your head and we're being torn fifteen ways from Sunday by deadlines and demands? It'll be late at night. I'll be surfing the web and, for no apparent reason, I'll buy something. Sometimes a tool. Sometimes an oddity. Sometimes ammo. Lately it's been antique hatchets. It's very much an impulse buy that I rationalize by telling myself that I've never had a taste for alcohol so I have a responsibility to guys everywhere to spend all of that un-used beer money.

Take note: In the above situations, one of the most dangerous companies in the world (besides eBay) is Amazon.com. They now handle all sorts of stuff besides books, including tools. But, what makes them a thousand times more dangerous than most, is their "one step ordering" system, which is brilliant marketing. I click a box labeled "one step" and no more than two keystrokes later I've spent a lot of money on something I don't need. Don't have a place to put. And probably won't do anything with in the foreseeable future. But at least I have it. More important, I've scratched an itch.

This is QVC for guys. It's like being an addict and having your dealer move in next door, when you're trying to go straight. There's no damn way you're going to resist his sales pitch. Of course, in these situations, I don't even try. I figure, the world is picking on me, so it owes me. How's that for rationalization?

Every person reading this can identify with these kinds of periods. It's when a whole bunch of totally unrelated events, projects and personalities all conspire to jump on your chest at one time. And you find it hard to breathe. Or sleep. Or find time to take a pee. It's those kinds of times that find me clicking a "submit order" button on some sort of cyber "comfort food". Last night it was a 2 x 72 inch, one-horse belt sander as used by professional knife makers. It was just one of those tools I've always wanted and last night, with my frustration meter pegged, I impulsively bought one as yet another addition to my "kit program" which is another major compulsion I feed late at night during periods of stress.

Readers of Thinking Out Loud are fully aware that I'm a totally addicted project junky. I LOVE building things. All kinds of things, big and little. I know I can't work on dozens of projects at the same time, but I vow that "some day I'll get at them". So, I actively squirrel away tools, parts and materials for each of those projects and assemble "rainy day kits" for them. This way, in the unlikely event I ever have the time to actually work on them, I'll have all the parts and tools necessary. Ditto for books. Lots and lots of them are stacked up around me that have never been cracked.

The big sander/buffing unit from last night's buying orgy is part of my "I'm gonna get serious about scratch building knives" kit. I've been sniffing around the edges of the knife making thing most of my life. A while back I got fairly serious doing some little desk knives for my grand kids, but this last purchase signals that, when I finally get it set up, I'll be committed to learning a new skill. Unfortunately, I'm willing to take bets that I don't open the boxes the unit came in in less than a month. Maybe two months. It'll be that long before a half-day window opens up that will allow me to mess with it (I'm still waiting for my first half day off in 2013).

This kit accumulation compulsion says that some part of me must think I'm going to live to 110 years old with perfect health. I'm surrounded with similar, relatively expensive piles of "stuff" that will let me dive into a new interest, totally prepared and equipped at a moments notice. Please tell me I'm not the only one who is committed to this kind of behavior!

It would be interesting to see how I'd behave, if I were a woman. I'd probably have bails of yarn and knitting needles, ceramic supplies and scrapbooking materials out the butt.

It's also a damn good thing that I don't drink or I'd be collecting parts for a still. Or would have vats full of moldy grapes sitting around.

The rate this is going, I'm going to have to build a little out-building to hold all my gonna-get-at-'em-someday kits. If I do build such a shed, I'll put a sign over the door that says "Welcome to Someday…" :-) bd



16 March 2013 —Future Generations and the National Debt
I would give my life for any of my grandkids in a heartbeat. No questions asked. However, I think the time may be coming that we should stop worrying about the debt we're heaping on our grandkids because, in most cases, our generation isn't the one doing the heaping. It's our grandkids' parents' generation making those decisions with their votes and, if they don't see a reason for concern, should we?

Go back and read that last paragraph. It's a pretty stout statement, but the more I see of what's happening and the further I look down the road the more I realize we may be beating a dead horse (a gruesome metaphor if there ever was one), when it comes to the national debt.

For one thing, you can hardly surf past three channels without hearing at least one of our GOP mouth pieces decrying the fact that the debt is being cast upon the shoulders of future generations, our grandkids. We yell and scream about how unfair and indefensible this is. But, did we build that debt? Not by ourselves we didn't but we had a hand in it. Are we trying to do something about it? Yes we are. But, it's as if we're doing it by ourselves. No one else seems to care.

It's amazing to me is that it is as if only those on the right side of the aisle even acknowledge that the debt exists. I've not heard even one Dem say a single word about the load the debt is going to place on future generations. Not one! Why is that? Do they have some sort of magic glasses that allow them to see the debt that's piling up in a different light? Or is incredible near sightedness one of the effects of the Kool Aid they've been drinking? I guess they either can't see past their own noses or they have total faith in their leadership and feel as if they don't need to worry about the debt.

Here's a leadership question: in what area of life besides politics would anyone put total faith in someone like Pelosi or Reid? I can easily see why Obama can cast a spell over certain mindsets, but Pelosi? She represents the only district in the entire US that would willingly vote someone like her into office, which isn't saying much for SFO.

Many in the left-leaning population say that conservatives are largely a group of old white men. Unfortunately, they're right. There's a helluva lot more gray and balding pates on the right side of the aisle than the left. It's a gross over-simplification but liberals tend to be younger while conservatives have spent a lot more time shuffling down the road of life. That's just a fact.

The above having been said, here's a basic question that explains the direction our future is going to take and there's not one damn thing we can do about it: which group do you think is going to die first? Silly question, right? Obviously, the old die first, which, in this case, means conservatives die first. This is one fight that's lost almost before it begins. A small government, self reliant, personally responsible way of thinking will essentially die with my generation.

Regardless of how hard we work to sell the message (assuming the GOP can agree on their message), those who carry that message are going to be badly outnumbered because too many of their number will be dead. Oh, wait that didn't stop some Dems from voting! Never mind.

My three grandchildren have some of the most intelligent, caring people I've ever known as parents. So, obviously they are seeing things differently than I do. It must have to do with the way age affects your mental/intellectual ability to see things. My generation sees things so differently that I can only hope that my grandkids' folks know what they're doing because with little or no effort they are going to get what they want. Their leadership and old vs young demographics will see to that.

Unfortunately, I'm betting that after the younger generation climb the ladder they're in the process of building, they're going to find it's leaning against the wrong wall. And we all know how hard it is to re-position a ladder once you've climbed it. Their promised utopia will be anything but.

On the other hand, we can't just ignore it, can we? Maybe what we'll leave this generation is the positive results of our last ditch stand to bring commonsense back to America. That will be our legacy left for our grandkids. If their parents don't care about, or understand, the situation, at least we do and it's our duty to do something about it. bd
8 March 2013 —On Starting Over: Partnership is the Key
This morning I was going back and forth with a reader who had mistakenly thought Marlene had swapped out my hi-octane coffee for de-caf in last week's blog. He opined that he and I were both lucky because we'd married women who are smarter than we are. That got me thinking about the character of marriage and what does and doesn't work.

Marlene and I are both on our second (and last) marriages and we're constantly amazed at how lucky we are to have found one another, when we did. We also laugh at how neither of us would have had a chance in the cruel world, had we not met each other and dovetailed the way we did (that's not entirely true…she would have done fine).

When we met I was broke on my butt. I was just coming out of a divorce, had two kids in college and my long established business had done a swan dive into the toilet taking my credit rating with it. Everything was wrong. To this day, my kids call that my "Dark Period."

Oddly enough, Marlene was in exactly, precisely the same position, except her kids weren't old enough for college yet. We weren't exactly at the bottom, but I could clearly see the bottom from there.

Before I met Marlene, I used to cruise Costco taking multiple passes at the various food sample stands. I'd buy gigantic bags of fat noodles. Then boil them in MacDonald ketchup (it took about 50 packs). I'd boil them until everything started to thicken up. When it cooled, it set up semi-solid and I called it "bachelor's lasagna." A little sugar and cheese from a local Italian place that thought I came there to use the bathroom and it wasn't half bad. Which, of course, means it was only half good.

Marlene and I were, and are, as different as night and day in so many areas. She's a slightly-glitzy (we call it Scottsdaley out here), very well turned-out, social animal, I'm a jeans and boots with ketch-up stains on my shirt guy. Zero polish. But, we somehow were/are a perfect fit and we hit it off famously. More important to this conversation, we are both hardcore survivors, entrepreneurs in every fiber of our being and figure an 8-hour day is just the warm up for the "real" workday. We have a feeling of partnership like I've never felt before. And that's what made the difference. We weren't just in love. We were (and are) in the business of life together and we were going to make it happen. And we did.

I remembered how my mom and dad operated (they were the same kind of team) and I did the same thing dad did. I concentrated on business and making the money (Marlene had, and has, her own successful specialty advertising company) and just put the money in her hands to do what needed to be done with it. It is entirely through her efforts that our credit rating, which had been in the low 500's is bumping 900, our house will be paid off in less than three years and we have just a hint of some breathing room. We're not rolling in dough, but we're up to our butts in good times and plans for the future. And we fall in love more every damn day. It's terrific!

If I had tried to do this by myself, starting completely over at 50 years of age, I would probably still have gotten the businesses going again. However, today I'd be living out of my car because I have a nasty habit of putting off some of the important stuff like paying bills, etc. Much more important, I wouldn't be the happy sunovabitch I am now. I'd still be towing that little black cloud behind me that haunted me until I met her and we started doing our thing together.

Yeah, I married someone smarter than I am. So, maybe I'm not as dumb as I look.

Thank, God for that!

PS
Most of you guys out there who think you made it on your own are wrong.
4 March 2013 —It Ain't Nice to Fool Mutha Nature!
Like most folks, I have an early morning routine that never varies. It's so basic that I can do it in my sleep and usually do. Until the first cup kicks in, I'm a scary individual and not to be trusted with sharp instruments, small children or machines. But then I found I was kidding myself.

Here's how my day begins 100% of the time. Probably very little different from yours:
0450 – first alarm goes off, arm flops out of bed and unerringly nails the snooze button. It never misses, but I have no idea why since there is no brain connected to it
0500- second alarm goes off, arm goes its thing again, this time the brain pops one eye open just long enough to confirm the time. It clanks back shut immediately
0505 to 0510 – right leg sneaks out from under covers, heel hooks edge of mattress and pulls body into seriously slumped-over position on edge of bed.
0510-0515 – body sits on edge of bed fighting urge to flop back down. Somewhere inside my brain a voice mechanism starts up and the word "sh*t!" lumbers out. This gets the legs to force me into an more-or-less standing position and I grab the T-shirt I had dumped on the nightstand on the way. I fumble for the label in the dark, put the shirt on, realize it's on backwards, pull my arms back inside of it and turn it around. This while I'm fumbling my way out of the pitch black bedroom.

Is any of this different than your day? Didn't think so.

I somehow find my way to my office, turn on the heat, grab my cell phone off the charger and generally bounce off of either the refrigerator or the door jamb going into the kitchen. I run some water in a cup for coffee, put it in the microwave, figure out which number is the "2", hit it and turn the house heat up as I do my best to avoid elbowing the bifold closet doors on the way back to the bathroom.

I squint my through some web browsing while I do my potty business, find some clothes and stumble back to the kitchen absolutely desperate for my coffee. I pop open the microwave – no cup. Dammit, where did I put it this time? I check the cupboard next to the microwave. Half the time, it's in there (told you I was dangerous pre-first cup). Find it in the refrigerator (I'm not kidding about this one damn bit). Swear a little and put it back in the microwave.

Once the microwave is going, it's a game to see if I can make an open face turkey on rye sandwich (with horseradish sauce and mustard) before it dings. I force my eyes open enough to find the instant coffee, plop in as much as a spoon can possibly hold and stir with a little of my desperation showing: I MUST HAVE CAFFIENE!

I'm sucking it down before it is completely dissolved and can feel a few grains stuck in my teeth. I'm feeling better already. Grab my sandwich and my coffee, Smoki Jo the Cat jumps up to his place on the desk next to my right shoulder. I turn the classic rock station up louder than I should considering its 0530 and start sorting through the 100 or so e-mails that have arrived since I logged off last night.

The coffee begins to work its magic and I can actually feel various nerve ends waking up. The zombie body I was inhabiting when I first woke up (sort of), is slowly becoming human courtesy of a marvelous blend from Columbia that is totally legal. Now the brain is clicking and I'm firing off e-mails and wisecracks as fast as I can type. IT'S ALIVE! ALIVE I TELL YOU!!!

Then yesterday afternoon my confidence in the world was shaken to the core. Marlene had bought me some more coffee. Same kind. Same jar. But in rather small type the label said, "Decaf." No! Oh, no, no, no. I can't drink that kind of thing and still survive. No, m'dear, I want, I need, the hard stuff. Not the sissy stuff.

Marlene is a natural born smart ass and had this sly grin on her face as she dramatically reached over and grabbed the jar I had been working out of for more than a month. She slowly turned it around so I could clearly read the label. It read "DE-FRIGGING-CAF!!!" I had been drinking it for well over a month and didn't even know it!

My God! I had been fooled by a liquid placebo! I lost a huge percentage of my faith in my body, in my world, in humanity at that exact moment. I hadn't realized I could be fooled so convincingly.

Now, when I wake up, it is with a certain amount of trepidation that I approach the day. If decaf can fool my body into waking up, what else is lying to me? Is 100LL actually 100 octane? Is the voice growling "ow,ow, ow" through the radio actually Billy Gibbons and ZZ Top?

I know I'll recover but now I drink coffee so strong that the buzz makes my eyes vibrate. And my students want to throw a blanket over me because I'm talking so fast and so much. Oh well. At least that way I know my day started the way it was supposed to.

Decaf??? Damn! Am I really that gullible? 'Guess so!

9 Feb 2013 —Assault Hatchets Have to Go!
Read this Hatchet, but first promise that you'll come back. Briefly, it says an unidentified hitchhiker assailed a 350-pound man with a hatchet. All the poor guy had done was claim to be Jesus Christ, then started screaming that he had to get all ni**ers off the planet and swerved to hit a black electric worker. He then began beating on a woman threatening to break her in half. As he was doing this, the heartless hitchhiker, who was not being threatened, capriciously clocked him with a hatchet. It is obvious that, as a civilized society, we have to ban hatchets. We have no choice.

As of now, I'm sending a letter off to my Congressman demanding that he submit legislation to get hatchets included in the Assault Rifle ban. Oh, wait…I can't do that. My Congressman is a Republican. Okay…I'll highjack one of the Democratic Congressmen. They won't notice.

Dear sir,

As the assault on the helpless gentleman by an obviously deranged hitchhiker points out, the time has come for us to enact legislation, or an outright ban, on hatchets. For far too long, these merciless instruments of destruction have wreaked havoc on society, kindling and saplings. Not to mention chickens whose only transgression was standing too close to a cooking pot at dinnertime.

Look around at our cities. Our states. Our blessed country. How many amongst us can claim that they actually need a hatchet? Oh sure, there are those that claim they are necessary for camping. Or hunting (usually a sport of deviates). Or other activities endorsed by the bible clutching, gun toting, knuckledraggers that have brought our country down with their every move. Hatchets are the common thread amongst them all.

The statistics tell the tale: in a country of approximately 350 million people the hatchet death rate approaches one in 300 million. How can we tolerate that? How can we let our children be brought up in fear of that wretched weapon for which those of us who live in midtown New York and Washington, DC, know for a fact, there is no practical use?

I have searched my life for the past few days and have asked both of my friends and none of us have seen a need for a hatchet. So, if those of us in the heart of the Nation's business capital have no need for one, why should we let others have them? Especially those who probably live between the Hudson and Los Angeles Rivers and obviously don't have the intellect to be trusted with such a weapon of mess destruction.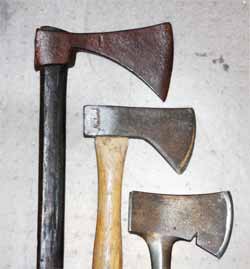 It is so amazing that, as a civilized society, we've allowed weapons like the above to cause all of the sorrow and pain that they have. When will we learn? (I'm kidding. You know that right?)
So, sir, I suggest the following:

--All hatchets that have a pistol grip, a thumbhole stock or any other means of gripping them should be outright banned and current owners given two hours to turn them in or face a $10,000 fine and 38 years in solitary confinement.

--Those hatchets that can be readily carried by a single individual and can be concealed in a pants pocket should be subject to a licensing procedure that includes a jury of the purchaser's peers that will judge him as being mentally capable, or incapable, of association with such a weapon.

--The background check required should include listing all associations known to be terrorist or subversive in nature.

--Known associations that will negate the applicant's hatchet-rights will include the following: Boy Scouts, Girl Scouts, PTA, Experimental Aircraft Association, Odd Fellows (Odd is the disqualifying term) and anyone, anywhere, whom the local Democratic Chairman, Attorney General or President judges is a threat to aunts, ants, grass, trees and all registered voters who are dead and still voting a DNC straight ticket.

Sir, I beg of you in the name of humanity to get these horrible means of harming our society and our small trees off our streets.

I remain adoringly yours,

B. Davisson, District 13

It's about time we stand up and defend ourselves from the edged demon that's running amok amongst us. BD
Feb 2013 —Keeping Our Eye On the Wrong Ball
You cannot imagine how hard it has been to avoid launching off on some sort of political tirade every time I sit down at the computer to write Thinking Out Loud. Like everyone else on the planet (at least those watching the real world), my daily life and conversations are overloaded with political BS. It is becoming oppressive. More important, most of that BS is misdirected.

When I say "misdirected" I mean that almost every time I see the Big "O" on TV these days he's talking about gun control. You flip from news show to news snow and it's all about gun control. The politicians especially, have gotten sickening with the way they're draping themselves in the Newtown tragedy and focusing on this one subject, as if the future of the American universe will be decided on whether we ban all firearms or not. This is NUTS!

Hey, folks, look around! The American Ship is in the process of sinking in a morass of far more important problems than guns. We should be focusing on what's important, the survival of our nation as a functioning entity, not a mechanical device that in the hands of idiots and the insane can cause very narrow instances of incredible personal pain. Yes, we have to get our heads around the root cause of gun violence (more on that later) but what the hell happened to worrying about our debt crisis? What about our budgets (or lack thereof)? So far during this Administration's reign we've not had a single budget approved and are sailing along without a rudder or direction of any kind. And, thanks to the gun destractions, Fast and Furious and Benghazi are now distant memories.

As far as I'm concerned, politicians have jumped on gun control not because they think that it is absolutely necessary but because they know it is so charged with emotion by so many, that it nicely diverts our attention from some of the really serious stuff. Our credit rating is down and not about to return. Unemployment is 7.9% and the experts say the only reason it's even that low is because so many more people have simply stopped looking for work that they are no longer part of the calculations. If they were included, it is said that the rate would be closer to 14%. Everywhere you look are really serious issues that need to be addressed but a relatively small group of politicians are grabbing the headlines by screaming gun control. Dammit! There are much better ways they could be serving their country (assuming that's what they want to do) than campaigning on this one issue.

Then on top of all of that there's some really strange stuff popping up on mainstream news sources. For instance, we have unannounced military maneuvers happening in major cities. Helicopters are flying down main streets with tanks and simulated gunfire mixing in with commuter traffic. What the hell??!! Photos are circulating throughout the net of HUGE containers of Homeland Security ammo scattered around the country and government-owned armored vehicles being given to local law enforcement agencies. The list goes on and on. No wonder recent surveys say that 53% of the country no longer comes even close to trusting the government.

While this is all making our heads spin there are tons of insidious movements around us in which the US is not-so-slowly being sold to foreign interests. For instance, New York is reported to be considering the sale of their parking meters to outside investors (NYC Meters) the same way Chicago did in 2010 when they leased theirs for 75 years (who leases ANYTHING out for 75 years?) to an investment group consisting primarily of Arab investors (Chicago Meters). As the Rolling Stone says, "…you know something is definitely sideways with the body politic, when you can't shut off the parking meters for Abe Lincoln's birthday because some prince in Abu Dabai doesn't want to lose the revenue." That, in a single line, says it all about where we're headed.

And then there's China's very careful, bloodless takeover of America in which they are simply buying huge portions of us. We're not talking about just buying businesses like Continental Teledyne (this gave them half of the total production of light aircraft piston engines) or Cirrus (the single most popular four-place aircraft of the last several decades). We're talking about ocean port operations and huge tracts of land they've purchased on which they appear to be ready to establish Chinese cities that will be populated by Chinese workers to produce Chinese products on our land. China is an entity with so much cash that it is like a drug cartel, in our inability to adequately control it. Besides, it's hard to control someone to whom you owe so much money. The long-range effect of these "economic zones" will be millions of Chinese/American voters (born here, vote here) that will influence our future forever. Read the following: it'll amaze you. Chinese Economic Zones

Okay, now I'll talk about gun control and I'll try to keep it brief. Besides the obvious facts that prove that the lawless don't really care about laws so gun control has NEVER been proven to reduce crime, the statistics attached to guns are wildly skewed by their make up. See the lopsided statistics that are causing the entire country to be punished because of the behavior in a surprisingly small number of cities. This is a really well thought out essay with lots of information, Gun Summary .

Also, it's depressing to see so much energy being put into bills like that put forward by Senator Diane Feinstein and is providing most of the Administration's talking points. It appears to outlaw 120+ so-called "assault rifles" but what it really does is outlaw all semi-automatics of any kind: rifle or handgun regardless of caliber (.22's included).

To quote Alan Korwin on Gunlaws.com (everyone should be getting his commonsense newsletter), "According to the bill, any semiautomatic firearm that uses a magazine -- handgun, rifle or shotgun -- equipped with a "pistol grip," would be banned. That sounds like a limitation, but it is not.

"A pistol grip (on page 2) is defined (on page 13) as '…a grip, a thumb-hole stock, or any other characteristic that can function as a grip.' In other words, the gun list does not matter. It is a smokescreen designed to distract people from the true meaning of the bill. And it has done a magnificent job. It worked!

"Any semi-automatic firearm that exists, with anything on it you can grip, is banned. (There is a grandfather clause for old stuff.) The list is meaningless tripe. It is camouflage for the real purpose of the bill. When the president said he is not going to take away your guns, well, Feinstein's bill puts the lie to that.

"Magazine size does not matter. Brand name does not matter. It doesn't matter if it's black. If you can grip it, it's banned under this bill."

So, there you have it. While our country slides slowly into the slime of oblivion, our leaders are consumed with the cosmetics of a machine that, when poorly used by outlaws or the insane, makes headlines though unspeakable tragedy. It's hard to believe that so many leaders can be that stupid. Or devious. Or both. bd
26 Jan 2013 —Electronic Babies
I was super late on last week's Thinking Out Loud so I'll try to be more timely on this one. Last week I made an unplanned dash to California to see my niece Lisa, whom I haven't seen in 14 years. That and spend a riot-filled day with daughter Jennifer and granddaughter Alice being properly brought up to speed on the State Of The Nation's Toddlers.

We were all loaded into my daughter's mini-SUV (I don't what to call that class of vehicle anymore) with Alice strapped into a baby seat that looked like it came out of an F-22. It should be mentioned that Alice is two months short of being three and discovered talking sometime ago and she's a brilliant conversationalist. She is an energized, hyper-cute acting gnome with a voice I imagine Tinker Bell would have. Very elf-like.

Anyway, we were ready to get rolling and the elf-in-the-back very clearly, with the careful diction of someone speaking a second language, said, "Can I have my iPad." When told we didn't have it she said, "Okay, then, can I have some toys?"

Okay, let's rethink that last line: a toddler asked for a computer with toys clearly being a poor second choice. For those who can afford it (and my daughter can), the "Can I have my iPad" line pretty much says it all about the newest generation. Fairly spoiled but, more than that, so totally electronically savvy that it's more than a little intimidating.

I've been seeing her playing on an iPad for well over a year now, which means she was about 18 months old, barely walking, when I'd see her laying on the floor, nose to a screen. She'd be poking it in response to something Elmo (her favorite) said. Maybe picking out a letter of the alphabet. Or moving a character across the screen on some sort of comedic adventure. I've been watching her closely since.

Right now, at 22 months, she has no problem booting the iPad, picking out the software or game she wants to work in and selecting the options each involves. Then she'll play for however long and shut it down, when done.

I made the mistake of picking her iPad up and popping it open. Then I realized I didn't know exactly how to make the next step and get a game going. This even though I often spend ten hours a day working in just about every word and art software available for computers. But, she danced around on the iPad as if it was a piano and she was Jerry Lee Lewis.

I'm not exactly sure how I feel about the way we now have two generations (the toddlers and the teenagers) who live and breathe digital everything. It's no secret that I spend far more time than I should on my phone and I feel as if I'm not wearing pants when I've left the house without it (which happens VERY seldom). I know a lot of folks in my generation, which is almost three-quarters of a century removed from Alice's, poo-poo (there's a phrase younger generations don't use) the necessity of computers and smart phones. But, even that is changing rapidly. Everyone wants to stay in touch and many have discovered, as I have known all along, that between computers, laptops and smart phones, our office is where ever we happen to be standing/sitting at that moment. My business doesn't even begin to slow down just because I'm out of the office.

The difference between most of us, when we were teenagers, and the current crop, is that PC (pre-computer) generations were out there "doing stuff." Maybe it was building model airplanes. Or Boy Scouting. Or stomping around the woods. Or, amazingly, actually reading books. I was a reading addict from junior high on courtesy of TAB, the Teen Age Book club. Each month the class would order 25-cent paper backs from a long menu and I'd generally get ten or more per month and devour them all before the next list came out. Maybe all the teens I see looking at phones and iPads are reading books, but somehow, I doubt that.

We keep talking about the Zombie Apocalypse and civilization, as we know it, collapsing. Should something like that actually happen (which I seriously and hopefully doubt) the area in which we will feel it the most will be our digital dependence. Right now, think how communication, and our civilization in general, is dependent on 1's and 2's to keep doing their thing.

On the other hand, if digital everything disappears, maybe, just maybe, we'll get back in touch with the basics and rediscover the life we had before digits re-sculpted it. bd
23 Jan 2013 —The Friends I've Never Met
I just lost a friend I'd never met: Dave Higginbotham, an outstanding craftsman, great human being and kindred soul. I only found we'd lost him when I tried to access his website this morning and there was a note there from his wife about his passing. I hadn't talked to Dave in some time but he was always in my thoughts because of our unfinished projects. Projects that will now remain unfinished. Maybe.

It's a sad thing that you can be plowing away on your day-to-day getting' on with life and suddenly find a year, or two, or three have flashed past without talking to someone who you value as a part of your life. Even though they may not be emotionally close, they are intellectually close and are part of your mental family. Then, you suddenly find they're gone. And you didn't know it for how long? A year. Two years? I don't know when Dave died, but, for me, he died this morning, and the effects are still like new incisions: sharp edged and fresh with flowing blood.

The Internet is wonderful in the way it wildly expands our circle of friends. Through various informal chat groups, most built around a common interest, I've built up some really close relationships, yet I have met only a few of them face-to-face. Somehow that doesn't seem to matter. The Internet has taught us that relationships are the conversations. It is the exchange of ideas and emotions, the discussing of opinions and theories on a wide range of subjects that builds friendships. And because of the Internet I've easily tripled the number of people I call "friend" over the last few years. Dave was one of those and is typical of many of my e-friends. We met by accident.

I stumbled across Lone Star Rifle Company when looking for a gunsmith who was familiar enough with old Remington rolling-block single-shot rifle actions that he could re-barrel one for me. Dave's name popped up in a bunch of different chat groups as THE guy, when it came to that kind of work.

When starting projects like that, I seem to run hot and cold. Sometimes I ignore the irrational nature of such a hair-brained scheme (in this case, re-creating a mid-range 1890's-style target rifle in .38-55) and I throw money around as if I really have it. Other times, you'd think I was picking up nickels around parking meters to survive because I just can't bring myself to spend money on a non-essential project: even one that I had been dreaming about for years.

Finally, I broke down and sent the action to Dave. It came back with this wonderful octagonal barrel and a trigger job so sweet it broke clean, like glass, at 2.5 pounds. I started stocking it up with walnut from the tree in my backyard in Nebraska where, as a teenager, I used to hang my chain hoist. It died, I had it cut into slabs and I now build rifles and stuff from it.

Dave and I got to talking and it turned out that he had a thing for WWII aircraft, so I started sending him boxes of out-of-date Flight Journal magazines: I'm the Editor-in-Chief, so that's one of my perks. He also had a really bad back. Something else we had in common. Soon, we were babbling back and forth about everything.

Then we launched on a dream that we both held dear: building rolling block actions that were hogged out of blocks of modern steel (8620) that was strong enough to handle any modern round. My goal was to build a replica of Ivan-the-mummy's rifle from my first novel, Cobalt Blue. It would be in 7.62 x 54R Russian, as Ivan's was, which is a fairly high pressure round. I dragged a friend into the project who had endless machining capabilities and is as nutty as we were: the reason I was on Dave's website today was to let him know that we'd finished machining the first one and wanted to send it to him for fitting checks. That's when I got the news from his widow, Katha.

I have at least three more rolling block projects I wanted to finish before I die and Dave was integral to all of them. I guess a couple of my dreams died with him.

As I scan across the roughly 3,000 names in my address book, I occasionally run across those that mean a lot to me, but I know I haven't talked to them for a long time. Now, I'm wondering how many of those are gone. How are their lives going? How is their health? Is there anything I can do for them? A part of me is afraid to e-mail them for fear I'll get bad news. But, I'm going to do it anyway. I've had too many fateful surprises like Dave's passing lately to take the chance of not contacting them.

It's a sad state of affairs that I think about someone, but don't take 90 seconds to drop them a note. So, one of the new years resolutions I didn't make a couple weeks ago will now be to send a short missive to someone, as soon as their name crosses my mind. If there's one thing you'd think I would have learned from life it is that procrastination almost always results in being too late. And I don't want to be too late in touching base with friends.

I think it's time I finish the rolling-block Dave barreled up for me. As it is, every time I glance at the rifle, I think of him. Time to stop procrastinating.
12 Jan 2013 —The iBathroom
I'd punched the "off" button on the alarm and was staggering around the pitch black bedroom in an early morning zombie state while trying not to wake Marlene up. I failed. "What're you doing?" She mumbled. I answered, "Looking for the iPad." She asked, "Why?" I said, "So I can go to the bathroom."

This is very definitely another of those "too much information" blogs. Just warning you so you can hit "delete" before getting too far into this one. But, I'm betting dimes to doughnuts that more than just a few of you out there, like me, have electronic bathroom habits. Who says gray dogs are slow in coming into the iAge?

For many decades I was convinced that my body could not perform a necessary early morning function unless a Trade-a-Plane, Hemmings Motor News, or maybe Shotgun News was in my lap. Lately, however, hard copy journals of any kind have slipped into second place behind eBay, Craig's List, Backpage.com and a half dozen other tantalizing electronic entities with "for sale" plastered all over them.

Like just about everyone reading this, my days are full of "gotta do's" and they don't have a whole lot of white space in them. The result is that during the day you won't see me surfing the web in search of anything not directly related to work. Recently, however, I've developed a teenage-style habit of playing with my phone when I'm stuck someplace with nothing to do. And then, about two years ago, while waiting for an X-ray to be done on my back, I discovered a distinctly dangerous smart phone capability: all sorts of sales-oriented websites can be accessed through your phone just they can on your computer. One of those is Backpage.com, which is similar to Craigs List, but also lists local firearms that are for sale (they're under "sports equipment").

I was sitting in the reception area, when I discovered that my phone would let me buy anything, at any time, anywhere. I date the downfall of my ability to resist buying stuff to that moment. Before the nice young lady in white said that it was my turn on the X-ray slab, I'd managed to buy a WWII 8 mm M98 Mauser from a local guy at a killer price.

Oh, holy crap! I can now search out oddities and buy them any time day or night where ever I'm sitting! This is huge! Cue dramatic background organ music! Picture a glowing halo of enlightenment around my head: my life was changed at that very moment. Even better, I had found a new way to make that porcelain pony time I log every morning more productive. And, unfortunately, more expensive. And I don't have to turn on the lights and bother Marlene while doing it. Before I go to bed, I try to remember to put the iPad somewhere that I can find it in the dark without waking her. Otherwise, my phone is my early morning playmate.

BREAKING NEWS: while writing this, I've been monitoring an eBay auction and I just won an old 7" leather mallet that will be perfect for my aluminum forming tool kit. $3.25!! I can't tell you how many oddball, special purpose hammers I've gotten off of eBay. Even more amazing, I use them all.

Earlier this week, while communing with nature, I scored a set of late model flathead Ford connecting rods for $60 that came out of a running motor, when they changed to high performance rods. Such a deal!

At the same time I found a couple of small parts for the roadster's transmission that I was dead in the water without. Total cost, including shipping, $9.30. What's really cool is that I did all of this before even brushing my teeth.

So, now my days start with me staring at a small screen in the dark. The result is that quite often before I even turn on my main computer or strap on the Pitts with a student, I've already checked a few items off of my to-do list for the day.

I'm wondering if there's a market for a phone app here. Maybe iBowel. Or iFlush. Maybe iPoop.

Remember: I warned you that this blog was gonna be too much information! bd

5 Jan 2013 — Sunday Morning Phone Calls
I was driving to the airport last Sunday and the thought crossed my mind, "I think I'll call dad." Then, just that quickly, I knew I couldn't. He and mom died 14 years ago. The next thought was that I hadn't had that thought in a month. And I didn't know whether to be sad or relieved. Sunday morning habits die hard. Hopefully, they never die.

Then, I thought about my kids, who never call on a weekend. Never! Reason being, and I'm okay with this, is that their own kids dominate their weekends. Soccer, plays, parties, friends: the stuff of which families are made. Calls from them are weekday events: weekly with my son and "whenever" with my daughter. Often, I wish I were a fly on their walls. Just watching. Not talking, not part of the action. I just wish I had a visual portal through which I could experience them in their environment, rather than just when we're visiting and they're in grandparents-visiting mode.

As anyone who reads Thinking Out Loud for more than a few weeks knows, both of my kids, Jennifer and Scott, have their own lives. Their own successes. Their own families. Each has carved out healthy niches in their own business communities but it absolutely kills me that I don't know them as part of those communities. And I'd love to.

Occasionally, at a movie premier or something, I'll see Jennifer doing her Hollywood meet and greet thing. And once in a while someone from such and such a studio will tell me how highly they think of my little girl. But, that's all I see of her world. And she almost never talks about it.

My son does his best to let me know what his latest business deal is. Maybe it's setting up a new software development team in NYC. Or working out a sales deal with a European software outfit. We'll sometimes discuss his plans to meet changing market demands and how to cope with a business world that changes so quickly. However, as with his sister, I've never seen him actually in the world where he's Mr. Davisson from Acclivity Software.

It's an odd thing knowing that other people know a part of your kids that you never will. And I'm not sure how I feel about that. I think, in some quirky sort of way, I'm a little jealous of those unknown customers/colleagues/employees. They have a piece of my kids I'll never know.

I remember my Sunday morning chats with my dad and how I knew he couldn't fathom what I was doing on a daily basis. In some of those instances, I purposely kept him a little in the dark. He was incredibly protective, or wanted to be, although he knew there was no way he could protect me from myself and what I had chosen as a life style. To a certain extent I held him at a slight distance so he wouldn't know some details of my life. If he had seen me hanging out of the side of an airplane shooting air-to-air just one time, he would have died right there. If he had seen the view from the Pitts, while in a hard slip falling toward the runway with a student at the controls, he would have crawled under his bed and stayed there. And aerobatics? Forget it!

On the other hand, mom really enjoyed knowing that I did some silly things for a living and would have jumped into the Pitts in a heartbeat, given the chance. Even at 80+ years old, she was the real daredevil of the family. And it drove dad totally nuts.

Thinking about the disconnect between me and my father in terms of him not being able to share in my adult life gives me a better understanding of the similar disconnect that exists with my own kids. In thinking about it, I can clearly see where almost every parent experiences the same thing.

Kids grow up. Parents grow old. That's the cycle and, if you're lucky, you'll have a good enough relationship with your kids that they think of you enough to call. Or, if you're really lucky and they live locally, they'll drop by. If that's you, I'm jealous. With me, calls have to suffice. I wish it were more. But, I know parents who haven't heard from their offspring in years. And that reminds me that I'm one of the lucky ones.

I hope you are too. bd

30 Dec 2012 — 2013: Fighting the Urge to Hide Under a Blanket
Last week the world didn't come to a blazing end. And, as I pointed out, Marlene and I will have our house paid off three years from that date. Now, as I sit here contemplating the beginning of 2013, I'm realizing that, in the new year, the two foregoing facts are the only things of which I can be absolutely sure. All other factors in life seem to be floating through my mind's eye as a chaotic blur. "Confused" is the appropriate adjective.

The confusion surrounding us is making it more and more difficult for me to write this column and not have to talk about subjects I really don't want to talk about. As a normal rule something happens during the week that I think is cool or quirky, or both, and it's a fun blog subject. Sometimes, I feel the need to address something more serious that can't be ignored, like the Newtown shooting and its aftermath. I do, however, try hard to balance the subjects of Thinking Out Loud: I don't want it to drift into being nothing more an outlet for my own political observations and opinions. But, that's becoming difficult. These days, the political and social upheavals around us are so pervasive that they out-number the fun stuff by a very wide margin.

It is as if everything about our way of life is under attack. Everything! As I look around at what, only a few years ago, was a more or less orderly world, all I see is wall-to-wall chaos. Whether you're talking about Afghanistan, the Budget Battle, the Boy Scouts, the battle over guns, Benghazi, Fast and Furious, etc. chaos reigns surpeme. And then there are the disturbing (hopefully fanciful) tales seeping up through cracks from the political underground (one has Homeland Security and the White House developing paramilitary forces with plans to control civil unrest and divide up the country after the dollar fails). It's hard to smell the roses when someone is trampling all over them.

This is all very unsettling and makes it hard to clear my brain enough to see the good and the peaceful facets of life. It makes looking ahead to the New Year a fearful experience: I'm afraid to look over the wall that divides the years for fear of what is coming.

Right now, most of us are in serious need of something solid to hang on to. That's what draws so many people to religion. I, however, am not one of those. My touchstones have always been the American flag and my belief in the traits of the population that made our nation what it is. But, in only a few short years, my belief in the inherently American traits of our population has become blurred and difficult to either define or discern. While there are HUGE segments of the population that haven't changed one iota—they are what made America great— others seem to have broken stride with the rest of us and are thinking only about themselves and not the Nation, as a whole. The one for all, all for one, feeling is long gone. This is such a radical change and it happened so quickly, that it's hard to to get your head around it. While the America of 2007 was beset with problems and tumultuous in the extreme, it was still America. As I look around today, I'm not sure what land I'm standing in.

My usual New Years resolution is to resolve to make no resolutions. Resolutions always set me up for disappointment. However, I'm going to make a suggestion that I, for one, am going to try to follow in an effort at giving my new year a clean start.

Beginning New Years day let's give ourselves an emotional breather via a brain-cleansing period that starts that day (Tuesday) and runs to the next Monday. During that period don't read a single news paper, don't watch a single news program and avoid all social media that involves anything more complex than someone's elation over their new pair of argyle socks. We need to stop our steady diet of negativism, if only temporarily, and give our brains a rest. We've all become news/information junkies and have unknowingly let the media become the prime shaper of our thoughts and opinions, so this won't be easy. We're all addicted. But, breaking the cycle for just a few days will be worth it. Okay…I'll be the first to admit that I probably won't do it cold turkey either, but I'm at least going to try.

One absolute known fact about the new year is that the things that will count the most will still be those factors that have always counted: friends, family and home. That being the case, we might think about pulling our wagons into a circle and hold what, and who, we love close. They are what really matter and are what we should work the hardest to support and defend.

From our house and hearts to yours, here's hoping you make it through 2013 with your health and happiness intact. And don't let the media or Beltway Bozo's get you down. Our country is still OUR country, not theirs. bd


22 Dec 2012 - The Day After The End of the World
A lot of things have happened in the last eight days, starting with the Newtown shooting. At least one thing, however, didn't happen. The world didn't come to an end. At least not yet. If it had, I would have been sorely pissed because in three years, to the day, our house will be paid off, which brings up other tangential thoughts.

First Newtown: I'm thoroughly disgusted with the way so many people so quickly politicized the tragedy. I'm not kidding when that I say the victims hadn't even cooled completely before people decided to ignore the grieving period so badly needed by so many parents and rushed to judgment in every way possible. The worse of them was CNN's Piers Morgan. He devoted entire shows to gun control, specifically banning "assault weapons" which I have zero problem with, that's his right and his opinion. But, he has demonstrated a willingness to lower himself to personal attacks on those who oppose him. And he's guilty of spreading gross inaccuracies, e.g. loudly proclaiming to all who will listen that these awful "assault rifles" fire six rounds a second. That, of course is BS: even the most practiced amongst us couldn't get off more than two. Possibly three, if un-aimed. He is confusing semi-automatic with full-auto. In so many areas, he doesn't know his facts and that doesn't bother him one bit.

Worse, he hasn't bothered to look at the FBI's own murder statistics that list murder by rifle so far down the list that baseball bats and murder-by-fists out number them.

FBI stats show that knife murders are 524% of rifle murders. Clubs, bats, etc, 153%. Fists and feet, 225%. These are all rifles, not just assault rifles, as the FBI doesn't break those out separately.

Here are some websites worth looking through that will help put the facts in the proper perspective. Most of these are nothing but the facts with no editorial slant. The FBI's homicide pages is FBI. Here's a study by Harvard that examines the effect of banning weapons on murder and suicide, Harvard Study. Here are the global murder rates (not just firearms) by country going back to 1900, Homicide rates . And this one examines all of the worldwide myths about firearms, gun control, etc. Gunfacts.

What I am glad to see is an increasing awareness that there are the sick amongst us. We're now seeing intelligent discussions on how best to deal with sickness, in its many forms, and how best to protect ourselves and our loved ones against it. This is a horribly complex problem, but at least we're talking about it.

I also have a terrible thought rattling around inside my brain: at some level, those in government view Newtown as a blessing in disguise because it blew Benghazi and Fast and Furious (remember that?) off the front pages. It allowed Hillary Clinton to pull the most blatant kind of my-dog-ate-my-homework excuse to duck having to testify on Benghazi. In my entire life, I've never seen anything so obvious and reprehensible. This is politics at its very worse!

Of course, had the Mayans been right in their apocalyptic predictions, all of this would have been one great big moot point. And I would have been steamed! Yesterday I would have been standing in our front yard amongst fire and brimstone screaming at the top of my lungs "BUT, MY HOUSE IS GOING TO BE PAID OFF!! GIVE ME A FRIGGING BREAK!" Don't you just hate it, when you finally see a light at the end of the tunnel and an earthquake collapses the tunnel?

First a thought: I'm absolutely blown away by the Mayans, Aztecs, Toltecs and all the other civilizations that rose and fell in Central America. Having climbed around on various ruins in Mexico, I'm here to tell you that they definitely had their architectural act together. Not sure about that sacrifice thing, however. On the other hand, every single one of the civilizations, in one way or another, destroyed themselves, with the exception of the Aztecs that were brought down by the Spaniards who were after gold and we all know how gold makes people stupid. And, in this case, unbelievably cruel.

I think it says a lot about our own society that so many were absolutely convinced that a stone calendar that predicted the future was totally accurate. A guy I know spent every dime he had and maxed out every credit card buying food and guns and barricading himself and his wife in their house. He's still there. Said he'd stay in there four days until it looked safe. It did no good to point out that, if the world actually came to an end, none of that stuff would be of any use. Besides, if the Aztecs/Mayans/Whatever were so good at predicting the future, why didn't they know the Spanish were coming and chop them into taco-filling the instant they set foot on the beaches? Yeah, I know, they thought a God was going to come, but, damn! They should have been able to see past them to the coming result.

I don't have much faith in psychics and such for the same reason. If they can see the future why are they always half broke and doing business in rundown storefronts or leaning double-wides on the edge of town?

Okay, so the world isn't going to end, at least not as the Mayans saw it. However, it's still damn depressing to know that when Marlene and I get our house paid off, there will still be a full year left of the current Administration's term. Maybe that's what the Mayans were referring to. Their idea of the end of the world wasn't actually the end of THE world, but the end of OUR world. Given the way the last three years have gone, the next three could well be the longest three years any of us will ever experience.

I suppose I should admit that, regardless of all the negativism being espoused by everyone, even by me, the world, as we know it, isn't going to come to an end. It'll just feel that way.

Oh, yeah, and I mean this, we sincerely wish you a great Christmas with, most of all, happiness and health for every one of you and yours. bd


14 Dec 2012 - Another One: Newtown
You're about to hear me babble because I don't really know what I want to say. It's Friday night and the day started with the news that someone had been shot in the foot at a Connecticut school. Now we know different. And I don't know what to say. I honestly don't. But something has to be said.

This evening, as we were waiting for our current B & B guest to arrive, I sat down and watched the news. And I'm sorry I did. It took about five minutes before a slow tear would occasionally break loose from those welled up in my eyes and leave a wet trace on my cheeks. On the one hand, I was mildly irritated at the frenzy of journalistic efficiency being demonstrated by CNN and Fox. They were in their element. On the other hand, I couldn't stop imagining the schoolrooms.

In my mind's eye, as hard as I tried not to, I saw, and still see, the terrorized faces of children. I see a young man so totally out of control I doubt if he really knew what he was doing. He was just acting out what he'd seen on TV. Or played in video games. Or, unfortunately, imagined inside his own sick mind. My brain doesn't want to conjure up the images of each shot. I noted in the news coverage that other than the one shot in a foot, there appeared to be no wounded. Each pull of a trigger had been a kill shot. I can feel the tears trying to do their thing even as I'm typing. This is so unreal.

My son immediately started up with his anti-gun thing. And I can't say as I blame him. Not the slightest. That's the simplest, most obvious target: if the shooter hadn't had access to the guns (his mother's: a Sig, a Glock and what sounds like an AR), at the very least the carnage wouldn't have been so dreadful. No argument there. However…

It's ironic that just last night I was watching Piers Morgan (one of my least favorite TV types) interviewing Rudy Giuliani about the Portland Mall massacre that happened earlier in the week (Good God! What a horrific week this has been!). Morgan was doing his best to get Giuliani to say that we needed tighter gun control. Giuliani surprised the hell out of me, especially since he was so anti-gun as mayor of New York. He made a very cogent argument that the guns were only the tools and there are psychological and social issues that need as much study as gun control does. However, sitting there watching Newtown's panicked parents and shell shocked first responders racing about, I didn't really care about the anti-this or pro-that arguments. I was consumed with empathy for the parents. I found myself in their shoes. Hearing the news, hoping against hope, being called to help identify little forms that carry no identification. God Almighty, how can such things happen?

My son thinks America is broken and is no longer the place he wants to live. And, to a certain degree, he's absolutely right. On many, many levels. But there's something we're overlooking. My entire life there have been short periods of time during which horrific things like this happened. It is as if the news of one starts someone thinking about doing another. Even the assassination spree of the '60's, had a copy-cat feel to them: JFK, Nov '63, M. King April, '68 and Bobby Kennedy only two months later in June of the same year. People forget that the University of Texas bell tower shooting spree was mixed right in there in August of '66 when Charlie Whitman killed 16 people and wounded a dozen more.

Stories like this litter our history. Each of us can think of a dozen similar episodes but why? What is it about us that makes our country an incubator for mentally disturbed individuals like this? Yes, the access to firearms makes them that much more dangerous, but as Giuliani said, those are just the tools. If guns didn't exist, they'd find a way to take out their rage on society. Taken in its totality, it would be easy to judge the US as a violent people, which I don't think we are.

I have no amazing insight that will quickly make sense of all of this. I wish I did. I wish I could explain today's shootings. I wish I could explain why a young, ex-Marine climbs a bell tower and methodically shoots people for the next hour and a half. But I can't. We all accept that we have seriously disturbed people in our midst. And, if we could destroy every weapon on Earth to protect ourselves from them, I'd personally push that button. But, we know that's not possible.

It would be easy to say, "That's just the way it is", shed a few tears and go on our way. Unfortunately, that's exactly what most of us will do: those of us not directly involved will soon let it slide into the outter reaches of our memories and basically forget about it. And the very fact that we are so used to such things and can let ourselves forget them is the universal tragedy of the day.
8 Dec 2012 - Dates, Goals and Arrogance

This week has seen some interesting things happening on the national, local and personal level. Some include me deciding future goals and others are flat out amazing that anyone would actually have the arrogance to say them in public.

First the arrogance and this is short and easy to understand: when was the last time a President asked to be given sole power to set debt limits for the nation with no input from Congress or anyone else? Isn't that saying, "Hey, I wanna be king. Come on, lemme be king. Please, please. I'm the only one smart enough to know what we need to do. Give me complete control. Come on!" Damn! I'll bet that request even made most Democrats cringe. I've not even once seen a President display that kind of arrogance.

More important was yesterday's date. December 7th long predated 9/11 as a date that needs no explanation and for the same reason: an ultimate act of terrorism was commited that set in motion the most massive, long lasting changes the world has ever seen. It completely re-wrote history in every possible way. It's unlikely that we'll see a similar restructuring of the globe, even if so-called WWIII were to break out because it wouldn't be waged on nearly every square inch of the globe as WWII was.

In the Davisson household, Dec 7th has additional significance: it's the birthday of my first-born who just turned 41. It's pretty damned amazing to have kids that old, but it's just part of life as it moves on. For what it's worth, his birthday is on Dec 7th because we were given a choice and that's what I picked. Really! I'm not joking. He was long over due, something like two weeks (he probably couldn't find his tennis shoes), so the doctor gave us a three-day window in which he had to be hatched. I picked Dec 7th figuring that way I couldn't forget his birthday.

FYI- This week also saw some progress on The Roadster. I took it partially apart to take the steering box out, as I finally found someone who has the experience to rebuild a Ross steering unit out of a 1941 Willys milk truck (or so I was told, when I bought it in 1958). Also finalized some of the small details in all the systems, I can actually see the light at the end of the tunnel and I'm certain it's not a train. I think it's the high beams of a pair of 1938 sealed beam conversion units I've had since I was 16.

Of some importance is that this week I finally came to grips with the fact that eventually I'm actually going to get old. What a bitch! And it wasn't an easy thing for me to admit. My health is waaay ahead of many in my peer group (pure dumb luck) and I'm seeing no limitations in what I do that I can attribute to age. So, I just don't feel my age, either mentally or physically, but I know it's coming. Reality is reality. So, I set some goals to work toward.

Let's go back something like 20 years to me getting divorced (FYI – I still get along great with my ex andshe and Marlene talk from time to time). One of the most painful parts of that period was watching the last of my three V8-60 midget race cars (a pre-war Hillegas that was primo!) going down the drive way hitched to someone else's car. Having an old race car with the traditional track nose and tail has been on my bucket list since I was 14 years old so it has been a real burr under my saddle blanket that I had to get rid of mine. However, I've decided to do something about that as one of my future goals.

On my 80th birthday (yeah, I know that's a long ways down the road, but I'm slow getting stuff done, so I need the time), I want to do several things. First, I want to fly a couple hours of Pitts dual with students. Then I want some video shot of me sitting at a stop light at a busy intersection in a vintage (50's/60's) sprint or champ race car that I've converted to being street legal. I can't think of a more insane image than being at a stop light and looking over to see an 80-year-old dude at the wheel of a no-sh*t race car.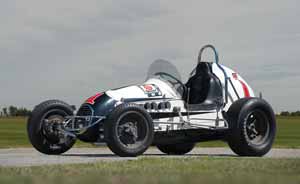 A true American art form. Can you see one of these puting around in traffic with a geezer at the wheel. I LOVE IT!
A short course in making a dirt track race car street legal: they don't have clutches or transmissions. Just an in/out box. So, I'd have to install a new driveline along with quick detachable stuff like headlights, tail lights, windshield wiper, etc. Compared to what I've gone through building the roadster from scratch, this would be easy-cheezy. Small block Chevy, T-10 trans, cable or hydraulic clutch. Easy and fun.

I've been so insanely in love the shape of old dirt track race cars my entire life that this goal will certainly happen and I'm now beating the bushes looking for a clapped out old racer in need of a drive line. Like I don't have enough to do, right?

And then to top off the week, Friday afternoon Marlene and I had another of our oh-to-hell-with-it moments and packed up and drove the 100 miles to Prescott in the high country to share in their Acker Night (don't ask, I don't know why it's called that), where all of the shops around the square stay open late and have mini-concerts in them by local musicians and carolers. We had a great family Christmas episode with our dog, Sháhn-deen, getting by far most of the attention. We couldn't walk 20 feet without someone commenting on how cute she was.

So, all-in-all it was a great week. I hope yours was as good as ours. bd


1 Dec 2012 - The Assault on Turtle Island

It seems like every time you turn around there is an assault underway on someone's freedom and our traditional values. The elections focused our attention on the national stage making us forget that freedom is most important where it touches us at the local, individual level. If it doesn't exist there, it doesn't exist anywhere. Hence, it's worth noting the saga of the Turtle Island Preserve in Boone, NC.

Turtle Island is an interesting entity in that it is a small private farming complex located in the middle of a huge piece of North Carolina wilderness miles from anyone or anything. They chose that location because of the isolation and privacy. The stated purpose of the facility is to replicate traditional ways of farming and living as an educational center or those interested in learning the old ways and getting back to nature. So, they've built all of their buildings using traditional (read that as colonial frontier) materials, tools and methods. So, when some one comes to their learning center, they not only are learning how our founders did things, but they are living and working in buildings that provide accurate frontier environments.

They are a peace-loving group of traditionalist volunteers trying to educate people from all over the world about the ways things were done pre-industrial revolution. Not quite a hippy commune but with that same passionate vibe aimed at preserving a specific time in our history and learning to live with nature.

To say that this group is bothering no one is an understatement. You have to drive 2 ½ miles up their driveway just to get to them. So, imagine their surprise when a contingent of local zoning and law enforcement folks (11 very official-looking types, some armed) apparently just walked into their living room and announced that they had a warrant and were assessing their property for building code and zoning violations.

Get this picture in your mind: you've done you best to build a facility that features nothing but colonial frontier building techniques and you have a modern building inspector, who apparently has a chip on his shoulder, going through the structures, clip board in hand. What's wrong with this picture? Everything, that's what!

The upshot is that Turtle Island and its volunteer management is being cited and threatened with fines and possible legal action if they don't bring all their structures up to code.

Now let me get this straight: you're demanding that a structure that is built to demonstrate early building techniques has to conform to 2012 building codes. This is quite possibly the definition of "ridiculous."

First, I had never heard of Turtle Island until an e-mail asking for help was forwarded to me, so I have no personal attachment to it at all. I do, however, have lots of attachment to what it is they are trying to accomplish and the way they are going about it. And, having dealt with zoning boards and building departments in a prior life as an in-fill building contractor (I bought difficult-to-build lots and built spec homes) I know how heavy handed, unreasonable and dictatorial they can be. But, this is silly! An abuse of power and a waste of taxpayers' money, if I ever saw one.

Okay, this having been said, I'm certain there's another side to this story just as I'm certain that some pissed-off individual who had it in for Turtle Island blew the whistle on them. Regardless, there has to be space within zoning/building requirements that allow for this kind of educational facility to exist.

So, I think that those who feel as I do about such thing should sign Turtle Island's petition and drop a note to their local zoning/building officials. We don't have to call them names, but I do think that it's important in situations like this that local bureaucrats realize that their actions are taking place before a national audience and a lot of folks think they are going about this thing the wrong way. And exceptions for historical structures should be granted. Teaching our traditions and freedoms is more important than some sub-paragraph in a building code.

Go to TURTLE ISLAND
25 Nov 2012 - We Are Our Own Worse Enemy

I'm still sick and I'm in a funk. And I'm causing it myself. And, even as I sit here typing, I know that I'm causing it myself. This is a fact that lots of us manic types have to deal with: we are our own worse enemies. The good news, however, is that I know it. Others often don't.

I'm convinced that a good percentage of people who find themselves down, whether they are depressed or not, don't realize how much of the problem they are causing themselves. As I'm sitting here right now, I recognize where my brain is trying to take my emotions and I know exactly how to stop it, and I will, but not until I'm done venting in the hopes of helping others with similar problems.

Far too many folks are unwilling to recognize that they have cycles in which a negative outlook takes over their thinking. I'd be surprised if there's a person reading this that doesn't go through periods where they're they're psychologically holding their heads in their hands bemoaning all the things they're uphappy about. In fact, I'm betting there are a lot of folks reading this that, if they were to be analyzed, would be determined to have manic-depressive tendencies. Some might even be clinically depressed: nothing looks or tastes good to them. Life may be going on, but they see it through a gray, negative veil that sucks the joy out of them.

I've struggled with those kinds of cycles my entire life, but sometime in my 30's I noticed a very definite pattern. Maybe it's the engineer in me being alerted to trends that can be analyzed. Whatever, I found that for some reason, often unexplained, something would set up some negative thoughts in my mind about a specific subject. Maybe the lack of progress on a project or goal. Then, like an oil slick spreading across a still pool, I'd find it infecting other aspects of my life. Then, I'd find myself cruising along in the depths, with nothing but negative thoughts and a bad attitude about everything. This is NOT my usual demeanor, which may come as a surprise to some folks.

These cycles didn't happen often but sometimes they'd last for three or four weeks before, for no apparent reason, I'd start to perk up and be my normal self again.

Tell me you don't identify with at least part of the above. I dare you. I think it's part of life. Or am I the odd-man-out here? In which case, this is a little embarrassing.

At some point I got to where I could recognize when I was feeding my own depression by letting myself slide into a glass-half-empty mindset. 100% of the time, that mindset is unearned, and some part of me knows it. Previously, even though I knew I really had nothing to get down about, I'd continue on that slippery slope. However, At some point, I guess I decided to make understanding this cycle-problem into a project and figure out a way to fix it. At that point, I stood off to one side, as if a casual observer watching the process under way, and identified the varying phases of my slide into a funk. It didn't take long before I realized that just like stopping hiccups (I can stop my hiccups if they are more than 8 seconds apart…another subject for another time), if I keep my antennae up and catch my slide early enough, I can stop it dead in its tracks. Now, I can be pretty deep into a funk, as I am right now, and pull myself out of it almost instantly.

Here's what works for me. I have no idea whether it works for others or not, but, if I'll heed my own advice and do this, it keeps me in a pretty even, reasonably "up", mood.

• First, listen to your own thoughts. In my case, I'll be sitting there listening to myself thinking and suddenly realize that all of the thoughts are negative: I've been sliding downhill and didn't realize it because I wasn't listening. You can't fix something, if you don't know it's happening. So, once in a while stand back and listen to your own thoughts as if they're a radio broadcast. If the tone isn't what you want it to be, you need to do something about it.

• Often the negative thoughts are initially focused on something big you can do nothing about, e.g. the election, the job you didn't get, etc. However, notice that other, less important things are jumping out at you and irritating you. It could be something as simple as a doorknob that's loose and you haven't fixed it. A burned out light in a closet that you know is there, but you've been ignoring it because you're not in the mood to fix it. A friend you know you've pissed off but haven't called to straighten things out. Once you start down hill, an increasing number of things will add to your downhill slide because they are things you could do something about but your lousy mood keeps you from acting on them.

• Single out some of the minor irritants that are short term projects: ten minutes with a screw driver or simply dialing a phone number. Pick things that pose no real challenge but irritate you anyway and, when combined, can help bring you down.

• Now comes the hard part: hoist you butt out of the easy chair that's in front of the TV and surrounded by empty potato chip bags and pick out the small thing that is irritating you the most and do something about it. Anything. Tighten that doorknob. Move onto the closet light. Then call that friend.

Just as the downhill slide takes nothing to start it, the same thing is true of the climb up-hill. It takes the smallest thing to start the comeback.

Here's a fact: when you face up to something that's nibbling away at your peace of mind and put it to bed, life instantly gets just a little brighter. Stack enough of those tiny victories up and you'll find yourself back on top in nothing flat.

Incidentally, when all else fails, take a couple of beers with you, turn the radio up loud and clean the garage. That's a drastic move, I know, but, no one in the universe is so depressed that walking out into a freshly cleaned garage doesn't make them feel better.

I'm not that desperate, so I think I'll go put the rear end back in the roadster. That's been bugging me for weeks.

Hell, I feel better just writing this. Thanks for listening. bd

17 Nov 2012 - Sugar Gliders and Twinkies

First off, I have a cold and I feel like crap, so this one may be short. If I sound journalistically stuffed up, that's the explanation. That and the fact that these days it's next to impossible to start a conversation that isn't politics-centric. But, I'm going to try. Besides, even though we've had devastating news this week, including the death of the Twinkie, I discovered the Sugar Glider subculture and that almost balances out the political crap.

First the Sugar Gliders: bear in mind that I hadn't even heard the name until yesterday afternoon when I was walking through the vendor displays at the Good Guys Rod and Custom show in Scottsdale. And, if I had heard the name I'd think it to be some sort of Twinkie-wannabee: a thoroughly toxic combination of sugar and gooey stuff that tastes wonderful but is guaranteed to require treatment that will keep your cardiologist in Porsches for the rest of his life.

So, I was walking along looking at the shiny new mag wheels, all-steel and unpainted roadster bodies and other magic car stuff and I see an animal cage sitting on a vendor table. Huh? Very much out of context. So I sidled up and took a peek. There were numerous tiny, striped, fuzzy critters snuggled together sleeping. Again…huh?

I looked at the vendor and asked, "So, what're you selling here?"

He reached in his shirt pocket and came out with what has to be one of the cutest little, bug-eyed non-rodents I've ever seen. Now it should be noted that I'm a sucker for anything cute and fuzzy. It's a miracle we don't buy a new Pomp puppy every month because I think they're so cute. But, this thing….it was tiny and…well…cute. But, who would be selling rats at a car meet? And I said that out loud. I didn't know it, but I had just insulted his pocket-friend, Blanco, and am lucky he didn't punch me in the mouth by making a generalization that lumped his friend in with a group to which he didn't belong.

Still, I was fascinated.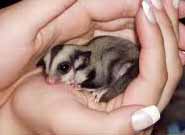 How's that for an "aah" moment?
The vendor started his sales pitch: turns out it's not a rodent. It's a marsupial and has a web between its legs like a flying squirrel, but doesn't have rodent teeth. And he proved the "glider" part in Sugar Glider by putting the little guy on the back of my hand. He had me stand in the middle of the aisle, which had to be more than fifteen feet and hold my hand far over my head. He then called "Blanco!" and the damn thing leaped off my hand and glided to his master. He landed flat on the guy's chest, clamped himself in position for just a second then scrambled into his master's pocket and curled up.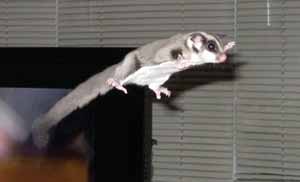 Did I mention that the little guy was unbelievably cute?

As I told the vendor, it's a good thing Marlene wasn't with me or we'd leave with a couple in each pocket.

When I got home, I Googled the critters and discovered that there's an entire sub-culture built around them. One website had literally hundreds of photos from owners featuring their fuzzy little heart throbs. BTW – the best site I found that appeared to be the most accurate because it was created by the Association of Sugar Glider Veterinarians is http://www.asgv.org/index.php.

Turns out the little buggers are really emotional creatures that thrive on love and bond solidly with a family and their other animals, often spending hours riding around on a dog's back. Many professionals said they spend the entire day at work with one curled up in their shirt or jacket pocket. Hahahaha! For whatever reason I love that.

And, no, I'm not going to buy one. I'm positive that Abigail, our kitten-that-refuses-to-grow-up, would take one look at one of these and pounce on it. She brings a bird in the house at least once or twice a week. She's a born hunter. And it would kill me to see her munching on our new, $450 fuzzy thing. Yeah, that's what I said: $450. That's the other reason I wouldn't buy one.

And then there are the Twinkies: I hope the union bosses are happy. For Hostess to survive they needed an 8% decrease in labor costs. They tried to negotiate for nearly a year but the unions refused. Even when told Hostess would shut down by a given deadline, the unions ignored them and 18,500 employees took a 100% pay cut rather than 8%. That's a lot of jobs and we can't even blame it on Obama. We can, however, blame it on short-sighted, self-serving union officials, which, btw, have been making noises about now going after Bain Capital.

When unions relentlessly pursue goals with no consideration to their membership's well being, which is tied to the health of their employer, unions have outlived their usefulness. When the host animal is dead, so are all of those that were living off of it. bd

10 Nov 2012 - Post Election: We'll Survive if...

If you're in the habit of checking Speaking Out Loud on Saturdays, notice that I wrote one during the election. Read that one first. Now, a couple days later, I'm pretty much over a fairly acute case of the election blues and into What-Do-I/We-do-now mode, which I think is important.

Regardless of how bummed we may be we owe it to our country and our family to survive as individuals, neighborhoods, cities and states so we can rebuild whatever is left, when this nightmare is over. In fact, I'm now trying to figure out what my personal goals are and how to implement them. We can't let our lives just happen. We have to do a better job of guiding them and then turn our attention to the Nation.

And we are probably safe, if we ignore all the wailing and teeth-grinding that's going on right now. I don't think we'll see anarchy reign or storm troopers coming down the street. What we'll probably see, however, is a slow deterioration of many of the things, which we think of as being integral to the America we knew.

On the foregoing point: we have to recognize one very important fact that came out of this election. This is no longer our fathers' America. The demographics clearly say that. We white folk are going to have to accept that, in a few years, we're going to be in the minority. But, that's definitely not the end of the world. Not even close. As long as minorities continue on the path that every minority before them has taken, they will slowly, but surely, become Americans. There have been generations of Latinos, Chinese, Japanese, Vietnamese, etc. who have become hyphenated-Americans. And that's a good thing. All of us are hyphenated one way or the other.

Incidentally, as much as some like to paint Hispanics as takers and lazy, my personal experience and Arizona's experience with legal Hispanics is exactly the opposite. They are some of the hardest working, most entrepreneurial people on the continent. If they have their hands out, it is because they have no choice. That is not their natural way. If we can develop an orderly way to guide illegals to citizenship without a wholesale by-passing of our immigration system and meld them into the work force, they'll go from being a burden to being a benefit fairly quickly. And, as they get deeper into their new culture and the generations build, they'll become split like everyone else. Some going Democrat. Some going Republican.

One immediate fall-out of settling the immigration issue is that those Latinos that are already citizens will ease up on their hatred of the Republicans. Most have the same concerns about the country that we do, but family immigration concerns make them into one-issue voters. We won't get all of their votes, but we won't lose all of them either.

One of the things I'd like to see us invent is a new operational format that I'd call "Capitalistic Socialism". The DNC owns the entitlement crowd (let them have it), which is very expensive, expanding and isn't likely to disappear. It also votes. And it has to be supported. So, I'd ease up the tax and regulations that affect business and let capitalism run as hard as it possibly can. Let them get terribly profitable and rich, which will generate the tax revenues and the jobs necessary to feed those with their hands out while we develop programs to wean them off of the government teat.

If you get government out of the way of the moneymakers, the government will have more money to spend. Simple!

There's going to be some really ugly stuff happening in the next four years. The most serious being that the Supreme Court is almost certainly going to be taken over by the hard left and the buzz is that Eric Holder, the most dangerous man in America, may not serve another term as attorney general so he can take over the first Supreme Court position that becomes available (expect some backroom shenanigans there). As I said, ugly. But, in one form or another we'll survive.

Expect the 2nd Amendment to essentially disappear, or at least be severely mangled, so be prepared to bury a lot of "stuff."

The GOP has two years to get their act together and re-evaluate who they represent, how to build their base and how to be the party their constituency wants. We desperately need to take five more seats in the Senate (is my math right?). A huge goal! But we have to shoot for it. It is, however, going to be a very long two years and a lot of things can happen along the way.

I'd like to see the GOP do several things RIGHT NOW:

-Immediately introduce immigration reform that is logical, doable and hopefully not based on amnesty, but, if that's what it takes, do it. If the GOP makes the move before Obama does, that'll have a HUGE effect on Latino voters plus it's the right thing to do.

-Don't let the words "abortion" or "right to life" come out of any candidate's mouth. Just remove the subject from our vocabulary. The law is in place and, in my view, government has no place in those kinds of decisions anyway. Plus that generates more one-issue voters. If asked about it, the candidate says, "The law is on the books and I'll abide by it. Next question." Don't engage.

-Do our very best to work with the other side on fiscal issues without giving in to truly stupid ideas. We HAVE to get our fiscal heads out of our butts.

And here's a prediction: it is highly possible that the economic situation is going to get so incredibly bad that there will be a backlash against Democrats that will work to our favor. Also, if the next GOP POTUS candidate is someone like Marco Rubio, Allan West, Cain, etc., it'll grab part of the minority vote: there is some killer talent out there that also happens to be a minority. Let's use it. As far as that goes, I expect both future Presidential candidates to be minorities. Being a woman (of sorts) Hillary counts as a minority.

The political game is still very winnable. But only if the GOP gets their sh*t together and applies what they've learned from this go-round. The fiscal thing, however…that's another ball game altogether.

PS
Now that the DNC has used up their Golden Child, it's going to be interesting to see who they run next. The adoring crowds are going to expect someone that can tap dance on water. This assumes that there is a "next time." I also won't be surprised to see their Chosen One get too far out of control even for the DNC.
6 Nov 2012 -A Voter's Diary

Today is going to be one of the most important days in any of our lives. Regardless of where you stand politically, we should all remember this day as the point at which our people decided what kind of nation they want to have. For better or worse. There is now no turning back.

0435: Election day. My eyes pop open with the realization that I have lots of work to do today. More than usual but in the fuzzy border between sleep and wakefulness, I can't remember exactly what it is. As my feet hit the floor, I remember: today is the day. We vote. Today is the beginning of the end, but the end of what? The end of the nightmare? Or the end of our Nation, as we know it?

I voted for the first time 52 years ago (that doesn't even seem remotely possible) for Kennedy. I went from being a vaguely confused, long-haired, left-leaning independent who hated the establishment but loved the military, guns, guitars, and delta blues (Chicago blues too) to being a very right leaning independent who still hates the establishment and is hardcore conservative in some areas but very liberal in other areas. So, yes, I'm still vaguely confused but in those 52 years, I've never seen an electorate so strongly divided or a country that was so clearly tearing itself apart. And today, it comes to a head.

10:55 Election day: I just came back from voting and, for whatever reason, I have a vaguely queasy feeling in my stomach, with just a twittering of fear. I've done all I can do. I've cast my vote. But, with so much is at stake, I'm afraid that's not enough. I was going to go hide for the next couple of days, but now I'm not. I'll gut my way through it, as will we all. It's going to be a long day. Or week. Or possibly several weeks. We'll just have to hide and watch.

8:45 pm (10:45 EST) –The writing's on the wall. Right now it looks as if Florida is gone. Ohio too, although they're still counting. And Colorado. So, if that turns out to be the case, essentially it's all over but the shouting. He can't lose them and win.

Fox just called it: The Chosen One wins. We lose! I feel like puking.

As I was sitting there with Marlene, who is screaming her brains out she's so frustrated, I came to a very clear realization: there are actually two Democratic parties and one of those is being used by the other in a way I don't think they realize or want.

It's easy to characterize the Republican party: essentially they are conservative white guys, a little older, possibly in business and old school in their beliefs. It's a fairly homogeneous group (within certain limits).

The Democratic party is difficult to characterize because there are two very clear, very different parties. The first is what I might call Demo Lite, floating on the top. It too is predominately white and is represented by the intelligentsia, the academics, the Hollywood stars and those people who are firm in their beliefs that they truly need to take care of the rest of the world. Of the disenfranchised. The poor. The down on their luck. And they believe that with all their hearts. One of their erroneous beliefs is that they're convinced that the Republicans don't feel the same way and don't want to help the same groups, when they actually do. They would just go about it a little more carefully.

The other half of the Democratic party is made up of those they want to take care of. We'll call them the Dirty Demos. And they don't call themselves Democrats. Or liberals. Or anything else, for that matter. These include a rogue percentage (not all, but a percentage) of the poor, the disenfranchised, the illegals, all of those whom the upper half of the party want to take care of. Unfortunately, some of the Dirty Demos are playing head games with the Demo Lites.

A large portion of the Dirty Demo's have their hands out and believe in big government because they don't want to do it for themselves. They want the government to do it for them and, while there are a lot of fine folks in there that truly do diserve our help, there is also a huge number of people who are laughing their asses off at the "liberals" and gleefully taking all that's offered. They have struck it rich.

That part of the DNC aren't liberals. They are takers. They are the death of America walking around on two legs. They will continue to suck on America's goodness until there is no more. And with Obama as president and the millions of additional DNC voters courtesy of immigration amnesty, you can look back at George Bush with nostalgia because he'll be the last Republican president. The two party system is essentially finished. As is the country.

It's a well known quote from some ancient philosopher that rings so true tonight that it is scary: a democracy can last only until the population finds that they can vote themselves gifts out of the treasury. And that's what is happening even as I'm typing this. It now appears that those who want life given to them, as opposed to making their own life, have joined hands with those who think they are helping, thereby allowing the takers to conquer the most powerful country in the world without firing a shot. They have made the US their slaves in that they don't have to work because we will take care of them. And they accomplished that by playing on the sympathies of those who mistakenly believe that they will be thanked for their generosity and support.

I would like any liberal who voted for Obama today to ask themselves this question: do they identify with the Black Panthers who threatened voters? They voted Democrat. Do they feel a kinship with the neighborhood drug dealer? He'll vote Democraft. Would they like the unwed welfare mother who has six kids to spend the summer with them? Guess how she voted? Those people are laughing up their sleeves at those who are making their lives so easy. They are what provided the voting margin for Obama to win. Without the takers vote, this would not have happened. I'm amazed and sickened.

This is a tragedy of enormous proportions for America and the world. When we go down, the rest of the world will go down with us. History is going to have a difficult time understanding how a logical, free people could do this, when it's really pretty simple. A big enough proportion off the population figured out how to live for free and voted for he who guaranteed that.

Okay, tomorrow is another day. The die has been cast and we have to make the best we can of it. I feel sorry for my kids: they're convinced that they're doing the right thing. It is their kids, my grand kids, who will reap what they have sown. All you and I can do is keep our heads down and do our best to survive what is going to be an increasingly difficult situation in which to make a living while living our lives the way we want.

It's going to be up to us to figure out a way to straighten this mess out. Or failing that, how to survive and give our families a good life in an increasingly bad situation.

I'm going to sign off now. 'Seems like a good time to order another 1000 rounds of 9mm and .223 while I still can. Damn! This is surreal. bd

3 Nov 2012 -A Week of Double Whammy's

What a week! How can you script a bigger disaster than Sandy? The East Coastline is nearly two thousand miles long, yet Sandy managed to zero-in on the most densely populated area on the entire Continent. And it did so as we're struggling with the national crisis represented by the election being only days away. A double whammy.

First the election: I don't have the words to convey my feelings about it. I've said it before and I'll say it again: I find it astonishing that a man can do such a bad job running ANYTHING and still have 50% of the people loving him. There's some sort of Messiah Complex at work here. Something I absolutely cannot understand.

I fear for my country. Yet, those I'm most concerned about and are most vulnerable, my kids and grand kids, stand solidly in the BHO/Democratic corner. I just don't understand it.

Tuesday will go down as THE watershed moment in American history. Our future will be decided then, just as it was during the Revolutionary War and the Civil War. I am truly afraid.

I'm also afraid for parts of the NYC Metro area. For the 23 years prior to moving out here to Paradise, I was part of that menagerie. Although I lived on the far western edge of it, I conducted business and commuted right through the heart of it on a daily basis. So I'm fully aware that, unless you've lived there, so many of the scenes may look disastrous, but you don't really grasp the magnitude or variety of the problems. For instance, a talking head pointed out a mostly submerged truck stranded in waters rushing into the Battery Tunnel, and said there were "several feet" of water in the area. However, that truck was a larger-than-normal dump truck and only about a foot and a half of the box was visible: the water was a solid eight to ten feet deep AND THAT'S ON THE RAMP GOING DOWN INTO THE TUNNEL!! So the tunnel is completely flooded. How do you fix that in a reasonable length of time?

How do you get a subway back on line that is completely electric yet underwater? Think of all the components that will need replacing. The thousands of relays. The thousands of electronic components. I'm betting the amount of replacement equipment required could easily outstrip the nationwide supply and some of it will have to be manufactured.

There are tens of thousands of cars that are totaled by virtue of being submerged: every building of any size has underground garages going down two or more (sometimes many more) stories. Many of them have to be pumped out, the cars pulled out and put somewhere, insurance companies have to get involved, salvage companies make their bids to take the cars. The cars need to be replaced. It goes on and on.

And then there is the human toll that, until electricity is returned to most of the buildings, the death told could continue to climb. Manhattan is connected to the mainland by three or four bridges and at least two or three tunnels on both sides. The tunnels will be slow coming back on-line and some of the bridges are damaged, so the usually tedious traffic into and out of the city will be much more so for some time. While all that goes on, the mini-villages represented by each of the hundreds of residential buildings in town will be suffering.

I've heard no news types talking about it, so I could be wrong. However, based on my own experiences in the City, each residential building houses hundreds of people who shop differently than most of us do: they don't buy a week's worth of groceries at a time at a spawling super market. They buy several days worth at a small neighborhood market like D'Agostinos, which seem to be on every third corner. They are everywhere. And you almost never see a D'Agostinos without at least one or two small delivery trucks parked in front unloading. The stores are in a constant state of re-supply. And I'm certain that supply line has been severely hampered. Possibly totally cut off.

Consider this scenario: you're an aging couple living on the 10th floor below midtown. You have no electricity. Besides the personal inconvenience of the dark, the pumps, which carry water to a roof top tank, no longer work, so very quickly you have no water. You also can't flush your toilets. The elevator no longer works, so the stairs are your only choice. Can you manage them? Since you aren't in the habit of overstocking food, it's only a few days before you're hungry. The toilets/garbage cans/whatever are over flowing. You HAVE to get supplies. So you struggle down the stairs only to find that your grocery store isn't functioning. Where to go? What to do?

The saving grace may be that D'Agostino's has on-line ordering and delivery. That, of course, assumes they have the food and the couple's have a computer, both of which are doubtful.

Even though I've seen no news coverage of it, I have to think that thousands of apartment dwellers are already finding themselves functioning as if homeless. Scrounging for what they can.

I'm afraid the death toll is going to go up simply because so many won't be able to manage the stairs.

And as for rebuilding or even getting everything cleaned up, I'm not certain there is enough construction equipment or manpower in the entire North East to solve the problems. Just think of the amount of trucking that will be required to haul away the refuse that used to be homes on Long Island or the Jersey Shore? And where will it go? While I was living in NJ, I got involved in demolishing a house and we had to truck the debris to Ohio, which was the closest place that would allow it to be dumped. This is going to get more complicated by the day.

Lessons Learned (all of them simple):
-The basics, water and food are critical but many don't realize how quickly things can go to hell and so they don't stock them.
-Electricity is next and possible as important. The lack of electricity is what caused the area-wide gasoline emergency.
-Generator sales across the country have gone through the roof nationwide: the NY/NJ disaster was watched in real time by the entire nation and many are taking its lessons to heart.
-The basic lesson is taught to all Boy Scouts: Be prepared. Regardless of where you live, you are vulnerable to "something." If not hurricanes, it's snow. Or floods. Almost anything can strip the thin veneer of civilization away leaving you helpless.

We have two tragedies being dropped on us: the tragedy that is Sandy, has already hit and we're dealing with it. The tragedy represented by incumbents returning to office is impending. And, given the way the election process is going to be strung out by Sandy and other obstacles, we may not know the answer until several days after the polls close. This is going to be agonizing.

I'm seriously thinking about not turning on a TV until Thursday, so, it's all over but the shouting and I don't have to go through the last minute drama. And there will be lots of drama. Count on it!

This is going to be a long frigging week!

27 Oct 2012 -Leaving Crap For the Kids

Yeah, I know: the third debate was this week, but, I'm so saturated with political BS that I don't want to talk about it. Both sides think they won and I'm happy for them. I'll address politics next week, when the election is steaming down on us. Right now I feel like touching something more personal: the concept of heirlooms and the generational connection therein. I know I've touched this before, but not in this context.

I spend far more time than I should discussing airplanes, life, funky cars/guns/whatever amongst some of my best friends on the Bearhawk chat group. It's a super intelligent, diverse bunch of guys and the group is my only social link to the world. Within this group, no subject is off limits. If it is important to one of us, it's important to the rest of us, and it gets discussed. I remember, when our dog died, we kicked it around on the group with everyone telling their own dog stories and I'll guaran-damn-tee that there were a lot of tears on a lot of keyboards.

One of the subjects we cruised through last week was how so many of the guys had rifles or shotguns that were passed down from their fathers and grandfathers and how they treasured them and the connection they represented. It was a really warm, inspiring discussion and got me thinking about my own situation: although I'm surrounded by lots of "stuff" that was part of a gigantic accumulation begun by my dad and expanded many times over by me, with one exception, there is not a single thing in this house that I connect with my parents. Nothing. This is really unusual, considering the amount of crap that fills every nook and cranny of the house.

The lack of hand-me-down guns, can be explained by the fact that my father never actually "owned" any guns other than those that hung from the walls and the ceiling of his store as part of the decor. When we went hunting, he used different guns because there was a small gun department in his general store, many of them used, so he'd just grab one off the rack and away we went. There was no favorite shotgun with the corners and blue worn smooth by work-roughed hands that was part of his life. No tools, no gold watch, no nothin'.

After they died, some one stole his old Speedgraphic 4 x 5 camera and his 16mm Bell and Howell and I'd love to have both sitting here in my office. So, that leaves me with a single artifact that truly was my father's and which I connect with him. See the picture below and tell me if you can identify it before going on to the text under it. If you know what it is, kudos for your outstanding knowledge of useless trivia.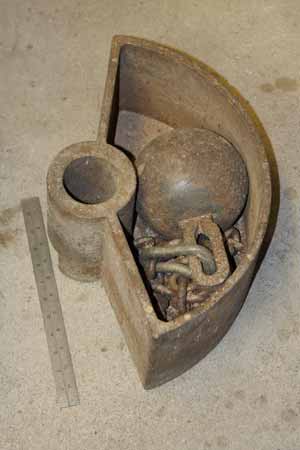 Nope, it's not my dad's gold watch.
What you're looking at is the counterweight from the waterwheel that powered the Seward Flour Mill in my old hometown. This would have been in the 1920's. My dad started there right out of school as a "mucker:" it was his job to slither down into the waterwheel system and drag/push/shovel the mud out of it. Eventually he rose to manage the mill before starting his own business. Today, not only is the waterwheel and the mill gone without a trace but the entire river is gone. Just a level field remains. Looks very strange.

As you can see from the photo, the counterweight makes a really nice container for my prison ball and chain.

I use the counterweight as an anvil and for bending stuff of varying lengths. Dad used it the same way, although I very seldom saw him actually working in any of the workshops he was constantly building on the property and in the house.

So, now I wonder what in this massive pile of junk will wind up with my kids. And will any of it mean anything to them? The answer is that only the US Cavalry belt buckle I wear every day will find a home and be treasured (my daughter has already staked claims on it). None of the guns will go to either one, including my first new gun, a .22 Marlin lever action I bought with chick box money, when 12 years old. My kids are gun-phobic and couldn't live in worse states to own weapons (NJ and CA). The artillery piece, roadster, dozens of well-worn power tools, my old camera case, stuff that has lived with me for most of my life has no meaning to them. Even the Indian artifacts, won't mean anything, although it's possible they might keep the four Navajo rugs that laid on my bedroom floor as a kid in Nebraska (mom and dad bought them in AZ in '34). They are now on my living room walls. But, that'll be about it. The counterweight will wind up in the trash. Too heavy. Too rusty. Too ugly. But, waaay too cool!

I guess it's important to remember that we're living our lives for ourselves. Not our kids. And we should enjoy our time and our possessions, while we can. It's also important that we place no value on our possessions but that we treat our time like others treat gold. Time is the only thing we have that is truly of value. And, unfortunately, you can't pass it on to a new generation. bd

21 Oct 2012 -Yeah, I know I'm dying...leave me alone

The fact that we're each dying shouldn't come as news to any of us. However, if you're just now hearing that unfortunate bit of information, I'd like to have some of the stuff you've been smoking. And as with everything in life (and in death it turns out), if it represents a possible revenue stream, we can count on the direct mail folks jumping on it. Get this: I just received my first piece of mail offering "FREE, Pre-paid Cremation." Damn!

The subject of so many jumping on the you're-old-and-ready-to-die marketing bandwagon can easily bend me totally out of shape. I was, for instance, pissed, when I started getting a blizzard of stuff from AARP. Okay, so I know the miles are piling up on my odometer, but it still pisses me off that they follow me around like ambulance chasing lawyers hoping for my business.

I'm still not convinced that AARP isn't just a bunch of twenty-three-year-old marketing geeks sitting around a conference table littered with empty Red Bull cans saying stuff like, "Yeah, they're so worried that they're getting old, we can easily convince them that they're going to be helpless unless we represent them in Washington. Or something like that. They're all over 50, plus a lot are Republicans, so they aren't smart enough to see through us. We can even sell 'em T-shirts and other useless sh*t. I can see the T-shirts now 'Wrinkle Warriors Unite!' Keith Richards, wrinkle king of the western hemisphere, can be our spokesperson. 'Wrinkles Rock!' We'll make a fortune from dues alone! Let's do it! Screw 'em! They're all going to die anyway."

The continual chirping of AARP I can ignore. But the note from the National Cremation Society I received this week was a zinger right between the eyes! Give me a frigging break, folks! Is this the way the rest of my life is going to be? A steady stream of ambulance chasers behind me? Salesmen pulling up in front of the house with caskets racked up in converted beer trucks, their wares visible behind slide-up glass doors on each side?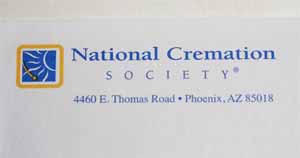 let me know, if this doesn't get your attention,when itshows up in the mail.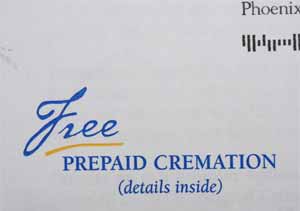 You thought I was kidding, didn't you? I was so excited by their offer I could hardly wait to open it. NOT!
Am I going to have little old nuns at the door with donation cans in their hands, "Sir, we're taking up donations for the less fortunate. Those who are cremation-challenged." They smile sweetly and continue, "You wouldn't want them to go to their just reward being plowed under as fertilizer, would you? Let us help them get the respect they disserve by allowing them to be toasted to a dusty powder and flushed down a toilet by their children."

Actually, I think I like the fertilizer thing. You plow me under in a sweet corn patch and I live on in the bodies of those who attend the first corn roast. Immortality. Or is it re-incarnation. Either way, unfortunately, once the corn does its number, you wind up getting flushed down the toilet anyway. Hmmm! Maybe that's not such a good idea.

Am I going to have my doorbell ringing and there's a cheerful sunovabitch standing there in a dark suit, white shirt, narrow tie and gleaming teeth ear-to-ear---probably a college kid working a cremation franchise door-to-door. "Sir, since you're going to die soon, may I be the first to offer you a discount on our premium line of custom-designed urns. You'll note we can fashion a facsimile of your own dwelling (their sample looks suspiciously like a bird house with no door). Or your favorite car." In the back of his display case you spot urns shaped like genitalia. I'll bet those sell well.

Or an alternative pitch, "Sir, I'm with Acme Ash Disposal Service." But, you can't see the other side of his truck that's parked at the curb: it advertises "Side walk clearing and salting." Wanna spend eternity spread out on a wintery sidewalk keeping people from falling on their butts?

I halfway expect personal representatives to start showing up from Body Works, the phenomenal traveling museum display in which cadavers are preserved with injected plastic and their flesh peeled away to reveal our inner workings. BTW-if you haven't seen this, go. It's phenomenal, but I don't want them at my front door. "Hey, dude, donate your body to Body Works. Here's your chance to be in show biz, full-time, long run guaranteed. No audition required. Sign here and we can make you the star of the gluteus maximus display."

The whole we'll-take-care-of-you-after-death thing will eventually lead to a Body Works division in which they do their plastic taxidermy thing so you can be stood up next to your pool table dressed as a Blues Brother. Or affixed to the end of your front sidewalk, lantern in hand, to welcome guests. "Sign today and you'll receive our fast-return special: you'll be returned to your loved ones cured and ready to mount in no more than 36 hours. However, the normal 48-hour delivery also includes the aroma-free guarantee, which is highly recommended."

Hey, I totally understand that the lousy economy has driven us all to flip over every entrepreneurial rock we can find in hopes of establishing new income streams. But, come on guys! I, for one, am a helluva long way from circling the drain. Even vultures wait until the corpse stops moving. Can't you folks have just a little patience? Gheez!


13 Oct 2012 -Forgotten Anniversaries and Those Stupid Debates

This has been an interesting week both good and bad. I'll not bore you with ALL the details but suffice it to say I forgot our anniversary but it didn't even raise an eyebrow in our house. But, then I saw the VP slugfest and that raised a lot of eyebrows.

How, you may ask, can a guy forget his anniversary and not wind up parked out behind the doghouse? Pretty easy, actually. And it says something about our modern life styles (not just mine and Marlene's, but everyone's): we were so jammed up that, even though we had both talked about it coming, when the day actually arrived, we BOTH forgot it was our anniversary until a couple hours into the day.

Like just about everyone we know, our days are loaded with deadlines, things that must not be forgotten, aggravating stuff that has gone wrong and lots and lots of events swirling around our heads. It's a miracle we remember anything personal. I have most of the deadlines (too many magazines, etc.) and Marlene is caught up in the swirling events: she has become a news-junky and spends far, far too much time watching news channels and investigatory specials. The result is that she's constantly in a state of mini-turmoil because of one event or the other.

It's kind of interesting watching her awakening interest in the world. In the past, she only had a vague knowledge of global events. In fact, she really wasn't very much in touch. Now I hear her yelling at the television during debates because she has the facts at her fingertips and knows when someone is either stretching the truth or proposing something that it has been proven won't work. She has even come to recognize the shows that have an agenda and those whom she can might be able to more or less trust, so she watches at least FOX (that's her video comfort food) and CNN at the same time with an occasional dip into CBS/NBC to see who is bending the truth about what. I also find her fact checking on the Internet.

And then came the VP debate, such as it was: I had to move into the other room to watch it because Marlene was constantly bent so far out of shape I had trouble following what was being said.

Some of the debate surprised me, some didn't. I wasn't at all surprised to see Biden come out swinging: he was trying to offset Barry's laid back, almost off-handed performance in Debate.1. I was however surprised (and you're going to ask how anyone can be surprised at anything Biden does) at how thoroughly unprofessional he was. He was acting like a 16-year-old who'd had his first two cups of coffee: he was nearly out of control.

He raised condescending behavior and out-and-out disrespect to a higher art form. Just about everyone is talking about his behavior but one of the things I don't hear mentioned often is that this very guy is only a single heartbeat from assuming the most powerful, most important leadership position in the world. IN THE WORLD!! This isn't a national concern. This is a global concern. My dog is better presidential material than Biden is. Damn! Who, with even a modicum of upbringing or commonsense, would act like that in that kind of arena?

Even though the VP position is generally assumed to be unimportant, it's not. It's very, very important. Even though I would have been happy to see Ryan discard a little of his niceness and lay into Biden more than the one time he did about his interruptions, it's obvious Ryan understands the importance of his task. And, it's obvious his basic intellect is strong and working. If he were thrust into the presidency by events, he would make it work.

I now want everyone who is reading this to envision Joe Biden standing before the world representing the United States. That is reason enough to want to vote BHO out of office: we need a better back-up leader. Granted, we've had some real weak-sister VP's in the past, but Biden is record-setting in his lack of…I don't know what…his lack of EVERYTHING!

I have a half-baked theory that the Dems recognized that electing the first black president had a certain amount of inherent risk attached to it. They knew that there are lots of crazies out there that might want to take do something violent. However, they also knew that with Biden and Pelosi as the next in line not even the most extreme racist redneck would want to take a chance of anything happening to BHO. Biden is Barry's best life insurance.

We're only a few days away from Debate.2 and it's going to be interesting. I'm betting BHO comes out swinging and the whole thing is a lot less civil than the last one. I also bet he goes out of his way not to make Bidenesque gestures, when he's not talking. We're going to see lots of one-liner jabs, hopefully from both sides. I like Romney's genteel approach, but I hope he gets in his own licks ("Wanna see my taxes, how about letting us see your college records?").

I don't think Romney is the best we've had, but he's far from being the worse. And I think he's a good, trustworthy human being who dearly loves America and loves being an American. However, there's no doubt in my mind that BHO is the worse we've had, in terms of where the country is at this moment and what we need to pull it out. I also think he is the worse President we've had in terms of how he sees America. His vision just doesn't match the vision that has made the country what it is. And, I for one, happen to like what it is.

We're in a rough patch right now, and it's a serious one, but it doesn't call for throwing out the baby with the bath water. This is still a strong, vibrant country and the constitution that made it that way still very much applies. For that reason, we don't need that fundamental change BHO promises, thank you. bd
9 Oct 2012 - Debates and Dog Doors

Yes, I watched the debates and yes, Romney obviously cleaned his clock. But, I don't share all of the GOP's rampant optimism. Next time is going to be tougher. And meaner. But, frankly my dear, I don't give a damn. I'm pre-occupied with dog doors. And personal forms of domestic terrorism.

First the debates/campaigns:
Nothing I can say about the debate hasn't already been said: mostly by minds that are more clever and more optimistic. By comparison, Romney looked like a genius, which, in this particular case wasn't hard to do. I think when this whole mess is over, something is going to come out about BHO that explains his total lack of concentration and performance. Even he's not that bad.

Within hours of the end of the debate, you can bet that his handlers set forth a plan that quite literally has taken him out of the Oval Office until the next debate and put him in intensive training. They aren't going to risk a repeat performance of Debate.1. In effect, until the election, the government is being run by Obama Henchmen, while he gets emergency training aimed at eviscerating Romney. And, I won't be surprised if he succeeds, or at the very least, doesn't come off looking like an dime store mannequin anxious to be anywhere but where he was.

Inasmuch as we're basically leaderless at the moment, if I were a terrorist, this would be the time I'd strike the US again. The government's extreme indecision is evident in the wake of the Libyan Consulate hit, so, as a bad guy, I'd capitalize on that and strike while POTUS is doing the one thing he does well, or at least enjoys…campaigning. Word is, he really doesn't think being President is much fun. Well, duh!

The government's immediate reaction to the Libyan thing and the way they try so hard to recast violent acts as anything but terrorism (witness the Ft. Hood shootings, Libya, etc.) makes it appear as if terrorism has taken a backseat in a lot of governmental thinking. This is especially true of terrorism of the close-up and personal kind, which is what crime amounts to: profit-based local terrorism. But, of course, in the real world, that kind of localized terrorism isn't a government concern. Nor should it be. That's a personal security issue that can be almost silly in how it affects us in our daily lives.

Enter the Dog Door Dilemma:
I think I mentioned that due to a truly monumental screw up by our house-sitters while we were at Oshkosh, a recently-out-of-jail (seven years for burglary) boy friend had free rein to cruise around inside our house exiting with $4-$5,000 in jewelry. Much worse, he took our peace-of-mind with him. Plus, recent rumblings overheard him and his brother talking about hitting our place by sending a girl friend in through the dog door.

Someday I'll go through all the security precautions we've taken, which include what I think are some really innovative changes to the security grates that were already on our house, courtesy of a previous owner who was very paranoid and a world-traveling executive. Today, after all my modifications, you'd have to back a truck up to our grates and put a chain around them to get in. And I'm not kidding. Lots of lots of thought, steel and welding have gone into them.

But, then there's the dog door. This is an aperture in every house's defense perimeter that can only be eliminated if you teach your dog to either use a litter box or climb up on the toilet and flush after use. Our Sháhn-Deen is super-smart but neither of those is likely to happen. So, I focused my justifiably paranoid mind on the problem of making a dog door impenetrable. And, in the process, I wanted to make it more user-friendly, when it comes to securing it, while you're gone. PS-I've given some thought to patenting/producing the results. Reader comments welcome.

Anyway, I started by taping 1 x 2 strips of wood to the interior of the existing dog door frame making it progressively smaller a step at a time. I was letting the cats (two of which are bigger than the dog) and the dog acclimate to it to see how small I could make the opening and still have them run in and out without being paranoid. In this case, we're talking about a tiny, ten-pound dog, so the opening was easy to get down smaller than even the smallest girl could get through. The existing dog door, however, was flimsy in the extreme: it was a plastic and aluminum frame screwed to the door that was easily destroyed by nothing more than a claw hammer. Plus, to shut it at night required sliding a sheet of aluminum down into grooves and to secure it, when we left, I ran bolts through the door and a chunk of ¾" birch plywood to cover it it. Waaay too much effort required in all cases.

The following pictures show the result of probably eight hours of cutting, welding, drilling and tapping. This dog door is bullet proof and bolts through a solid core door that is beefed up at critical areas with all sorts of cool jimmy-proof hinging and lock security tricks. Today, it would take a steel-savvy burglar with plenty of time and a willingness to make lots of noise to get in any door or window in the house. By that time, 911 calls will have been automatically made and, if we're home, a 12 gauge and double-ought buck will be waiting for them.

In some ways, the burglar did us a favor: now, in addition to keeping burglars at bay, I'm ready for the Zombie Apocalypse. :-) bd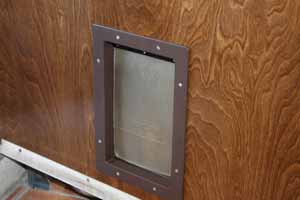 Outside, with flexible plastic cover. Bolts from the inside are threaded into the frame so there's nothing to unscrew from the outside. All material is 1/8" steel. Frame is mitered and welded angle.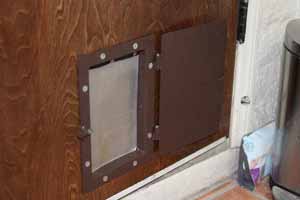 Countersunk, 1/4" bolts hold it in place. Door is side-opening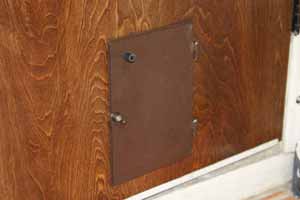 black knob at top is fuel hose so it doesn't mark the wooden door, when open.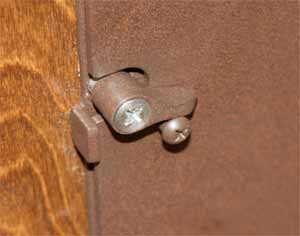 Lock is 3/16" wall tube with 3/16th ear welded on and bolt runs through frame with 3/16" doubler welded on back for lots of threads. Finish, is powder coating.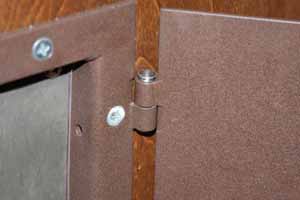 Hinges are welded to door and frame on both sides. What appears to be a pin, is actually a 1/4" bolt I turned down with an angle-head sander with the bolt turning in the drill press.


29 Sept 2012- On Being Overwhelmed

I don't confuse easily. Or at least I didn't used to. Lately, however, especially the past couple weeks or so, it appears that either my brain is slowing down or it is getting overloaded. Or both. I'm having trouble keeping track of everything that's happening and deciphering exactly what it means to us in the long run.

Oh, wait…I just realized part of the problem: I think there may be a limit to what our brains can handle. Especially when so much of the incoming data is contradictory and coming from questionable sources.

First, we're being totally inundated with news of how the Middle East is radically restructuring itself and, for the most part, lining up against us (as if that is something new). The earlier foreign policy mis-handling behind all of this isn't discussed much, if at all.

And the stories coming out of Washington pile upon one another, e.g. the sudden vindication of everyone of political importance concerning the Fast and Furious thing (hey, they didn't know anything so can't be held accountable). A few hands were slapped. And the death of some Border Patrol guys were forgotten. That's BS!

Then we hear from some news outlets that the Embassy attack was not only premeditated, but American intelligence had a pretty good idea that it was coming. Or at least probable. Yet, we still didn't have armed Marines surrounding our ambassadors. We had local rent-a-cops and no live ammo. Or so we're being told. While all this news is tumbling over us and CNN reads extracts from the Ambassador's personal diary about his security fears, everyone from the President on down blames it on an anti-Mohammed video and apologizes their asses off to anyone who will listen. How "spontaneous" can a demonstration be that comes equipped with RPGs, mortars that are already targeted and automatic weapons? And it happens on the anniversary of 9/11. What a coincidence!

And then there's the tit-for-tat mud slinging of the presidential election, in which everyone is pointing fingers and throwing out incriminating "facts" (…and speaking of bull sh*t) about the other guy. Just too much to absorb.

I wonder how much of this would have been overwhelming if we weren't being positively beaten over the head with "late breaking news." Think how it would be if we didn't have so many cable news channels, live feed from correspondents standing in still-smoldering ruins, a minute-by-minute connection with people on the scene (whatever the scene may be) via Internet, bloggers such as myself beating us up with opinion, smart phones capturing every nuance of every happening, and ream upon ream of Internet sources absolutely flooding us with "information." The ability to see and know everything that is happening is just too much of what is supposed to be a good thing.

Actually, I think the prime reason I'm confused and having a lot of senior moments is that I'm being told a lot of stuff from a lot of different sources and I flat don't know whom to believe. If anyone. News items like the fact that NBC has been editing soundtracks on a video to alter the meaning of presidential candidate video clips throws doubt on all coverage. When an Internet "press release" says Obama has issued 923 executive orders, but then it's found that it's closer 123, we doubt the Internet. And with good cause.

The truth is that we don't know what the truth is. We don't know whom we can positively trust. This is true of nearly all of our news sources, which have obviously become editors with agendas. I tell Marlene to watch more CNN than Fox, because we know we'll agree with Fox, but CNN may give us a different slant. Not a better one, just one we know isn't right-leaning, as we are. If all we listen to are Beck (whom I still think does the best research for his stories and I come closest to trusting) or Rush (right behind Beck), then we're drinking our own bath water and we don't allow other views.

I am positively disgusted by the presidential race and some of the coverage of it. In fact, I've now started shutting off ads and speech coverage. It's no longer, "This is how I'm going to solve our problems," it is "That other SOB is going to ruin every aspect of your life." I can't tell you how much I hate it. And how tired I am of talking heads slicing and dicing every single thing everyone says and reading meaning into it.

In fact, I'm tired of the media in general. They aren't reporting news, they are creating it and often doing so with an agenda in mind. Just reporting the facts, as they actually happen, appears to be a dying approach to news reportage. The media is a major part of the problem.

So, what takes priority in this morass of information?

We're less than a month away from the single most important election in my lifetime, which started with me voting for Kennedy in 1960. 52 years of voting and this one blows the rest of them into the weeds in terms of what it means to our future. Not even the election of 1980 (Reagan vs Carter) comes close.

And what am I going to base my voting on? Managerial experience and the quality of the man. Romney has the experience and my gut and his history says he's a decent human being. And as for him being a Mormon? That should be seen as a positive, not a negative. I'm totally, as in TOTALLY, non-religious, but I like it when I see a man with a well-developed code of personal beliefs and conduct. And Mormonism does that. And his personal conduct in the past has shown that.

It may be a mid-western thing, I don't know, but the first time I laid eyes on Obama and heard the first words out of his mouth, my gut told me something was wrong. That this guy can't be trusted. And he's proven it.

There are lots of things about which I'm confused because of conflicting reports. But, the difference between these two candidates is definitely not a point of confusion for me. And that's about the only absolute in my life right now.

PS
We're spending so much time talking about the presidential race, that we forget that the Congressional races are at least, and maybe more, important. And, being local fewer votes are cast, so our individual votes will have more effect. Just something to think about. bd
22 Sept 2012- Sure Cure For a Coasting Brain

Do you ever have days where, to all outwards appearances, you're functioning fine, but internally it is as if the torque converter that hooks your brain to the rest of you is low on fluid? The connection is there, but it's tenuous, so it's as if you're looking at life through a thin layer of gauze. That was me this week and I had to resort to an old-time remedy to fix it.

I run through these clutch-slipping, brain-coasting periods from time to time and I have a couple of fixes for them that I thought I'd share.

Incidentally, I know that I'm addressing a very personal problem here. However, I thought I'd toss the subject out for discussion so any who suffer the same mini-malady know it's not unique to them. On the other hand, if I find that I'm the only one who has these spells of suspended animation, it's going to scare the hell out of me and I'll know I need to have my mental dipstick checked.

It has been apparent to me for most of my life that my brain has two extreme modes that it'll periodically slip into. Sometimes they're cooking along simultaneously. At other times, my mental computer has defaulted to one extreme at the expense of the other.

At one end of the scale I seem to crave minutia. I need to deal with tiny details, like fixing individual words in paragraphs. Or making sure that some obscure piece of metal that is buried deep inside The Roadster, a gun or a piece of homemade workshop aid, is far better crafted than it needs to be. The act of spending an obscene amount of time creating something precise and perfect relieves onboard mental stress and usually puts me back in gear.

The other mental extreme seems to respond best to incredibly gross moves akin to chopping down a tree or blowing up rocks: little or no finesse is required but great visual progress results. I think just seeing progress is what fixes my brain-stall. These are generally grandiose moves involving huge amounts of flying sparks or sawdust. I jump-started my brain this week by catering to the lots-of-sawdust-lots-of-progress mental rehabilitation procedure.

For a month I've been desperately trying to select the right piece of wood for the grips I'll make for a hyper-modified Ruger Blackhawk (modern single action to those who don't know) that'll be shipped back to me at the end of the month (re-barreled to .44 special, Bowen sights, color case hardened frame, etc…a delayed birthday present to myself for surviving another decade). I'm an absolutely fanatic about wood grain. For grips, I like obvious, dark mineral streaking with lots of figure but I don't like it too busy. I like its character to be easily read. However, just because you have that on the surface, when you start carving, the grain lines and content will change, so, when choosing the wood, you try to read beneath the surface and guess which way the grain is going to move and carve accordiingly.

Further, for projects like this, I like to use wood to which I have a personal connection. I'm actually having two Rugers done (consecutive serial numbers, the other one has shortened barrel, modified hammer and action, still .357 magnum…these guns have been in process for two years). The short nosed one is to be a plain-Jane working gun—often at my side and expected to suffer some abuse. The wood for the fancier one was to be highly striped, curly California Claro walnut that I had planned to saw off the back of a big block that my late brother, Gary, had been sculpting on, when he died. The working gun gets crotch cut American black walnut from the tree in my backyard where I hung my chain hoist as a kid in Nebraska.

The gross part of the mental rehabilitation procedure came late in the week when, disgusted with my mental state, I decided to tackle whacking a big chunk off of my brother's sculpture block. I'd been studying its grain for some time trying to figure out which side to cut. Plus, given the tools at hand, cutting through nearly six inches of wood and having it fairly square was going to be a challenge. Finally, I said, "To hell with it", stopped what I was doing, walked out into the shop and started making gross amounts of sawdust. After many minutes of noise and flying dust, a 2-inch slab fell free and went onto the belt sander for final smoothing.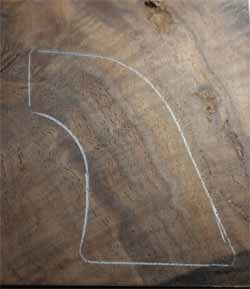 Just enough grain and curl to be interesting without being gaudy. Every single time I pick up this weapon I'll feel myself hugging my brother again.
To a woodaholic like me, there is no better moment than when you slice off a piece of figured wood and finally get to see the surprises nature has for store for you inside. And this time the result was exactly what I was hoping for: the grain satisfied my soul, my brain was back in gear and my world was again clear.

Sometimes, it's the simplest things that solve our most complicated problems. Thank God for sawdust, sparks and workshops.

TV Gun Shows
I don't actually like some of the gun shows that have become a temporary fad on channel TV. Things like "Sons of Guns" and others are too contrived, with dialogue and gun work being done that is obviously scripted and exists only for the TV show. In a lot of these reality TV shows, guns and otherwise, it's obvious the business they are built around are created for the show: notice how many of them have hanging banners as their building sign.

A new one, Family Guns, follows some of the same scripting, but is more real, if nothing else because the business it is built around, International Military Antiques, which is probably the biggest dealer of antique firearms and delicious military oddball stuff in the world (http://www.IMA-usa.com/). I should know, as I've dropped a lot of money with them over the years. Also, the individuals involved seem a little more real and not created by scriptwriters.

If you're into unusual weaponry, take a look. It's on the History Channel.


16 Sept 2012- The Death of the Written Word

I really don't want to talk about the Lybian Embassy killings right now. I can't get them off my mind, but every hour we hear new revelations about who did it and what it means. Maybe it'll be next week's subject. Instead, I'd like to explore something that came across my desk that points out a cultural change that is subtle, yet deeply disturbing. At least to me. That is the not-so-slow death of the book publishing industry.

I received a press release/op-ed piece written by Michael Levin, one of the publishing industry's heavy hitters. The opening line reads, "Unless something changes, books as we know them are doomed, and not simply because people prefer to read on their iPads or Kindles." says Levin.

He predicts that we're going to see major publishing houses starting to go away in the next five years.

Levin says. "Their business model is in free fall. Already, we're seeing books becoming shorter, cheaper, and diminishing in quality. You'll soon see fewer really good authors bothering to write books, because books are no longer a meaningful source of revenue."

He points at several causal factors.

• By 11 years old, nearly half of our kids have stopped reading for pleasure, partially because they don't see their parents reading.
• Major publishers are producing lower-quality books and are beginning to avoid "star" authors, who demand higher royalties.
• Books are moving to devices, where most content is free and time is thin-sliced. Increasingly people expect books available online to be either free or very inexpensive.
• because of these points, authors have a more difficult time earning a livable wage. Fewer authors can earn enough to make writing a full-time job, so they don't write.

I find this last point profoundly sad and disturbing. It's not the technological angle that bothers me. I'm slowly getting into producing e-books myself. That's just a delivery method. It's the fact that not enough people are reading anything (reportedly two million college-educated adult Americans between ages 28 and 42 do not own a single book unless it was required for school or work) to make it financially feasible for publishers to employ writers to produce written material. Especially high-quality written material.

Where we've had generations of writers that are artists of the written word, apparently that age is drawing to a close. Or at the very least, getting tightly squeezed. We're watching an art form die out and it's not because of technology. It's because people don't read so there's not a big enough market to support the creators. And that says really bad things for our society and our civilization. As if we don't have enough bad crap coming down around us.

Fortunately, Levin mentions something that plays right into my bailiwick (what an odd word) and that is the publishing market will continue to increase their concentration on specialty market segments. The super narrow niches, like military history books, DIY books, aviation books, etc., will continue to prosper and, since the costs of producing them as e-books is considerably cheaper than hard copy printing, I'm not going to be surprised to see this market get wider and more active. Plus, as publishers figure out how to market digital books better, they'll produce books that never see a printing press. That way they can have a marketable product at a fraction of the cost.

Unfortunately, as the retail price of digital books continues to approach zero (how can anyone make money on a 99 cent download without selling hundreds of thousands?), authors will continue to be financially squeezed even harder because publishers will have no choice but to nickel and dime the writer to bolster profits.

I see the downward trend in writers' income all the time. I have a lot of very close friends with names you'd recognise who have published bunches of books (40-50 a piece), both fiction and non-fiction. They say that advances have shrunk considerably or disappeared altogether so their only way to survive is to crank out more and more material, but there is a limit to what a man can do. Been there, done that.

I don't pretend to know how to get people reading more. It seems as if either you read or you don't. And, as with my not-quite-three-year-old granddaughter who owns her own iPad, kids have become accustom to audio and visual fireworks accompanying their reading. So much so, that I don't know how you convince them that sitting under a tree on a warm summer evening feeling yourself being drawn into a new world by nothing more than printed words is both fun and rewarding.

I know this is just another way the world is changing and I can't do anything about it. But, that doesn't mean I have to like it. bd

8 Sept 2012- Convention Silliness

Over the last couple of weeks, some not necessarily heartwarming characteristics of the human animal were laid out for examination, courtesy of the GOP and the DNC. However, for those of us in the cheap seats, the only thing that came out of all the hoopla is an understanding that there is a clear difference of opinion about the role government should play in our lives. For me, the entire Convention Experience was a little unsettling.

I didn't listen to every speech, but I made it a point to sit through re-runs of the major speeches and was listening as intently as I could, even though I was squirming like crazy. I truly hate that crap! Then I sat through the re-caps offered by the talking heads. I spent more time with CNN than Fox, only because I knew Fox would hear it the same way I did, but I thought CNN would be viewing things closer to middle ground and I didn't want a right-bias on the reporting .

It was interesting to hear the political "experts" translate the words I had just heard spoken. It was surprising how they could hear nuances I didn't. In some cases, I said, "Yeah, you're right" while other times I thought they were stretching a point just to have something to talk about.

One of the better features of CNN coverage was when they started fact-checking the speaches. No matter which side was talking, they were stretching and interpreting facts to their own gain. Some more than others. In some cases, usually the less important speakers of the DNC, they were flat out making up facts (which could also be called lying). In general, you had to take everything with a grain of salt, not unlike the Internet.

I was impressed by Paul Ryan. It's nice to know we have some young, smart ones coming up. Ditto for Rubio. I almost wish Ryan was running rather than Romney. I'll bet Obama is jealous of Romney's VP, since his is such a duffus. It's scary to think that Biden is a single heartbeat away from being president.

I was surprised and disappointed at the way every one of the talking heads, including Glenn Beck, attacked Eastwood for his empty chair thing, which I thought was, if not brilliant, it was at least funny and he said the single most important, succinct thing of the week: If a guy doesn't do the job, you fire him and get someone who can. That's the way the world works. But politics don't.

The Democratic show was interesting, if nothing else because they couldn't run on their record, although Bin Laden would have been happy to know how many times his name came up during the week. I don't know why the population thinks Obama got Bin Laden. That project had been on going for 11 years and he just happened to be in the catbird seat, when it all came together. That doesn't give this administration a gold star for their terrorist programs.

It was ironic timing (or maybe not) that while the conventions were raising hell that the movie 2016 was making news by packing theaters. And there were several anti-Obama books on the NY Times bestseller list. However, I don't think any of this will have any effect on the outcome of anything. Politics being what they are, people who go to that movie or read the books do so to vindicate their feelings and verify what they're thinking. Very few are honestly looking for information they don't already have. Most minds are made up and they're just picking up talking points to sound more intelligent in later conversations.

The polls over the last couple of weeks absolutely amaze me to the point of blowing me into the weeds: exactly what does it take for people to realize that the job isn't getting done? Our world is circling the drain, yet 50% of the people still want him running that world. And it IS the world we're talking about here, not just the US. The old saying that "when the US catches a cold, the rest of the world gets pneumonia" is still true. And the US has a helluva lot more than a cold. Yet we have a neighborhood kid playing doctor on us. And half the population thinks that's okay. Damn! There is no good reason for this to be a close election. But the polls say it is. And I don't understand why.

There are so many unanswered questions about Obama and his administration that it drives the conspiracy theory, tinfoil hat types nuts. However, all of the conspiracy and birther stuff should be ignored and all voting decisions should be based on his performance. Not his oratory (which is great as long as the teleprompter is working). Not his singing (which is pretty good actually, if a little effeminate). Not his golf swing. The only things that count are questions like, where do we stand on our debt? How is our employment rate? How have our personal financial situations changed? How are our foreign relations going? Yada, yada, yada.

The bottom line is that we have two choices. One is a guy who had little or no financial/political experience and, after four years, has proven conclusively that he can't do the job. Truth is, it was unfair for anyone to expect him to pull it off. There was nothing in his background that said he was prepared to run a major financial/political enterprise of any kind. Especially one that was in serious trouble. So, no one should be surprised at what has happened.

The other choice is a guy who has been successful in any number of major financial and political management arenas, but has never been president. If you were to drop in from outer space and knew nothing about either candidate except what was on their resumes, for whom would you vote? It's as simple as that.

So…why are the polls so close? bd

PS
The problems are so deep, so big and so systemic that I don't see how Romney, if elected, can seriously affect it in one term and, if he doesn't make things significantly better the first term, he won't get a second. If Obama wins, he won't have to worry about a second term so he can, and will, do any thing he wants and, considering what we've seen in the past, that's pretty damn scary!



1 Sept 2012- Neil, the GOP Convention and Survival

At the moment of hearing that we had lost Neil Armstrong, I like everyone else, instantly re-lived watching the shadowy, gray lunar touchdown. And re-lived the feeling of pride and accomplishment that permeated the period. What happened to that spirit? And I'm talking about the worldwide spirit. Not just the American spirit. The globe is gripped in a universal malaise and Armstrong's passing reminds us how that is so unnecessary. His passing is a sad reminder clichés are true: we can do anything we want, if we just set our minds to it.

A large percentage of Americans don't remember that America's landing on the moon was vindication of Jack Kennedy's "Babe Ruth Moment." The Babe had pledged to hit a homerun for a sick youngster, Johnny Sylvester of Essex Fells, NJ and confidently pointed at the far bleachers, silently saying "That's where I'm putting the ball. That's what I've promised and that's what I'm going to do." And he did. It took a lot of guts to put it out there like that. But, that's exactly what Kennedy did, when he told the world in no uncertain terms that within a decade an American was going to walk on the moon. That was an unbelievably bold statement. And America took up the challenge and did it in barely eight years.

That was a proud time. America and technology soared. The entire world soared. It was an American up there, to be sure, but it was still just a blood and guts human being named Neil and he was doing something mankind had dreamt of doing since learning to walk upright several million years ago. And he did it because a single man, a politician no less, had thrown down the gauntlet and challenged the population of one nation to do the impossible.

It's difficult not to draw comparisons with our current situation because 1969 was right in the middle of one of the most tumultuous times this nation has ever known. Still, cutting right through the middle of all the rancor and fist shaking, a new, recently invented breed bearing a newly invented name, "Astronaut," kept their eyes on the stars and the goal that Kennedy had laid down. "Astronaut", became a term that had so much magic and respect attached to it that they seemed above the trivialities with which society had burdened itself.

Even today the complexity of the entire space effort is difficult to truly comprehend. Especially given the tools they had at hand e.g. a smart phone has more power than the most powerful computers of the time. Yet men like Neil Armstrong were willing to ride a column of fire into what they all knew could be instantaneous death, or an awful lingering death, if stranded. But they had the unbridled confidence that they'd not only come out alive, but would take the next step necessary in mankind's progress from the cave to outer space.

By now, the media and Internet will have told you everything there is to know about Armstrong the Astronaut. How he was always so unbelievably cool under pressure. But, what may be missed is that a Nation that was hip-deep in a quagmire of social and political problems took the bit in its teeth and did something most would judge as impossible. The moon landing was the result of people coming together to create a miracle.

Neil Armstrong was the one who proved that miracles aren't miracles but are the result of teamwork and dedication. Look around. That combination, teamwork and dedication, can solve almost every problem of any kind, at any time. We just have to set the goal and believe in our hearts that we can achieve it. Nay-sayers never win.

We're a nation, a world, adrift. We need someone to throw down the gauntlet of national survival and make that our goal. If man can go to the moon, he can sure as hell figure out how to live within his means and prosper.

And Neil: you're now permanently in the place you've always strived to reach. Enjoy the journey. Thanks for being our hero.

And Speaking of Throwing Down The Gauntlet

A thought crossed my mind while watching the Republican Convention replays last night that recognized an unspoken under-theme of the proceedings:

Everything about every country comes down to money. Even if you're passionate about touchy-feely-let's-save-everyone-in-the-ghettos goals, as the Democrats are (within limits, the GOP has the same goals), those goals still stand on a bedrock of money. Every single touchy-feely project has to be funded. Funding comes from taxes. Taxes come from someone, somewhere, running a business concern that not only kicks out taxes, but employs people who also pay taxes.

Every damn thing on the planet comes back to having solid, money-making nations. If you want to support your entitlement population through government programs, you have no choice but to depend on nasty old corporations and small businesses being successful so they generate taxable revenue. The more the better. Every goal the Democrats want to accomplish demands that business flourish. For that reason, within reason, the business community should be given as much unfettered support (less regs, lower taxes, etc.) as possible. The more success they have, the more money the government will have to play with. For them to think they can tax their way into prosperity, rather than expanding their way into it, means they don't understand the way an economy works.

This is all super elementary, but some folks don't seem to see how the basic concept is so central to our survival in every way.

Unfortunately, the anti-business sentiment this administration has stirred up, and on which it bases many of its decisions, displays a basic lack of understanding about where the money comes from that both funds their programs and pays their pay checks.

We desperately need someone with real world business experience at the helm. The survival of this country (and, incidentally, the rest of the world too) is dependent on the US getting back to understanding profit and loss. And that, in turn, is dependent on having leadership that understands the P & L concept. bd


25 Aug 2012- Warning: Jeans Crisis in Progress

Yeah, I'm having a jeans crisis, but it isn't what you think. It's not that I can't fit into them any more (well…that too), but it is as if some cosmic force decreed that all of my jeans should die at the same time, leaving me jeanless. Help! Am I the only person with this problem?

The deal is this: there are very few facets of my life that are even slightly orderly. Contained-chaos is just the way my mind works so that's the way I live. This does NOT apply to my jeans. I keep that part of the closet as well ordered as rifles in a proper armory. They fall into three distinct categories: Sunday-go-to-meetin' super-good jeans. Then those with slightly frayed right pocket from cell phone but still reasonable, so they're flying, everyday jeans. And then there are the workshop jeans. They have big, frayed half-moon bites out of the back of the cuffs where it looks as if a pet alligator has been nibbling on them and the cell phone wear on the right pocket has gone almost through the hem: too disreputable for public wear, except for going to Home Depot or the steel yard on Saturdays. Then you can wear ANYTHING (assuming it's not too tacky even for WalMart) and look perfectly normal: frayed-paint-splattered-patched-ground-dragging everything is the universal Saturday honey-do uniform. I keep the different categories separated but in the last month or so, the great jeans god in the sky has decided to seriously screw with me.

The problem is simple: jeans only last just so long before they start to come apart. I accept that. Everything has a life span. However, I looked around just a couple days ago and realized that all my best-loved jeans were dead or dying and the age distribution between the categories was totally screwed up. I had far too many spiffy-looking Sunday jeans, far too many workshop jeans and almost nothing in between. I had only two pair of flying/walk-around jeans. Then, in less than three days time, it got very serious, very quickly: in barely 72 hours virtually every pair of my workshop jeans, six or eight pair, bit the dust and every one of them did so in exactly the same way: the left leg had an anterior separation of the epidenim mid-thigh i.e. the left leg ripped.

The first time this happened, I thought "No, biggie. I'll just iron on a patch and keep on truckin'." I jumped into another pair and kept on keepin' on. But, within an hour the same leg, different jeans, ripped in the same place. That was a little freaky!

I put on yet another pair of as-yet unripped jeans, set up the ironing board and proceeded to patch the first two pair and continued working. The next morning (are you ready for this?) the third pair ripped!! So, I jumped into one of the patched pair.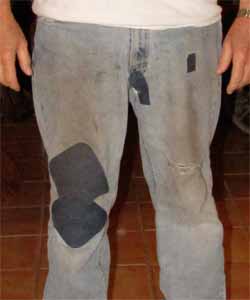 100% of the time they rip left leg first right where you see this one. I gave up and took the patch off. An hour or so after shooting this picture, the other leg ripped again.
I knew things were totally out of hand, when, about an hour later, the patched pair decided to rip again about an inch above the patch. Aargh, come on! This isn't possible!

Over the next couple of days every damn pair of workshop jeans had died and I had conclusively proven you absolutely cannot extend their life by patching: all that does is shift the failure some place else. When they're dead, they're dead. End of conversation. However, I am now officially out of workshop pants! How can that possibly be?

Side note: last night I walked out into the shop in my underwear. I walked past Marlene in the process without saying a word. What I didn't know is that she immediately rampaged through the house looking for the camera: she was dying to shoot a picture of me in my underwear in the workshop. An ugly mental image if there ever was one. When I walked back in the house carrying my old blue coveralls, she was so disappointed that I laughed for ten minutes. She actually thought I was going to be out there welding in my underwear and she couldn't wait to put the picture on U-tube or something.

Anyway, so this time of the year, it's still 95 degrees-plus in the shop when I get out there at 10 pm or so and I'm wearing heavy coveralls. Can we spell "Pits Stains" boys and girls? And, of course, this happens when I finally make up my mind to actually get something done on the roadster, come hell or high whatever!

So, now we're researching the world looking for outlets for cheap jeans. Who ever thought it would be this hard to keep your pants on?

Do the rest of you have the same problem, or am I the sole victim of an obvious conspiracy: The Great Denim Die-Off of 2012?

Ha! I guess this is something we can't blame politicians for. BD
18 Aug 2012- Eagle Scouts and Turd Cannons
I don't think I've told this story before and I think I know why: even at this age, my grown kids still like to think that their father had at least some commonsense as a teenager. So, I may have held this story back thinking they wouldn't want to know, and definitely didn't want my grand kids to know, that I invented the concept of the turd cannon and did so on a national scale.

I don't think I need to caution readers not to try this at home. As you'll see, when finished, that's sort of obvious.

First, it's important to remember that I'm from a small town, and there were only 66 kids in my graduating class. So, we didn't have enough kids to fill all the requisite roles that seemed to be necessary in a class, e.g. every class is supposed to have a juvenile deliquent, a clown, a genius, a good looking cheerleader, etc. So, in tiny classes such as mine, everyone had to fill a couple of different roles. For instance, on the one hand, I was an Eagle Scout and first trumpet in the band. On the other, I was the town's serious hotrodder, slicked back ducktail, engineer boots, cuffed T-shirts, the whole Blackboard Jungle thing. Unfortunately, I was routinely tossed out of school for having a bad attitude and mouthing off to teachers (not one of my prouder periods). The contradictions confused teachers and my parents fought it, boxing my ears when necessary. I wasn't actually a bad kid, nor did I have a malicious streak, but, after reading the next couple of paragraphs, you may want to debate that statement.

In 1957, I was attending the National Boy Scout Jamboree in Valley Forge, PA. Part of the drill was you brought stuff to trade to other scouts from other parts of the country. Most brought something indicative of their home state. Maybe a colorful rock from Colorado. A bit of sea water from California. So, what regional goodies did I make a part of my "trading stuff"? A box of M-80's naturally: I never claimed to be smart. So there I was amongst a hundred thousand or so adolescents in shorts and funny suits with what was reputed to be 1/8th of a stick of dynamite (which asn't true, but it sounded good). To bolster interest in my trading stock, I dropped one down a latrine, after the camp had been operating for about four days.

The latrines were nothing more than holes dug with telephone pole augers (EPA hadn't been invented yet so we filled that section of Valley Forge National Park with sh*t-filled holes). Wooden boxes with four seat-holes in the top sat on top the holes inside 10 x 10, stand-up tents.

I did the following only once, but the action was replicated by several others. The reason I only did one was that I was thoroughly intimidated by the cannon effect of a M-80 at the bottom of a sh*t-filled, foot-diameter hole: it totally emptied the hole. As in totally! It instantly plastered the inside of the tent with the contents of the hole, knocking the wooden box seats askew in the process. I can't describe the mess. They didn't even try to clean it up. They just rolled the tent up and took it somewhere to be hosed off. Or burned. The stench was unbelievable.

The effect was so spectacular that the news of brown geysers flashed through the huge camp like wildfire and several more latrines were turned into turd cannons the same day.

That night at the camp-wide gathering I tried to hide amongst the thousands of Scouts as a very terse announcement was made from the podium: if they found the individual who was trading M-80's, they were going to immediately put him on a train for home. They were pissed!

Okay, so this isn't as exciting as flushing a golfball sized piece of sodium down one of the school's toilets, but then, I was just a kid and didn't graduate to bigger stuff until later.

PS
I know it looks as if I have a thing against toilets, but I don't. Really!
12 Aug 2012- Old Lady Bomb Makers and Olympic Champs
As my fingers are talking to you, we are climbing through 20,000 feet. Newark is in the rearview mirror and Phoenix somewhere far over the horizon ahead. In a rare fit of screw-work-we-wanna-see-our-grandkids enthusiasm, we've spent the last three days glued to cute kids, Olympic drama and one of the best WWII documentaries I've ever seen. The best part is that they all mixed together in an unexpected way.

About the Olympics: first, understand one thing—I'm totally sport challenged. I wouldn't willingly watch a game of any kind unless there was a Davisson in it. I'm not a game kind of guy. However, inasmuch as my grandson, Mason, is a totally sportsaholic, I found myself watching the Olympics, which is pretty damn amazing. What is far more amazing is that I enjoyed the hell out of it. Although I don't like sports, I'm wildly attracted to the human drama involved and there was certainly enough of that in the Olympics. I found myself cheering on kids from countries I'd never heard of and had tears in my eyes, when young folks came from behind against overwhelming odds to win through sheer guts and brilliance.

I also couldn't help but think about the current trend in which some segments of society try to downplay the concept of American exceptionalism. Or exceptionalism, in general. The ideal being promoted that we're-all-the-same-and-disserve-the-same was absolutely stomped into the dirt at the Olympics. This is where a country's flag (every country's flag) reigns supreme and coming in second doesn't count. It was all about exceptionalism and the solid connection between winning and effort, between setting a goal and accomplishing that goal. No one was being given a pass simply because they got that far. They either won or they lost and the joy and agony that are the prime ingredients of both were put on display for the entire world to share.

Anyone watching learned the hard and basic lessons of life: if you want to win, you have to work and 110% performance is the only way to win. You learned that the world can be unbelievably cruel and, even after monumental effort and former victories, you can find yourself on your face in the middle of the track with the pack thundering away from you. Will you lay there and slink away? Or will you pick yourself up, put your head down and charge ahead ready to meet the next challenge? The unspoken Olympic credo is that failure is the foundation upon which victories are built.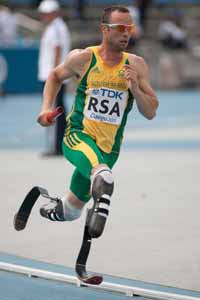 Oscar Pistorius: South Africa. I just ran out of reasons not to run
The tales of individuals who had endured unreal personal obstacles including fleeing their country for another, then deciding they'd become an Olympic champion and actually doing so were inspiring. If you weren't inspired by the image of double amputee Oscar Pistorius facing off against the world's best runners and beating many of them, you're hopeless.
The venue was sports. But, the plot and the drama were life. The parallels were perfect. And I was glad my grand kids were there to soak up the lessons being taught.

One totally unexpected insertion into the Olympic program was Tom Brokaw's WWII special, "Their Finest Hour", which chronicled the Battle of Britain. More important, it did an excellent job of pointing out the critical nature of America's entry into the war: had we not come on board, when we did, Britain would have fallen and the US would have been powerless to change the course Hitler had set for his version of history. Without Britain as a base from which to work, when, and if, the American war machine got into gear, it would have been powerless to do anything. The result would have been a negotiated peace under which Hitler owned ALL of Europe.

In a perverted sort of way, Japan's sneak attack on Pearl saved the free world! America declared war on Japan and Hitler was then forced to declare war on the US because of his agreements with Japan. That forced us to jump in and help Britain in every way possible and made us a featured player in re-writing history and our own future.

If Japan had coordinated with Hitler better and had held off hitting Pearl Harbor until after England had fallen, WWII would have been an entirely different story.

Probably the best part of the weekend was watching that documentary with 9-year-old Zoe nestled up on one side and 11-year-old Mason on the other. My son would pause the presentation, while I made sure they understood that the very Olympic contests they had been watching were being held right where bombs had fallen and people had died. A place where freedom, as they knew it, had been put to the test and the English population had prevailed in the ultimate Olympic contest against the ultimate evil.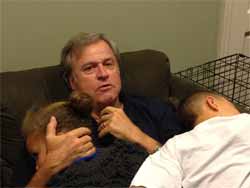 I choke up on the simplest things but this time Mason and Zoe decided to make me feel better with a hug. I definitely felt better.
I had an unexpected moment of personal drama, when I found myself choking up and tears in my eyes as I told them about Marlene's mother who had lived through the Blitz as a teenager: she would get out of school at two o'clock every afternoon then go to work in a factory operating a lathe making bomb casings. At one point, she came home from school and found her home gone and her baby brother dead. I'm not sure whether the tears in my eyes convinced Mason and Zoe that the black and white images of the documentary were more than just pictures, or pointed out the Granddad is just an old softy. I hope it was both.

So, this week, Thinking Out Loud was again late getting to your screens. But, believe me, it was worth it.
4 Aug 2012- Runaway Hair and the Appearance/Experience Ratio
The Az Red Head, AKA Marlene, gives the greatest haircuts in the world. In fact, it has been 20 years since anyone else has touched a hair on my head. However, I now find her spending a disturbing amount of time clipping me in places I've never been clipped before. Hair, it seems, like unwanted weeds on a well-aged property, will eventually take root any damn place it pleases.

I'm certain everyone has the same problem, but random hair sproutings are probably more noticeable on me because scheduling a hair cut is a lot more complicated then it should be. Inasmuch, as a haircut involves both Marlene and me slowing down enough to rendezvous in the kitchen, finding a folding chair to sit on, grouping all the hair cutting equipment in one place, etc., etc, we both find lots of reasons to keep putting it off. The result is that the hair cutting ritual only takes place about every three months. Or when my shirt collar is overgrown by Budd-weeds: which ever occurs first. The net result is that my hair doesn't get cut as often as it should so random hair/weeds really get a chance to sprout.

Recently, as we came to the end of a hair-growing cycle, I was talking on the phone, and suddenly noticed that my free hand was idly playing with hair that, when I tugged on it, made my ears move. WTF! The first time that happened I dashed to the big mirror in the bathroom and found I had long (and I mean LONG) fine hair growing on the OUTSIDE edges of my ears!! Double-WTF!!?? When I got my next hair cut, I finally noticed that Marlene had been routinely mowing my outer ear hair with the clippers for years. Damn! Is that my latent werewolf gene kicking in or what?

Then, Marlene started using this pen-looking electric clipper gizmo tipped with a circular cutter that is identical to the tiny hole-saw I use for cutting spot welds loose. The first time she did it I jumped and asked what the hell she was sticking in my ear and why. She grabbed me by the collar and lead me to the mirror where she pointed out a bushy gray outcropping that had taken over my ear canals. It looked like what happens when pigeons poop a bunch of seeds into a crack in the sidewalk and you have runaway plants where they aren't supposed to be. It reminded me of grass around a gopher hole. Disgusting!

Then there are the hair stragglers on my overly high forehead: I come from a long line of high foreheads, which is another way of saying our hairlines start slowly receding from birth. This is one reason my first challenge every morning is parting my hair. Doing the math, it appears I've faced that challenge something like 25,550 times over the years (once a day for most of my life), so you'd think I would know exactly where the line goes, but I don't. It's as if the landscape keeps changing so I have trouble plotting my path. I thought about having a little dot tattooed exactly where the part terminates, but then realized that in a few months I'd have a very uncool tattoo positioned well out on my forehead as everything moved back from it.

What's more than a little disturbing about the continually retreating hairline is that I don't know what to do with the few stragglers that didn't get the memo to retreat and remain firmly rooted at least a half inch in front of the rest: immutable evidence of where my hair line used to be. But that puts me in a quandary: Should I spare them and reward them for their persistence with a few more years of life, or do I ruthlessly pull them out, cleaning up the fence line, so to speak? It seems cruel and counter productive to remove any head-hair for any reason, and no one notices them but me. Still, they are gray weeds growing in the middle of an otherwise clean, but wrinkled, landscape.


Is this what progressing through mankind's chronological calendar comes down to? Ridges on our fingernails, clicks and grinding noises in every joint, bulges and folds we can no longer control and definitely don't want, and hair growing in the wrong places? I guess it is. But you know what? If that's all we have to deal with, I'm all for it. No biggie. All that stuff just adds character to our persona, indicating that we've been there and done that. They are all sure indications that we're standing at the head of a line that's composed of lots and lots of experiences.

Would I like to be unwrinkled, hair in the right place, and 40 years younger? Not a chance. I'll take experience over appearance any day of the week.
21 July 2012- Technology is its own Worse Enemy
We're so frigging smart! We went to the moon. We invented flight. We have artificial hearts, (which are in short supply at the moment because it's an election year and politicians need them to appear sincere), but, as soon as we invented the digit (the electronic kind not the nose-picking kind), we slapped an expiration date on just about everything we touch.

A classic case in point: Is there anyone out there who doesn't know how to adjust the idle on a carburetor? 'Didn't' think so. But, this week, when I took my trusty '90 Honda Civic down to my local can-work-on-anything garage to do some diagnostics they couldn't work on it. They couldn't even reset the idle. Wanna know why? Because THEIR COMPUTER COULDN'T TALK TO MY HONDA'S COMPUTER.

Some how I had failed to consider one basic fact about the aging vehicle fleet in my garage: sooner or later the only four-wheel contraption in there that I can count on will be my old roadster: '46 Ford engines didn't have ECUs. In fact, the digit hadn't been invented when that old coolant cooker was new. The flathead Ford may be inefficient and ancient, but, as long as I have a screw driver, a pair of pliers and a piece of wire with a light bulb attached, I can keep it running forever. The same cannot be said of my Honda or any other vehicle with computerized anything, which is just about all modern vehicles. The time will come for all vehicles when the body may be perfect, the engine healthy, but there will be few mechanics around who can speak the same language as the onboard computer. Therefore it is a dead vehicle.

Actually, my Honda is lucky: it will keep running because early Civic hatchbacks are the deuce coupe of the twenty-something hotrod set, also known as "tuners." They jack that little four banger up and pump it so full of nitrous that it's making 200 hp and can eat a Corvette alive. They're already reconfiguring the ECU's to give more power, so, they'll keep the Civic a viable vehicle. No so my 2000 Maxima. The time will come when there will be nothing that can plug into it and tell me what ails it and it'll be dead.

The corner stone of technological progress is just that: progress. And a corner stone of progress is that we move ahead and leave the old behind. And that's as it should be. The chain saw should replace the axe. The pneumatic nailer should replace the hammer. It's that way in every aspect of life: in with the new out with the old. But, when it comes to digital stuff, it's different. As a back-up, a hammer can always be used, when there's no juice for the nailer. Ditto an axe. But how many of you out there who can tune a carburetor (assuming you can find one) can still read a Syquest disk. Or a 5 ¼ inch floppy, for that matter. Sure there are the occasional data doctors who have the equipment and know-how to pry information out of old forms of digital storage storage, but that's not the normal scenario.

We've come to accept the fact that each of us is leaving a trail of dead and dying PC's behind us that no longer speak an understandable language. That's just a byproduct of technology moving on. But who ever thought we'd have generations of cars that will become increasingly difficult to support because of out of date digits?

Back in the day, cars were automatically declared untrustworthy and essentially unusable when they hit 100,000 miles. Today, largely because of the quality of Japanese cars, we don't raise an eyebrow at launching off with 200,000 miles on the odometer. For some cars, that means they are just getting broken in and are developing a personality. My Honda is one of those.

I've probably mentioned that I decided to drive it for the rest of my life, so I rehabbed everything mechanical and just finished having the body straightened out and repainted. However, even though it has 120 pounds in all four cylinders, uses no oil between changes, the AC blows cold and the 1983 JVC stereo out of my even older Civic works like a champ, I now have to worry about finding a mechanic with the right equipment to speak its language. And I have a feeling that will become increasingly difficult.

I just never thought there could be a time, when you couldn't keep a car engine running through mechanical means. But, that's not the case. There is a digital time limit. And this time we're not taking the digit up our nose: it's working its way into at least one of our other orifices.

THINKING OUT LOUD LAPSES:
Last week I didn't post anything because I had the first mechanical failure of an Apple in 32 years. A capacitor in the Intel-built video card literally exploded and it took some time to get it fixed, but Apple picked up most of the tab on a four-year-old computer repair. I won't be writing anything next week either because I'll be at Oshkosh. Hope to see you there.
7 July 2012- Long Live the Geek Cultures
If I had money of any consequence, I'd be dangerous. And I'd have to live in an apartment that's snuggled into the corner of a hangar the size of my hometown to accommodate all the crap I'd bring home. And I'm betting a sizeable percentage of those reading this feel the same way: there's just too much cool stuff out there to learn about and drag home.

The way I'm so easily swayed in new directions by neat sh*t is the single biggest reason I've never achieved success in normal terms: you have to really commit to a single subject if you expect it to pay off. Unfortunately, I can't make the "single subject" commitment thing work. This is because one of my true joys in life is seeing something that blows my skirt and then racing off in that direction, pedal to the metal. I absolutely love vacuuming in new bits of trivia and, like as not, carting home some more "stuff" that's central to that new interest. I leap frog from interest to interest the way most folks change underwear, but with a major difference: just because I discover a new interest doesn't mean that I leave old interests behind. I just stack the new interest on top of the old ones, which then get moved one burner back. The heat is NEVER turned completely off on a given interest. It's just turned down a little.

This is all fine and dandy, but, periodically my mental eye will flick back over stuff that's been simmering on back burners for a while, revisiting past joys. Then, without warning and for no particular reason, the burner under an old interest is slammed over to "high" and I'm off to the races again. I'm fully aware that this isn't the most productive way to live, sort of zig-zagging from curb to curb on life's highway, but that's just the way it is inside my head. What about yours?

Let's do a little test: I want a show of hands of those who would love to restore/build a wooden boat? How about building a muzzle loading rifle? If you were digging through piles of junk at a garage sale and a WWII German helmet popped up for fifty bucks, would you buy it? If the old guy next door who likes you dies and leaves you the fancy cast iron drive wheel (the kind with curvy spokes) off of an 1880's stationary steam engine, would you refuse it? Or maybe his widow offers you the saber his Great-great-great grand dad carried in the civil war for a hundred bucks. Would you buy it?

Did anyone answer "no" to any of the above? Didn't think so. Neat sh*t, especially when it's old, yanks on our heartstrings. At least it does if you're of a particular persuasion: that of the certified crap collector, which, to one degree or another, everyone reading this is.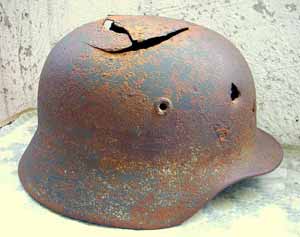 I can't explain my fascination with battle damaged stuff. Maybe it's because it almost puts a face on war that kids faced on both sides of the lines.
A couple weeks ago, and don't ask me why this happened, I don't know, courtesy of eBay, I stumbled onto the incredible subculture that has built up around German combat helmets, both WWI and WWII. I've had an interest in them since I was ten years old and dug one up in a local dirt alley. The top 2 inches was poking out and looked like a rock but we have exactly zero rocks in that part of Nebraska so I dug it up. What I didn't know is that today some of them (mint, double decal, Waffen SS) are fetching as much as $13,000 and even a good normal M1942 combat helmet is going to bottom out at $500 and rapidly work their way up from there. Incidentally, two weeks ago I wouldn't have been able to toss around terms like "…double decal…" and "M1942." I'm becoming a helmet geek and loving all the new information I'm picking up.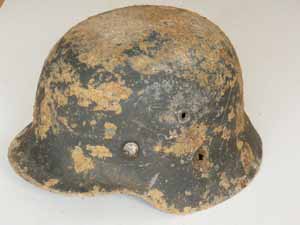 The upper hole is an air vent. The bottom hole isn't.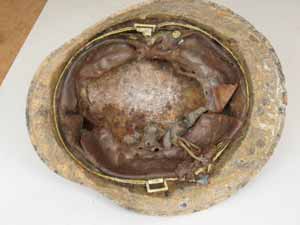 In at the top. Out at the bottom. The poor kid didn't know what hit him. This really portrays the realities of war.
Then I started seeing rusty helmets listed in auctions, some of them battle damaged from someplace named "Kurland" (also spelled Courland). Some were rusted clear through, others had pieces missing where shrapnel had chalked-up another casualty. Wow! Did that ever uncork a torrent of information! I'd never heard of the battle, probably because it wasn't a US action: The Soviets pushed 200,000 Germans against the Baltic, surrounded them and hammered at them continuously from late December '44 until the war ended in early May '45. Nearly six months of incredible slaughter that is now a source of revenue for dozens of Latvian relic collectors. Some of them are using full sized construction equipment to dig up the tons of stuff left over by both sides.
| | |
| --- | --- |
| | |
| This says so much about the finality of war. | Two Russian PPsh submachine guns, helmet, etc. The area is covered with miles of trenches |
eBay is crawling with their discoveries and early every morning I find myself on my smart phone searching for new listings while I'm taking care of biological duties: I can't afford the better helmets but dug-up ones I can. More important, in a field that's crawling with fakes (don't you get tired of that problem everywhere in life?), there is zero doubt that these have been there and done that. I love stuff that I know has seen life. And death. And has a connection to a specific spot on the map and a given moment in history.

I've struck up communication with one of the diggers and am toying with the idea of doing an e-book on his discoveries.

Then, just for the helluvit, I e-searched the common American M1 steel pot helmet, as used WWII through Vietnam, and once again started getting education out the wazoo. Would you believe that some helmets (an early "D" bale, the gizmos the straps attach to) with WWII 2nd Division hand painted markings on both the steel shell and the helmet liner was at $6,800 last time I looked (makes you want to puke doesn't it?). I also learned that one of my US helmets (I have a half dozen I picked up at one time for a buck a piece) is one of the earlier styles and the liner is a rare, early paratrooper type. There…is my geekiness showing through? I can't tell you how much fun it is to learn so much about stuff I'd always had an interest in, but apparently didn't know squat about. What fun!

Oh, yeah, another burner clicked on yesterday: I hadn't touched the roadster since the day we got it running over a month ago. Too many deadlines. Too many crisis's. Last night I jumped back into it hard: rear end is out, spring re-leafed, brake line re-routed, shaft bearing installed. So, I'm gaining on it. And, while this is going on, I keep getting these delightful packages of rust from Latvia.

Hahahaha! Life can be so much fun! Too bad it's so damn short. BD
30 June 2012 - What Just Happened?
Did we just witness a bloodless coup take place this week, or what? What a week! In terms of multiple amazing happenings in blinding succession, this week has to be right up there with the opening weeks of WWII when US and the world were attacked from every direction. That's the US this week.

Yeah, I know: last week I promised I wouldn't talk politics because I hate it so much. But, come on: gimme a break! How can you expect me to talk about water skiing or sexing chickens after a week like this? (And no, sexing chickens is not a perverted act. It's a skill and an occupation--someone has to decide which are boy and girl chickens).

I don't even know where to start, so, let's do them in chronological order.

With the amazing furor that broke out after the Supreme Court upheld Obamacare, the government's extreme reaction to the Court's deciding to uphold part of AZ's immigration law, SB1070, disappeared from the public eye in barely 48 hours. That's amazing and sad because the President reacted in a way that I doubt we've ever seen a president react. He was flat out vindictive. Within hours of finding out that under certain circumstances an AZ LEO (Law enforcement officer) could question and ascertain an individual's immigration status and take the appropriate action, the Prez went off the deep end.
-He immediately suspended any and all help to be given Arizona by INS or TSA in terms of illegal immigration.
-He instructed those agencies to no longer take calls from LEO's pertaining to illegal immigrants.
-The agencies will no longer accept illegal aliens arrested by LEO's.
-He set up an 800 number available only in Arizona to which citizen's can report suspected civil rights violations. By the afternoon of the first day it was reported to be completely full already (what did they expect?). So, they don't have the manpower/finances to control our borders but they do have the resources to prosecute officials accused of civil liberty violations by illegals.
Essentially through word and deed what the US government did is tell AZ that the feds will no longer enforce immigration laws in their state. How can you selectively apply federal laws?

It's a real bitch having a petulant two-year-old as a President.

A curious fact: People, the press especially, don't understand one basic fact about Arizona and the ability to ask about an individuals citizenship status: you can't get a drivers license in AZ without proving legal status (citizenship or green card). So, if a person can product a driver's license, they are judged legal. Of course, now every patrol car has a computer where they can instantly run a license for wants and warrants. They do that to everyone on every stop. If the license comes up good, the person is on his/her way. If it comes up bogus, he's in trouble. If he can't produce a license in the first place, he's already in trouble and further investigation into his legal status is only logical. Get stopped driving without a license and no legal ID anywhere in the US and see how long it takes for the police to start asking lots of questions.

That was on Monday. Or was it Tuesday. I've lost track. By the time Thursday rolled around and the Supremes (I can't see that word without thinking of Diana Ross) ruled on Obamacare, events were starting to pile on top of one another: What genius decided to have the contempt vote against Eric Holder on the same day that the Supremes ruled on O-Care? News people were bouncing off the walls: they didn't know which way to turn first.

Let's take Obamacare and this'll be short because the news stations have dissected that decision ten ways from Sunday. Not much that I can add.

Chief Justice Roberts, of course, came down on an unexpected side of the fence and is the biggest question mark of the whole shindig. Everyone assumed he'd vote against it. Instead, he took one of the very weakest points, that the penalties for not buying insurance were a tax, not a penalty, so it was constitutionally sound because Congress can levy a tax but not a penalty. This was not only a curious tactic to use, but it was from the last judge on the bench anyone expected it.

There has been as much discussion about his decision as there has been about the law itself and reactions have been wild and varied. There are lots of theories and possibilities:
-The Administration has a photo of Roberts doing something obscene with a sheep and are blackmailing him.
-He wanted to keep Obamacare in play as a super-strong campaigning point for the GOP in November.
-By basing its constitutionality on it being a tax, he made the GOP Obamacare campaigning point that much stronger since "tax" is a dirty word in an election year.
I hope the last two points are correct, and I believe they are. If Obamacare had been struck down, the Dems could base their campaign on the Supremes making a partisan decision and The Court was no longer relevant. It would become a strong rallying point for the left.

This all assumes the GOP is smart enough in their marketing of their strongest points, Jobs and Obamacare, to win over fringe voters.

Incidentally, the President once again showed himself to be a class act by immediately after the decision Tweeting "…it's still a BFD." See BFD. When was the last time you saw a president use the F-word in public? The Big F*cking Deal, Mr. Prez, is that you said that it's a BFD in a public forum. Nice! We don't expect that kind of talk from a President.

Then, that afternoon, while news-goons were still running around like headless chickens, for the first time in history, the Congress voted to hold a sitting cabinet member, Attorney General Eric Holder (whom I have always said is the most dangerous man in America) in contempt. This is curious because Holder at first agreed to turn over the Fast and Furious papers, then, after a short time, during which he probably had input from his boss at the White House, he refused. You don't just refuse to do something the Congress asks, then demands, that you do. Amazingly, the DOJ announced that they were going to ignore the contempt charges and do no investigation of their boss. Although, that HAS happened in the past, in both the Bush and Reagan administrations. See. Contempt.1 and Contempt.2 . This one, however, comes at a curious time in a curious way and is a long way from being played out. It'll drag on for months/years. It raises several questions.
-If they had nothing to hide, why not release the papers and prove the GOP to be on a witchhunt? That would give Dems a lot of talking points. But, they didn't go that way. Why?
-Earlier Barry-O had evoked Executive Privilege and threw his arms around the information like a rich kid who owns the football in a sandlot football game taking his ball and going home because he wasn't winning. Why did he do that?
-Maybe Barry-O ignored Congress on purpose just to prove he could and is purposely trying to destroy the checks and balances that are built into the governmental three-branch system.
Essentially what the President could be doing is repeatedly setting himself above the system, which is the bloodless coup I mentioned: if a President won't listen to Congress and gets vindictive about judicial decisions, as he did with SB1070, and singles out a state for punishment, and suffers no consequences, what you have is the Executive Branch running the entire show, period. They are working above the law. And that, folks, is what's known as a dictatorship. And not a particularly benign one. This is getting out of control and doesn't bode well for our future. November becomes more important by the minute.

For a guy who campaigned on "transparency" and "bi-partisan cooperation" this Administration would appear to be bent on just the opposite.

Then, hidden behind the more spectacular news of the week, I'm CC'd on a press-release from a Border Patrol AZ union local in which the Homeland Security now mandates that in the face of an "active shooter" e.g one that is actively shooting people, all armed agents are to retreat and hide until law enforcement arrives. The TSA pamphlets say, "…an active shooter is an individual actively engaged in killing or attempting to kill people in a confined and populated area, typically through the use of firearms." The same pamphlets say "1. Evacuate (leave all your stuff behind and run) 2. Hide Out (it says to lock yourself in somewhere) 3. Take Action-as a last resort and only when your life is in imminent danger."

In other words it mandates that armed agents are to run and hide when someone is shooting people, e.g. the Ft. Hood shooting and the screw ball who shot 19 people, including Democratic Rep. Gabrielle Gifford in Tucson and this is no exaggeration. The AZ Border Patrol agents are screaming about this silliness. See Border Patrol

If our Border Patrol is being told to stand down, when shooting is in progress and the shooter isn't targeting them specifically, doesn't that pretty much open up our borders? Carried to the extreme, if the Cartels, etc., want to be guaranteed of not being interfered with by the Border Patrol, all they have to do is shoot a few innocents on the way in and the BP will run and hide because that's what they're ordered to do. Like that's really going to happen! I can't imagine a single BP agent letting others get killed just because that's what a pamphlet says. Still, think of the management mentality that's behind publishing such ridiculousness. This speaks volumes about the bureaucratic mindset that is rampant in the government and the way they think our country should be run.

I'm glad the week is over. I don't think I could stand any more BS.

23 June 2012 - Admitting That I'm wrong
In the introduction to this blog I invite the reader to e-mail me if they think I'm full of crap. And a gentleman did. He pointed out mistakes in the last blog and I'm here to tell you that I absolutely DO NOT want to be guilty of using numbers/facts that are wrong. And this gentleman, with the e-mail identifier of FF (no signature) very tactfully and intelligently pointed out the error of my ways. For that I thank him.

The specific facts I quoted were that 37 percent of the work force is employed by government, when his calculations show it to be closer to 16-18 percent. I didn't make my statistic up. I pulled it out of a well-respected report but, when I went looking for it, I couldn't find my source document again. What I did find, however, were lots of places that verified his number. I was wrong in my 37 percent and for that I'm truly sorry and I'd like to set that straight here and now.

One of the points I made about the percentage of government employment was that each of those families so-employed would cast two votes for bigger government. That's who butters their bread so that's understandable. Since the government-employed percentage is only about 16 percent, that means that 32% will vote for the government. I'm not too sure that's any more comforting.

Then he said, again tactfully, I come down pretty hard on President Obama. He said, " That's fine as long as you have specific reasons, but none are given. By any objective measure he's the most centrist Democrat to occupy the White House in a long time. Many make the case that he's even to the right of Reagan measured by such objective factors as lowering taxes, reducing government workforce, hard line on defense and anti-terrorist issues, etc. Yet instead of looking at all that objectively, it appears that you're filtering that through preconceptions and borrowed opinions."

There are so many points to be discussed in that paragraph that I don't now where to start. His comment that Obama is to the right of Reagan has me thinking he must be young enough that he doesn't remember when activists referred to Ronald as "President Ray-guns" because they considered him to be to the right of Atilla The Hun.

He says Barry is right leaning on things like taxes, reduction of government workforce, defense and terrorism. And I just can't see where he's coming from on that. Given the chance, Obama would jack up taxes, add a few more czars (how many does one president need? How many czars did Reagan have?) And hardline on defense and terrorists? I definitely don't see that: in my lifetime I've never seen a president with more apparent dislike for the military than him. As for terrorism, how does gunning down a bunch of soldiers on a military base while yelling "Allah is Great" (in Arabic) make the shooter a disgruntled employee (it was ruled work place violence) and not an Islamic terrorist? Yes, Obama was in the catbird seat when the Get-Bin-Ladin machine scored, but anyone who was in office was going to get that credit. He just happened to be there. Regardless of what he intimates, he didn't start or invent the search.

FF further says, "So I would be happy to listen, and perhaps alter my opinion, if you could mention just three or four real, specific, substantive things that Obama has done during his term that work against the best interest of the country (be fair, don't just focus on your best interests but those of the country as a whole taken in the context of the long term)."

Again, I don't know where to start but let's pick a few:
-He, and those he employs, have ratcheted racism up at every turn from the President jumping on a cop for stopping a person who appeared to be forcing a door open and saying it was racially based, to starting "African Americans for Obama".See For Obama Let's see the response to a video "White Americans for Romney". If Romney were to do something like that, even I'd be pissed at him. Obama's vindictive attack of the so-called "One Percenters" is another divisive tactic. America wasn't close to being this divided even in the '60's.

-Obamacare. Enuff said? We can't afford it. Most of us don't want it. It would be cheaper to buy insurance outright for those who don't have it. The present system definitely needs fixing but this isn't the way and it was rammed down our throats without the Democratic congress even reading, much less understanding, it.

-Unilaterally shut down drilling in the Gulf without asking anyone. Bam! 10,000 workers out of work . See Gulf Jobs And this is just one of many environmental decisions that cost jobs and aren't really environmentally necessary.

-The Administration got Green Fever and plowed millions into companies without doing the due diligence any normal investor would do. In some cases, the companies paid bonuses to their execs, then declared bankruptcy, e.g. Beacon Power Corp, EnerDel, Solyndra, etc. See Green.1 and Green.2
-His most recent move, giving 2 years of amnesty to young illegals, is going to have huge unintended consequences. First, this is an embarrassingly obvious ploy to buy the Latino vote (obvious even to Latinos: parallels his sudden support of gays), but what happens at the end of those two years? Nothing concrete can be done towards immigration reform in that time, regardless of who is in office. So, all of these illegals will have registered as being illegal and qualifying for the break, the two years will be up and suddenly they'll be left standing in the cold, now clearly identified as being illegal with no place to go. It will make a complicated issue that much more complicated.

FF says I do too much via my gut and not enough via hard fact, and I'm afraid he's quite right in some areas. In others, my gut can figure things out that facts can't. Deep down one of the primary reasons my gut causes me to come down so hard on Obama is that he makes it obvious through attitude and deed that he isn't proud to be an American. Nor is he proud of America. He is perfectly willing to bow and apologize and is careful not to project an image of power and firm position. Which is just as well because no one overseas takes him, or America, seriously anyway.

He too often telegraphs his feelings about the flag and the rituals that surround it. He betrays the fact that much of his childhood was spent in non-American (maybe even anti-American) locations and family environments and any Americanism he exhibits is put on like a shirt. It isn't natural to him and is superficial at best. This is a gut thing. No numbers, no measurements. It just the way we ALL judge a man. If I didn't know who he was and met him for the first time in a social situation, he'd immediately strike me as beinga poser with an agenda. Nothing genuine about him. Yes, very much a gut thing. However, all you need to do is read his books and you get facts to back-up my gut feeling.

If he said it once during his campaign, he said it a million times and none of us took him at his word. He said his goal is "…to fundamentally change America." And that is exactly what he is in the process of doing. We just weren't listening closely enough.

FF, you are right and I will check my facts more carefully from here on out. However, until proven otherwise, my gut is still the primary guide for my opinions. That's why they're called opinions.

PS
I hate talking about politics and am going to do my best to avoid them in the future...I hope.
16 June 2012 - I Hope Obama Wins...maybe
I'm tired! Bone tired: over two months without a day off, 16-18 hour days for two solid weeks. But, I'm damned glad I have the work. Then, tonight, as I tried to relax for a few minutes, I watched our President by-pass Congress in a very unilateral, dictatorial fashion on immigration. At that point, I realized I'm so tired that I think I hope Obama wins the election.

Did I just say that out loud? Did I actually say I hope Obama wins? Yeah, I did but I'm not sure I believe it. As I watched him on TV and remembered the awful statistics of our debt, of unemployment, of military build-up by China, of impending doom in Greece/Europe, etc., etc. my dragging butt got even lower. This is a seemingly unsolvable mess. And the thought crossed my mind that whomever wins this time around is going to doom his party for the foreseeable future: They may win this one, but it'll be the last one for a long time. This is a definite win-but-lose situation. For the nation, the situation is lose-lose. No way to win, no matter who comes out on top.

Let's play with scenarios.

Let's say Romney wins and he kicks into serious turnaround-specialist mode and really attacks everything from debt to immigration, from Israel to Iran and everywhere in between. If he really is the turnaround-specialist he's purported to be, there's going to be some hardcore butt kicking going on. Lots and lots of non-productive political types, offices and bureaus are going to have to prove their worth or they'll be liquidated. If he's serious, government, which currently employs 37% of the work force (turns out this is a wrong number...see next blog. It's actually 16-18 percent), has to get smaller. That's non-negotiable. That 37% is being paid with taxpayers dollars and doesn't product a single saleable item. It has to be made more productive. Btw-we know 47% of the population doesn't pay taxes, so that means just over half of us are supporting that 47% AND paying the wages for 37%. No wonder I'm tired!

Tons of government programs have to disappear: if they don't produce jobs, make money or save money or if they cost money, they need to go on the chopping block. Lots and lots of sacred cows are going to be hamburgered. It'll have to be absolute slash and burn administrating, or it won't have any effect. Half way measures won't do anything.

He's going to have to go head-to-head with the green monster and let the sounds of happy-fracking and drilling be heard from Alaska to the Gulf. We're going to have to ignore some three-toed salamanders (or what ever they are) and put northern California farmers back to work. That's going to have to happen across the board. To quote a friend (and you'll hear this again from me in the future), "Environmentalism is a luxury of an affluent society" and we aren't that affluent any more. We can't afford to do anything that doesn't help solve our immediate survival problems.

In short, jobs have to be available to those who want work and those who don't want to work will be given a grace period then kicked out on their lazy butts: homelessness will rise and votes will disappear.

If Romney actually does make a dent in the problem (which I doubt, btw), he's going to make A LOT of enemies along the way. He's going to have to piss off an immense number of powerful people and entities all of which have lots of money and connections. It won't be pretty. Regardless of whether the GOP turns around the country, they can forget about winning the next election. Or the next one, or the next…. We'll be a Democratic nation for a generation, which, of course means, the nation, as we know it, is unlikely to survive.

Let's say Obama wins: if he and his goons stay in power, they'll take that as a mandate that his dictatorial, damn-the-Congress-screw-the-Constitution-only-we-know-what's-good-for-the-country way of doing things is the way to go. And he'll really make things happen: he's not going to have to worry about re-election so he can do any damn thing he pleases! 2nd Amendment? Forget about it! States rights? We don't really need those do we? Balanced budget? Won't even be attempted! Full, unconditional amnesty for illegal immigrants? Of course! When compared to his second four years, we'll look back on his first four as having been an incredibly fun, financially pleasing, time.

If Barry-O wins, the next four years will be the same as the last four years but on steroids. And the nation will be in ruin. However, although the Democratic voter base will grow by the millions, the new voters will hopefully be offset by those who feel as if they've been duped. That the promise, was just that, a promise that wasn't kept. And with everybody broke, out of work, or just getting by, they'll turn on the president and his party like a pack of harried hounds turning on their master. The change the Democrats promised wasn't the change the voters wanted or expected and the Dems will be SOL (sh*t out of luck) for decades. I hope.

And the foregoing is why some deviant part of my mind hopes he wins: he'll orchestrate the in-your-face disaster we need for reality to soak into those who still think a president is good if he is articulate, has a ready grin, a pleasing singing voice and gives things away to the population. They'll also realize that the types of programs coming from the left are ready made disasters and we have to temporarily forget about the luxuries and get deadly serious about survival.

I sure hope I'm not pipe-dreaming here and, when the population is faced with the realities of an administration-orchestrated disaster, they'll change their voting patterns. It's a terrible gamble to hope that he wins.

Incidentally, his announcement about suspending deportation of certain groups of young illegal immigrants has some merit: we absolutely have to come up with a way of dealing with millions of immigrants but that can't include bypassing Congress and ignoring the Constitution. What he did this week amounts to the actions of a dictator: I'm president and if I say it is so, it is so. That's not the way this country works. It's going to make it that much harder to come up with logical immigration reform and God knows we need it. While I'm dead set against giving illegals an easy road to citizenship, they're here, let's figure out a way to make them part of the tax paying base and, if they want to jump through usual hoops to citizenship, let 'em do it. And let's not hand out work visas, when our own people are unemployed. Get real!

This rant didn't help me much: I'm still dog-tired. Only now, I'm also pissed!
9 June 2012 - Of Mud-packed Colons and Fun
I'm not sure what re-launched this stream of long forgotten memories: probably a conversation with one of my students about high-speed water skiing (90 mph…crazy!). Without warning I found myself telling stories about the teenage beach life of a small farming community.

First, understand that we didn't have beaches. In fact, we didn't even have regular rivers. The Big Blue, which was one reason my little town was located where it was, had been silted in to the point that, yeah, it was a river, but not the kind of thing that fostered picnics or keggers: too much mud, too many ready-to-carry-you-home-for-dinner skeeters. Even so, we had lots of boats. We had water skis. We had banana peel/slalom skis. And we had ponds. And that was water and water would support a boat and maybe a skier. Most important, we didn't know enough to know we really didn't have skiable lakes. Every bit of available water was too small to do anything other than float around on with a cane pole catching bullheads and sun fish. But, we didn't know that and to make things even better, I had a friend whose family had a "cabin" on a local "lake."

First, let's define "cabin": a moldy 15-foot square, ancient frame building with wall paper falling off the ceiling set in the narrow margin between a cornfield and a "lake" with a small dock jutting out into water the color of cocoa. The water was thick enough it looked as if you could tap dance on it.

The definition of "lake" in this case was a length of water far shorter than a football field, probably 75 yards, and not nearly as wide. It had an "L"shaped leg at one end that could barely be navigated by a motorboat at moderate speed but a skier would never make it, if he got even slightly outside of the wake. And teens don't know the meaning of "moderate" speed. For us, the throttle was basically an on-off switch: it was full bore or nothing. So, during one dry season they bull dozed a channel through the corner of the "L" 15-20 feet wide. Now, assuming you were quick with your moves and totally lacking in commonsense, you'd succeed in having the fast moving boat suck you through that water-filled slot at least three-quarters of the time. The rest of the time you wound up tumbling across the grass on shore like a roadkill jackrabbit, going end over end, your skis or board spiked into the mud bank.

Inasmuch as none of us had ever water-skied in real life conditions or hung out on a real lake, we thought this was heaven. Absolute, heaven! We thought that every skier had a solid stream of mud shooting up behind him as his skeg hit bottom making the turn around (it was barely a foot deep in some areas). We didn't know that when you were dumped off of skis in the real world you skipped across the surface and sank in up to your neck. If we took a header on the north end of our "lake" we stopped exactly where we hit, like a javelin, when our head/butt/leg dug a foot or more into the bottom. But we always came up laughing with mud dribbling out of our shorts and running out of our ears.

One of our favorite games was to get the old wooden Thompson going as fast as the 40 hp Evinrude would push it, which was actually pretty fast, then we'd jump overboard. We were trying to land flat on our backs so we'd skip like stones. Usually all we did was give ourselves a chocolate enema so we pooped mud for three days. But what fun!

Somehow we wound up with a boat/raft contraption that was made entirely of aluminum irrigation pipe capped at each end. Picture a raft that is slightly "U" shaped with the bow ends of the tubing cut and bent up and was open at the back. The sealed pipe gave it its bouyancy. It had three different diameters of pipe starting about a foot right in the middle and graduating down to six inches at the edges. It had no transom and the engine was bolted to a small vertical stand about two feet in from the open back of the "boat." Because of the rounded bottom shape, when we cranked the Evinrude wide open (it was never meant to have this much power), this aluminum death trap would jump out of the water and plane on the center tube. Nothing else would touch the water. This was very cool until you wanted to turn. As soon as you touched the tiller to turn, the "boat" would instantaneously whip over and plane on one of the outside tubes putting the smooth aluminum seats at a solid 30-degree angle. I can't guess how many times passengers, and sometimes the pilot, went rocketing overboard to the outside of the turn, leaving our trusty craft to impale itself in the bank ahead.

We also found that, if we sat on the front of it with our legs hanging over, we could drive the bow under water and we'd motor around with nothing but us and the motor sticking out of the water.

My favorite was a little, plywood three-point hydroplane that magically appeared from somewhere. This thing was tiny, eight feet long at the most, homemade from plans and nicely crafted. It had a little short-shaft, 10 hp Merc and was an absolute screamer! You kneeled on your knees, slammed the deadman throttle forward and shot up onto the step. I don't know how fast it was moving, probably 40-50 knots, which was way, way too fast for the so-called lake. In a straight line, it was a rock 'n rollin', tooth-shattering ride! Huge fun! But it cornered like a flat rock, skipping sideways, threatening to throw you overboard (hence the deadman throttle), or hook the edge and flip over. We spent a lot of time drying out the trusty old Merc or dragging the boat back into the pond after someone skipped up the low bank and wound up entangled in the corn.

Considering all the fertilizer and manure that was probably draining into the pond, the amount of broken glass on the bottom, the trees right on the shoreline just begging to be center-punched, it was an absolute miracle that all of us survived to adulthood. Lots of cut feet, bruised ribs, mud-packed colons and one could-have-been-serious boat-motor-across-a-leg cutting incident, but that was it. A miracle!

Today I doubt if you could get most urban kids to even stick a toe into that kind of water in that kind of environment and engage in that kind of waterlogged lunacy. At the same time, I'll lay money that even as I'm writing this there are irrigation ponds all over fly-over-country that are populated with kids in boats risking life and limb while making do with what they have. They say water and gasoline don't mix, but they sure as hell do when you're young and lookin' for fun.
3 June 2012 - An Old Friend Spoke to me Last Week
Last Sunday, the day before Memorial Day, an old friend spoke to me for the first time in over half a century. The last time I heard his voice was fifty years ago this month and we were both a helluva lot younger. Go to Voice to hear what the old guy said.

As you can see from the video, the milestone event was me, and a couple of friends, getting the engine in the roadster started. This is a much bigger deal than it sounds like because, for one thing, this rusty old artifact from my teenage years is now no longer an inanimate object but a living, breathing entity, and, after ignoring it for a couple of years, you can bet I'm now fired up to work on it. IT'S ALIVE!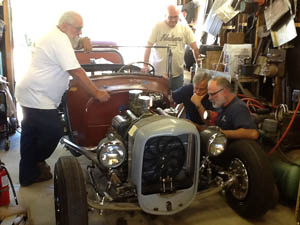 The Phoenix Roadster Rehabilitation Squad: left to right, Don Marks, nationally recognized old school hotrod builder, Mark Pixler, old friend, me looking thoughtful and Monte Pixler, Don's partner in hardcore craziness, and my flathead mentor. We're looking at coolant leaks. It's a flathead Ford, remember: it's designed to leak.
To a lot of you out there in commonsense land, where a car is a car and the shinier the better, this subject is going to be a little out in left field because, when judged against the realities of life, this comes off as a pretty dumb project. It's the quintessential, "If you have to be told what it means, you won't understand it" thing. And this isn't bad. Standing back and trying to put perspective on it, I can clearly see why some folks just don't get it when it comes to building a car from junk parts that are usually used, abused and ancient. I can't really explain it, but I'm going to give it a shot.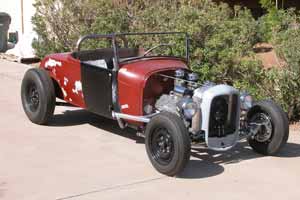 An overview of a kid's day dreams, a lifetime later.
First, I can tell you the exact minute, when this whole crazy roadster thing started. I was nine, maybe ten, years old, and our family had driven from Nebraska to Hollywood to see my Aunt Inez. She took us to all the tourist haunts including the then-famous Brown Derby restaurant, one of the Hollywood hotspots. As we pulled into the parking lot, a pair of gleaming, black roadsters ('32 highboys I think) pulled up next to us. I'm certain I caused permanent damage to my nose when I slammed my face against the window to get a better look. The chromed, open engines, the total lack of fenders, the way the very stance of the cars said "Yeah, I'm a California hotrod! Wanna try me out!" It was like something out of a teen movie and to a kid from a small town in Nebraska it was absolutely mind bending. And, as it turned out, it was life changing. I had to have a car like that, no matter what.

For the next few years I dreamed and, while learning how to built rifle stocks and destroy U-control model airplanes, I read every magazine ever printed on hotrods. I devoured the how-to articles and dog eared the pages with roadsters on them. Then, when it became obvious that I'd eventually be sixteen and old enough for a drivers license, I started scouring the surrounding rural countryside for the makings of my own hotrod.

The first time I laid eyes on the car that's now sitting in my garage, it was laying crosswise in a gully being used to stop erosion. It was just a body and had six inches of mud in it. But, it was a roadster. And it was mine. Btw, getting a '29 roadster body that's full of mud into a truck to bring it home wasn't easy. Of course, being teenagers, it never occurred to us to dig the mud out of the car first.

Now, bear in mind that all I knew about building hotrods was what I read in the magazines. And there was no one else in town even vaguely interested such a project. I didn't know enough to know what I didn't know but, in looking back, I was totally, absolutely fearless: it never dawned on me that this could easily be a project that was well over my head. Especially since the way I decided to do it complicated it even more than necessary: I channeled it (cut the floor out and dropped the body down over the frame to make it lower) Z'd the frame to get it even lower and generally took off on tangents that no 15 year-old in his right mind should attempt. But, then, I was 15/16 years old, so I didn't know enough to doubt myself. However, through hard work and creativity I raised automotive butchery and Earth-shakingly bad craftsmanship to a higher art form.

I finally got it running, when I was seventeen or so, and drove it off and on for a few years. I remember so clearly sitting on the lifeguard stand, while I worked at the local pool, and looking out where the wildly-unfinished and unbelievably-crude roadster was parked. It never had an interior. It never had any gauges of any kind. It only had two, sometimes only one, working brake. It was awful! But, it had "the look" and it ran and it sounded soooo cool! And I loved it when I sat there, supposedly keeping the town's toddlers from drowning, and watched someone stop and walk around the car. I was a skinny little twerp, but I still puffed up with pride.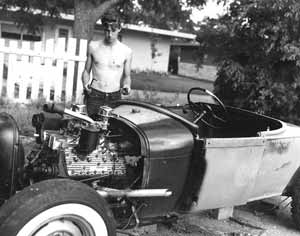 Photographic proof that at one time I actually was a skinny twerp. I'm about 16 there. The walnut tree behind me is where I hung my chain hoist. It got diseased and I had it cut into slabs and now make gun stocks out of it. Lots of the wood found its way into the roadster, which is only right.
I could write a book on what that little car stands for (and have nearly done so on the web, go to Roadster). To me, it is a sculpture from another time that has its roots in the birth of rock and roll, the feeling of teenage abandon, of dreaming unlimited dreams and knowing you have forever to accomplish them. It reaches out and reminds me that dreams don't have to die just because we're growing into a time in our lives, when we've supposedly dreamed all our dreams and are living on our memories.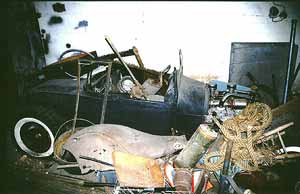 Here's where it slept for 40 years before exhuming it and bringing it out to Phoenix about 10 years ago.
Most of all, the car reminds me that the pleasure in any trip is as much in the journey as in the destination. In this case, the pleasure is in the building, the solving of myriad problems, engineering new ways of doing things, of using my head and hands to create something that exists only in my mind. It is a physical manifestation of who I was and who I am.

When we lit the fire under that old flathead last weekend and a super-familiar voice rumbled out of the same glass-pack mufflers that had shaped its sound a half century earlier, it also re-lit the fuse on one of my major dreams. I reminded me that there is never a day, when our dreaming days are over: too often in life, dreams get sidetracked (in this case for 50 years) while tending to business and building a life. But dreams should always be a part of that life, no matter how long they take.

I'm certain I've said this earlier, but dreams don't die. We kill them through lack of attention. We kill them by giving into the pressures of life and letting those pressures invade that wonderful little private space in our thoughts where our imagination creates those things that are most important to us. About ten seconds after 1958 began rumbling out of those dual pipes, warm, long-forgotten dreams came tumbling out of my mind and I knew I was back on track again.

Revisit your dreams. Don't give up on them. They are what keep us young and alive. And they are what make life worth living.

26 May 2012 - Memorial Memories
Memorial Day almost always catches me unawares. For some reason it is here before I even know it's on the way and my reactions to it, although always built around the purpose for which it exists, remembering our fallen, vary. This morning I find myself wrapped in the memories of Memorial Days long past.

I'm certain I'll be repeating myself here, but I can't help myself, so bear with me: I find my thoughts being overwhelmed with old images of Memorial Days from my small town youth.

Memorial Day weekend exists in my mind as a sun lit several days with hard blue skies and the promise of summer. School ended that Friday and every kid in town was well into summer mode by the time memorial services were held on Monday. Bicycles were oiled, .22's were cleaned and we'd already been out to the various creeks (pronounced "crick" for reasons I still don't understand) strafing floating pieces of sticks and tin cans. Future archeologists will find massive numbers of bullet-ridden tin cans and probably assign some sort of ritualistic significance to what was nothing more than adolescents learning a skill that was part of their birthright. Most important, however, the swimming pool, social center of he town, opened for business that weekend signaling the official beginning of summer. The entire weekend had a warm, loving, low-key vibe to it.

When I think of Memorial Day services, it is invariably the image of a crowd of people, most of the town in fact, standing around a clearing in our tree-covered old cemetery: lots of elms and ancient ciders. In the center, a color guard representing each service stood with flags and rifles, a mixture of '03 Springfields and '17 Enfields from the VFW Hall. The small cemetery building, its exact function never fully understood (at least not by me) formed a backdrop, its vaguely Victorian stone construction lending a feeling of remembered age to my memories. The mayor and other adults I knew I was supposed to respect but never understood why, would make speeches that drew muted applause and cause the solemn nodding of heads.

I'd be wandering around amidst towering adults, keeping close eye on the graying, pot bellied color guards holding the rifles waiting for my moment to pounce: as each volley was fired and the empty blank rounds were ejected, I mentally marked where they landed in the grass. The instant "Amen" was said and the crowd stirred, I launched out of the crowd into the clearing and grabbed the still-warm 30-06 brass. The subtle heat of the sun, the smell of the ciders mixing with the oil and gunpowder aroma of the brass, the well dressed adults moving slowly through headstones looking for friend and family names, brief hesitations, a few bowed heads. A tear or two. I didn't fully understand it at the time, but I knew it was important. And it etched Norman Rockwell type images in my mind that I recall with great pleasure. And nostalgic yearnings.

In later years, I'd miss the happenings in the clearing because I'd be standing at the edge of the cemetery trumpet in hand. Another trumpeter in the clearing would start playing Taps and I'd answer in an echo-like cadence. I was never able to hear it, but my parents reassured me that it sounded great.

Today, I don't know what my old hometown does on memorial days, but I'm positive it is still a day remembered because on the edge of the same cemetery, out past where the trees end, they've built a fairly expansive marble and brass memorial plaza with sections dedicated to each of the wars that have produced veterans and casualties for my little town. They don't want to forget.

Regardless of what is happening in the rest of The Nation, this tiny town, along with thousands of others similar to it, place a value on those who have given their all for the rest of us. And that's the America I like to remember on this weekend. The America that marches around small town squares and gathers at cemeteries flooded with fluttering crops of American flags.

I know that much of the urban population looks at Memorial Day weekend as nothing more than another day off from work, but I also know that the hamlets that dot Fly Over Country remember. And I'm so proud to have my personal history so firmly rooted in that kind of heritage that I can't stand it. I only hope I live long enough to see that kind of feeling permeate younger generations and we see a return to the basics of what made this country great.

Whether that happens or not, I'm certain that on Monday there will be youngsters crouching in the crowd at small ceremonies ready to retrieve the brass. I'm just as certain they'll come away with the same memories as mine, so the fallen will always be part of our consciousness.

19 May 2012 - Condition One as a Lifestyle
I had an "interesting" experience early, early this morning that taught me something I knew intellectually, but had never actually confronted: there is a segment of society out there for which violence is the way they conduct their lives. It's the way they solve their discussions and arguments and they don't exist just in the movies.

At four o'clock this morning the phone rang and it was one of our young friends. He was standing in a filling station with no shoes, having just been rousted out of his long-time "girl friend's" apartment by her other boy friend (whom he didn't know existed…surprise!). So, like good doobies, we drove over to pick him up and then took him over to the apartment to get his wallet, etc, that had been thrown out on the sidewalk in front of the apartment. But, his car keys were missing, which set up the face-to-face with The Boy Friend and an epiphany for me.

When The Boy Friend came to the door, he looked as if he had been sent down from central casting to play the bad guy. Stocky, no shirt, heavily muscled (I mean HEAVILY muscled) and everything about his body language was taunting, as if he was hoping our friend would give him an excuse to use those muscles. Menacing doesn't begin to describe him and his behavior.

Our friend, being young, naturally had to exercise his own testosterone and, when ordered to stay away from the girl, just had to push back. The scene was set for something really, really ugly! And there I am, stuck in the middle trying to mediate the un-mediatable (did I just make up a word?). I was doing my best to keep our friend quiet so he didn't fan the fuse that obviously was already lit. The Boy Friend was cocked, ready and willing to go off. And it was terrifyingly obvious that he had been here before: we were in HIS comfort zone.

"Get the f*** outta here or your blood'll be on the pavement. I'm the last mother f*** you want to mess with!" His pupils were the size of dimes, you could monitor his heart rate by the veins in his neck and not once did his teeth come unclenched as he spoke. And he was enjoying it.

Things were coming unraveled really fast. And I thought about the Glock in my back pocket. And I immediately dismissed the Glock for several reasons: first, because the problem wasn't The Boy Friend, but our young friend's insistence on getting in his face. It was obvious that he'd get his clock cleaned and probably broken but he wouldn't back down and be reasonable. I thought I could cool this confrontation down, if I could just get control of our friend.

The second reason I dismissed the Glock was because I was carrying in Condition 3, no round in the chamber, always assuming I'd have time to rack the slide. But, it was obvious that if this thing went south, that time wouldn't exist. He'd be on me in a flash.

As it turns out, I was able to stuff our friend back in our car before he got The Boy Friend any more wound up and we drove away with no blood on the pavement and me not having to make a move I'd regret for the rest of my life. And I learned a couple of very important things about life in general and my life in particular.

To the majority of the population—and I'm deeply entrenched in that majority—violence is something we seldom, if ever, see. It's just not part of our lives. But the general population includes large segments where violence is so commonplace that they don't even think about busting some unsuspecting soul in the nose. They think nothing of releasing their rage by kicking the snot out of someone. And if that someone is one of us, from the other part of society, it's no contest. Most of us have no experience with violence, lethal or otherwise, so when it breaks into our personal space, we're so far removed from our cultural experience that the disadvantage is huge and the outcome is fore ordained.

The segment that includes violence as one of their social skills is, in some ways, a predator that roams amongst us. They are out there and not only view the rest of us as soft and weak (which we are) but they use us as a form of super market. We are where they go shopping for what they want and need. And I was face to face with one of those I knew to be one of the shoppers: he had recently gotten out of jail for burglary.

As I re-ran this morning through my mind today, I realized that not only did I have to think about carrying in Condition One (round in the chamber), but I should carry that kind of mentality around with me all the time. I should be mentally loaded and ready to defuse a situation as soon as possible and to recognize those situations ahead of time.

When it comes to defusing situations, one of the beautiful things about having some gray hair is that we've learned that there is nothing wrong with walking away. Running, if necessary. The other nice thing about having gray hair is that the violent types never see us as a threat, and, if push comes to shove and things get really serious, we can use the hesitation that's caused by their perception that gray is not to be feared to our advantage. And, if I'm carrying in Condition One and don't have to rack the slide, that advantage will be even bigger. BD
13 May 2012 - In a Murky Crystal Ball
I was torn as to whether to post this Thinking Out Loud or not, but did it anyway. Last week I talked about some recently-discovered crystal ball gazing I did five years ago and how close it came to what has happened since. Some readers commented "You were on-target then, what do you see for us now?" I wish they hadn't asked because the facts add up to stuff I really don't want to even think about, much less talk about.

A caveat: I know no more than anyone else about the inner workings of government, politics, economics or any of the other factors I'm about to discuss. This is all based on my gut and mid-western commonsense, so take it for what it's worth: one man's barely-informed opinion.

I'm going to put some links at the end of this that verify, or at least provide sources, for some of the following facts, but they all come from good sources. And the facts are facts, regardless of who wins the election.
- Experts say that balancing the federal budget is an impossibility because government has gotten so large that even if the major branches of the government were shut down, the budget still couldn't be balanced, so we're doomed to debt unless we drastically reduce the size of government.
- 37% of the U.S. work force is employed by the government, which means two votes (husband/wife) per family in favor of big-government.
- Government wages are now higher, 100% higher in many cases, than comparable ones in the private sector, so it's an attractive, and expensive, job market that takes huge dollars to maintain but produces no revenue.
- It has been projected that we are about to pass the point where it becomes mathematically impossible to retire our debt no matter how long we try.
These are nothing more than simple facts available anywhere, no opinion involved.

The situation isn't going to get any better because I think "O" is going to win. Why? Because he has an incredibly effective, sometimes ruthless, team that will use Chicago-style tactics that the GOP is unequipped psychologically, morally and organizationally to counter. The "O" campaign is already making great use of a basic rule of Chicago politics: "A lie is halfway around the world before the truth even gets out of bed." They are very, very good at this.

Note: I may be saying the above just to prepare myself emotionally in case it does happen.

The O-camp also seems to have much of the press in its pocket. Sometimes embarrassingly so: the coincidence is just too great that the Washington Post ran a major piece about Romney "bullying" a presumed homosexual (conveniently now-dead) while in high school the same day "O" throws his arms around the gay community after having been against them for years! How did the press find a number of individuals from Romney's high school almost over night who said they witnessed the "attack" and were "bothered by it" (some comments were later admitted to have been artfully manipulated by the press). This same press has found virtually no one who knew "O" in high school and none of his college classmates have surfaced in the four years since he started campaigning? Hmmmm!

I think the best we can hope for in November for is winning both houses but, given the O-shocktroops' ability to organize voters on a local level, even that will be problematic. If we don't take Congress and "O" gets in, which will give the left free rein, it will effectively be the end of the two-party system: an amnesty net will be thrown over every illegal in sight, giving the left such a huge voting majority that it can't be overcome no matter what. Even if the right does take both houses but "O" wins, it'll be a period of stagnation when we desperately need dramatic, conclusive action to try to reverse course, assuming that's even possible.

So, we appear to be facing impossible-to-solve financial/operational problems at the governmental level AND we're likely to be cruising into a political era that will be terminally damaging. What can turn this around?

I don't think that anything even remotely resembling the normal democratic process is going to correct our course. Politics as usual isn't going to cut it. Our national Titanic is going full steam ahead at an iceberg and its inertia is so great that no amount of frantic steering, regardless of who is at the helm, is going to avoid the collision. And, as much as I hate to say it, this national collision is quite possibly the only thing that's going to save this country in the long run but it is going to take as much as a generation for it to run its course. Maybe longer.

It will probably take the rest of my life, maybe 15-20 years, for us to coast the rest of the way downhill and hit rock bottom (it could take a fraction of that time depending on what happens to the dollar and what happens in November), then our kids (and maybe our grandkids) will have to dedicate their remaining years to rebuilding it.

What we see happening to the Greece's of the world (systemic breakdown of all normal government and social structure) and what's looming over California (total overload of the systems by really lousy financial management and their professed goal of supporting every non-contributing group, e.g. illegals) is what is likely to be down the road for The Nation, as a whole. Our national inertia is so huge that at least part of this is unavoidable. But, I also think it is necessary.

Basically, I think it is going to take an unthinkable, nationwide calamity to happen before enough fringe Democrats see the light and join with Independents to form a voting block large enough to offset the coming mega-voting block: illegals, entitlement groups, government employees and unions. For Democrats to forsake even the most undeserving portions of the entitlement crowd in an effort to save the nation (for instance, drug tests before getting welfare/unemployment), they'll have to be hit right between the eyes by events that are so catastrophic they can't possibly ignore them e.g., the total, or near total, collapse of our way of life. Anything less and they'll cling to their leadership as they always have, and like lemmings rushing to the sea, they'll drag the rest of us over the cliff with them.

This having been said, make no mistake, there are as many brilliant Democrats as there are brilliant Republicans. And a lot of them are patriots. They just see government's role differently. However, their absolute loyalty to their party and its leaders sometimes makes it impossible for them to make much needed difficult choices.

If the US were to deteriorate into anarchy (which, if it were to happen, I don't think it would be total), the big question is who, or what, will the military honor: the constitution or their Commander in Chief? Would they become storm troopers to enforce Executive Orders or new laws aimed a castrating a population? Or would they say to hell with it and go home to protect their families? I think the latter. Ditto for police forces.

The good news is that regardless of what happens, America has the size (we're twice as big as Europe), the resources, the spirit and the people to come back from whatever happens. Get our energy policies on track and we could essentially isolate ourselves and survive nicely with nothing coming in from the outside, which would also revitalize our manufacturing industries. However, the liberal versus conservative civil war is going to have to be fought and settled, whether at the polls or in the street, and I'm afraid the possibility exists that it may well be both.

Budget Dilemma Source
http://www.youtube.com/watch?v=EW5IdwltaAc&feature=youtu.be

Romney hit pieces
http://www.glennbeck.com/2012/05/11/wapo-conveniently-has-shady-romney-hit-piece-ready-to-go/

http://www.theblaze.com/stories/family-of-romneys-alleged-bully-victim-speaks-out-the-portrayal-of-john-is-factually-incorrect/


5 May 2012 - I Hate it When I'm Right
I found these words in an old file folder dated February, 2007, five years ago. I wrote this, then, for some reason, never used it. As you read it, remember that this was written pre-Obama, pre-recession, pre-a lot of stuff. And it could have been written today. Spooky! My current reactions to my own words are in italics.

Me From Feb 2007
As I look around at the Nation, and the world, in general, it scares the bejeebers out of me. Like so many others else, I'm coasting closer and closer to old coot status (I may be there now, not sure), and I have been under the mistaken assumption that, as I approach that stage of life, things will slow down. I'll have more time. And eventually there'll be some sort of reward, maybe a safety net of sorts, for a lifetime of hard work. Hah! Once again an assumption made an ass out of me. But I don't think I'm sorry for that. (none of that has changed today)

Security (social or otherwise) often appears to be a gossamer, hard-to-define entity, when it's really not. Security is knowing that nothing, and nobody, is going to upset your apple cart. It might include a loaded shotgun behind a closet door or a huge pile of cash that's big enough to take care of a lifetime of rainy days. I have the shotgun. I don't have the pile of cash. However, I do have a plan. Of sorts. And it doesn't include the US government. (I had no idea how accurate my thoughts would be).

Part of the reason I'm not including the government in my retirement plan is based on what I'm seeing this early in the political craziness that is leading up to election (remember that this was written before the 2008 candidates were even picked): none of the front runners have a firm handle on the concept of security. McCain, I think understands the concept of the shotgun behind the closet door part of security, but none of them understand the concept of a huge pile of rainy day cash. They all seem to have a credit card mentality: spend, spend, spend with no thoughts of how to pay it back. (What makes this really interesting is that none of us even knew who Obama and his goons were. I also I don't think we really thought America was ready for its first black president. I'm glad I was wrong and we could accept a black president, just not this one. If we wanted a black president, we needed/need an Allen West.)

The rainy day cash (RDC) concept is pretty basic: if you have a lot of debt, you stop spending and build up a surplus. Otherwise, you eventually can't pay your debts and someone else suddenly owns your house. Between throwing our arms around millions of illegals and so many other feel-good programs, we're not helping our piggybank. In fact, almost all of those programs require outside funding and guess who the banker usually is—China and others who now have a legal stake in America. We're in the process of becoming upside down with China and the world. (Damn! I'm soooo sorry to see how accurate I was on that one. Who would have thought things could get this twisted around? It's as if it's being done on purpose.)

The conversations often heard about the mortgage crisis (this was all before the crisis actually happened) all mention how so many people are upside down with their house. They owe more than the asset is worth. And now the government is talking about helping them out (Bush was in office but Dems controlled both houses). This will be via loans that have to be funded with foreign debt because we don't have the cash. The government is doing exactly what the people they are trying to bail out did to get their butts in a jam in the first place. They are spending money they don't have to do something they "want" to do, not something they absolutely "need" to do.

I really feel sorry for those who are in foreclosure or close to it, but I'm more than a little uncomfortable with the concept of going deeper in debt with China to make up for their mistake. We all make mistakes but it's usually up to us to figure our way out of them. When did it become policyt that government has to solve our personal problems? (These old paragraphs make me sound as I'm smart and saw it all coming, but NO ONE could have predicted how bad the mortgage thing would become and how much of a worldwide impact it would have. BUT, IF I, AND SO MANY OTHERS, SAW IT, WHY DID THEY LET IT HAPPEN?)

Government has gone nuts. If the individual bureaucrats ran their checkbooks the same way they run the government, they'll all be in debtors' prison (if such a thing still existed—and it should). (Damn, Budd! Five years later and you're still saying the same thing).

The net-net of all of this, for me personally, is that it's obvious that the government, in the form of social security, quite possibly won't be there in any kind of useable form, when I need it. So, I'll just have to be in a position that I don't need help from the government. (Go, Budd!)

It's too late for me to build a really big pile of cash (or even a small one). It, however is NOT, too late to plan. And I do have a plan.
- Reduce debt – I'll be selling a lot of stuff, e.g. anyone need a new M-14P radial engine? (sold it and used the money to retire a sizeable amount of debt)
- Continue working – Who am I kidding: I couldn't stop working anyway. How boring would that be? Remember, it's not as if I'm digging ditches or pumping gas. What I do is fun and I don't plan on stopping it until the first shovel full of dirt hits me in the face! (Yeah!!)
- Slow down physical/mental deterioration – There aren't many things you can control about aging, but conditioning is one of them. I HATE working out, but if I expect to be still working 20 years from now, I'd better get after it. It's an investment in my future. (Alright! I stayed with that one and it has really paid off! I also started looking into slowing age-related mental deterioration and I think that too is working. If nothing else, doing this blog keeps the neurons hopping).

As I look at the foregoing short list of long-term security measures, I realize that those cotton brain bureaucrats have probably done me a favor in forcing me to do what I should be doing anyway. (Once, again, dead on!)

When push comes to shove, security of every flavor is, always has been, and always will be, in the hands of the individual. Don't kid yourself by thinking otherwise. So, keep that shotgun loaded and your cash buried. (Today, I'd expand that advice to include keeping your pantries full, and get good with a concealable handgun. Also, since then, my highly modified Glock 26 has joined my cell phone and car keys in my pockets, when leaving the house).

In so many ways I find it profoundly sad, and mildly amazing, that what I wrote so long ago turned out to be not only prophetic, but even more applicable today than it was then. When it was written, I hoped I was overstating the case, which may have been the reason I didn't release this to the public. Now I'm sorry I didn't, for whatever good it would have done (exactly zero).

28 April 2012 - The Autopsy Race
We were watching television while we ate and it dawned on me that it didn't bother me one bit that at the exact moment I was stuffing turkey into my mouth on screen, that Ducky, the talkative NCIS sawbones, was lifting the brain out of the skull he had just sawed open. The prime-time race for the ultimate autopsy has made us immune to just about every gruesome form of death, which I'm not sure is a good or a bad thing.

On the one hand, I should probably be decrying the obvious pandering to our baser instincts in the amount of anatomical gore with which TV lathers us, but I actually find it entertaining. And, I don't know why. However, I know I'm not alone, or coming up with creative corpses, which are the result of even more creative ways to die, wouldn't have become such a staple of today's TV content.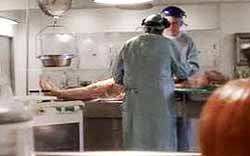 Ducky and Jimmy (NCIS) carve up some aspiring actor while Ducky rattles on about some episode in his past
Let me see: we have vicariously participated in the extracting of a smoked human being from a chimney and the follow-on dissection where he was described as a well aged ham. We have watched as our favorite characters scramble around a railroad track at night searching for all the severed parts of the victim, which are strew down the track bed (thank goodness Nick found the head under the bridge). We have seen an F-14 drop tank gingerly opened to expose a long-mummified Navy Commander. We've had an ant's-eye view looking up as a flailing young body hurtles towards us producing an impressive splat that turns our vision red (ten stories is a long way to fall). You name it, we've seen it. And there's undoubtedly much more to come.

It would appear that creativity in producing corpses is a must in developing today's TV dramas and I find it a curious sort of fun. At the same time, I have to wonder how all of this stuff comes about. I've read, for instance, that it's a big deal within the acting community to be the stiff that's on the stainless steel slab in NCIS or CSI. Actors and actresses of all ages are standing in line to be sliced, stitched, sawed, filleted and otherwise carved upon. Does that mean there are talent agencies that specialize in people who look good dead? Corpse agents, as it were?

I can picture the casting call. A pleasant looking young actor/actress is ushered into the room with the solemn-looking casting director on the other side of a desk. The director says, "okay, take your clothes off, lay down on that stainless steel table and don't breathe for three minutes." Reportedly the autopsy table has launched some serious careers.

Or the order phone rings at a specialty manufacturer. A darkly tanned blonde snapping her gum listens intently and scribbles on her order pad. "Okay, let me…ya, know…repeat that. Six foot, two-hundred pounds, was found partially dissolved in a barrel of acid, has a Hells Angels tattoo on the right forearm just above where the hand was amputated with a cutting torch, one eye is hanging by the nerve and half his hair is singed to the skin. Oh, yeah…would that be Caucasian or black? Gottit…Asian. We do Asian real good! Would Tuesday be soon enough? And is this on a credit card or C.O.D. (Corpse on Delivery)?"

Done deal. Another shot at cadaver stardom.

When the corpse is a real mess and they can't convince a living actor to let them chop him up or turn him into charcoal, we see a creatively mutilated faux corpse. When that happens, I can't help but picture the workshop where it was created. I see it as a cluttered industrial space with body bits scattered everywhere. In the middle, three corpse geeks, who bear a striking resemblance to the cast of Myth Busters, are laboring over a body-shaped latex or resin casting: "Hit the right cheek with the blow torch again, but not too hard this time. And what color should we make the inside of the mouth where the teeth are bashed in? I vote for chalky black with red overtones!"

I also envision these ghoul specialists' backyards at home: the pleasant grassy areas feature numerous little fenced-in plots, like small gardens, where dead rabbits, goats, pigs and the occasional horse are rotting in the sun while their deterioration is being filmed by stop action cameras sequenced to take a shot every four hours—can't miss a moment of the fun, you know. A clip board at the foot of each of these dirt beds records the type of beetles, bugs, worms, wasps, ants that show up and when. I can see our geek coming home from work and rushing out to the backyard to see what kind of progress has been made towards complete defleshing in their absence, again giggling to themselves. It takes slightly sick minds to feed a slightly sick audience, which includes me.

Anyway, the next time you see Dr. Al Robbins (David Hall on CSI) or Ducky Mallard (David McCallum, NCIS who actually did four autopsies prepping for the role) or any of the other TV pathologists plying their grisly trade, think of the poor actor holding their breath while naked on the table. Or, if we're talking about a faux crispy critter, barbequed in some spectacular manner, think about the team that created it. It further underscores that even in this economy there are a helluva lot of different ways to make a living, if you just dig deep enough (double entendre intended).

PS
I wonder if there is a surplus yard full of phoney decomposed bodies and burn victims that have seen their moments of cinematic glory and retired? 'Wonder how much one would cost. Yet another artifact for my office. Cool!

PPS
Just in case you need to have an autopsy done, I ran across this valuable piece of information. Hey, you never know: Autopsy Services
21 April 2012 - Panhandling: the posers are ruining it!
I wish I had a dollar for every time I've reached into my pocket to hand a dollar to a panhandler. Most of them look as if they really need that dollar. However, 99 times out of 100 I don't let that bill leave my pocket. Why? Because like phony art, faked antiques and counterfeit stamps, it's now hard to tell the real down-and-out bum from the faux bum. And I hate being played for a sucker.

This afternoon, as we were on our way back from LA (again!), I spied a young couple sitting on the hood of a '70's era F-100 Ford pick-up. They were parked across from the main entrance to one of those mega truck stops that punctuate major desert highways in our part of the world. The nearly-the-size-of-Rhode-Island parking lot was fender-to-fender big rigs and tourista-mobiles loaded with gullible silver-haired travelers. It was panhandler's paradise. The couple was holding a hand-lettered sign that read "Need HELP for gas!!" (note: two exclamation marks meant they were in really deep do-do).

I slowed and started to think about the random dollar bills crunched up in my pocket and studied them, as I coasted in their direction. Hmmmm! Lucky for them they had a huge beach umbrella with them or they would have cooked in the sun. The foam pad they were sitting on, trimmed to fit their hood, was a lucky find too, so they didn't get uncomfortable. Or hurt the paint. Luckily, the pad went up the windshield, so they had a good backrest. The cynic-alarm in my head went off and I kept rolling. Although I've given plenty of money to homeless and down-on-their-luck folks (I'm a real sucker for that), I've been burned enough times that I put every one of them under my cynical-magnifying glass. Even so, I'm certain I often get taken.

My cynic training started decades ago, when I was still based in rural New Jersey. My work had me constantly transiting NYC visiting publishers or traipsing through Newark or La Guardia airports. I remember so clearly having an earnest-looking young man approach me as I parked my car at LGA. He had a mangled fan belt in his hand and wore a pained expression, "Excuse me sir, but I've been here all day because I broke my fan belt. They want eighteen bucks for a belt but I only have fifteen. Could you spot me the other three? If you do, just give me your name and address and I'll send it to you tonight after I get home?"

He looked and sounded like a nice guy, so I gave him the three bucks. I had plenty in my pocket and I walked away feeling as if I'd helped a fellow human being. He was still saying, "thank you, thank you, sir!" as I stepped into the elevator. Yessir I'd done my good deed for the day.

When I came back two days later and hit the parking lot, there was my buddy, still holding his frayed fan belt, shaking another sucker's hand and saying "thank you" with that same practiced, earnest voice. I walked up behind him and said, "Nice con job, buddy!" He turned around with a caught-in-the-cookie-jar face, and I went on my way. His actions changed my attitude about the down-and-out folks I see around me. A young man I ran into just south of Central Park in The City clinched my cynical outlook.

This was a bedraggled, slightly soiled kid I guessed at 19 or 20. He tried to make eye contact with me, as he asked for pocket change, but his eyes failed and trailed off to the side. I instantly sensed his vulnerability. One hand held a bare tin can and the other was thrust deep in the pocket of a worn overcoat twice his size.

To this day, when I see a homeless person, I can't help but wonder who they are and who they were. And how did they get into such a desperate predicament, which I recognize as being almost impossible to get out of without help. This time, rather than avoiding his gaze or stuffing bills in his cup, I said, "I'll tell you what: I'll give you ten bucks (this was in the early '70's when ten bucks was a lot of money), if you'll have a cup