No matter what charms Jenny may lay claim to,
her ability to dance is not one of them.
I'm not one to tell locker-room tales about my latest conquest, but I did get the opportunity to have a go at Jenny. I can't say it was truly an affair, because that would connote a longer-term relationship. Ours was more of a brief encounter, a time in which we happened to be passing through the same space at the same time. We held hands, we sauntered though the sunshine, we came to rest in the soft grass of a Minnesota afternoon. I can't say I know her well, but I do know her...
We met at the invitation of Dan Newmann, Jenny's current friend. They've been together since the 1940s, when Newmann first found her, a bleached, near-derelict. Her dress was torn, her color worn, but her basic health was good. Jenny came to live with Newmann and has stayed with him since.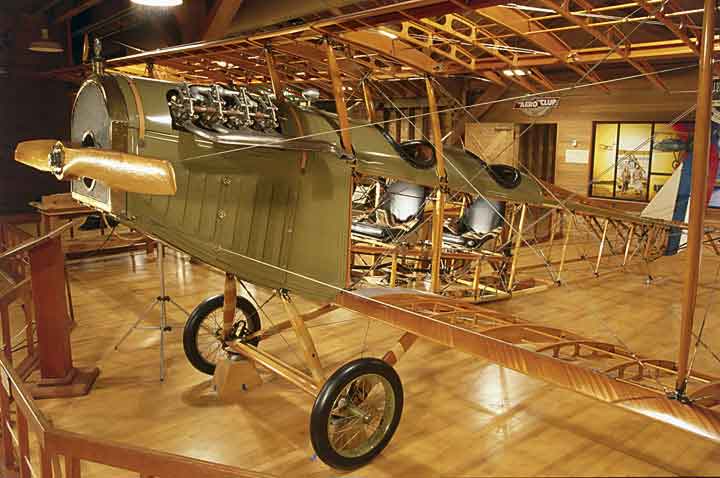 Isn't this a great shot? It's a little risque as it shows Jenny in her underwear, but what the hey. The airplane is in the Museum of Flight in Seattle and the photo appeared in Flight Journal and I stole it from master photog John Dibbs/The Plane Picture Co.
It wasn't until the 1960s that Newman got around to putting Jenny into the clinic and working to heal her ills and encourage her back into the element which she had known so well. Today, they think nothing of packing off towards Blakesburg, Iowa, for a weekend with the old gang. No matter where they go, they run into friends who have known Jenny far more intimately than even Dan Newmann. They knew her when the snow was blowing and the light was failing. They knew better, but they'd be damned if this load of mail would ride home in a baggage car. They knew her at her best... and her worst.
When Dan introduced me to Jenny, the spring grass was still short and the winter sun had yet to grow truly warm. Summer comes late in Minnesota. She was in one of Dan's hangars, spending some time with a few of her pals which have come under Newmann's protective wing. He cares for eight or nine airplanes, including an SM8 Stinson in Northwest colors, a Reliant, and a 100-percent original Buhl Pup. At one time, Jenny and the gang had gotten together as a sort of a museum, but it's not easy trying to put on a show for folks when you're so far off the beaten path. Nowadays, they clown around to entertain themselves, Dan Newmann, and any others who still remember the players in the aerial vaudeville shows of a much younger time.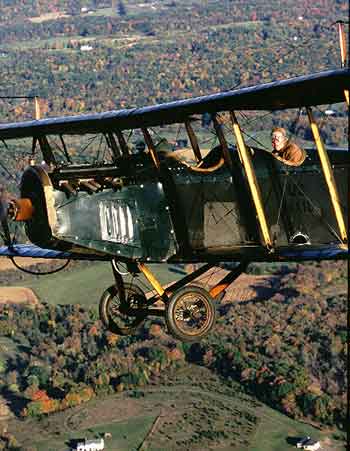 Old Rhinebeck's Jenny is the only Hisso-powered JN4D still flying.
Dan introduced me to her, doing his best to point out her finest points, ignoring her marks of age. He showed me the tailskid that actually steered, a little, anyway, with the rudder pedals. He pointed out the new exhaust valve assembly which he hoped would add 20 or 30 hours to the life span on the OX-5. He also pointed out that over 95 percent of Jenny was original, and some of the fittings still showed pitting from years left alone in the sun and rain of a dozen country airports. I quickly noticed the wooden landing gear, the shock-absorbing bungee cords wound around the lower end like garters. The fabric-covered spoked wheels were a curiosity; but of more immediate importance was that the wheels mounted no brakes, so you had to depend upon Jenny's good and gentle nature to stop you in good time. The tailskid tearing its way through the grass would help as well.
As I climbed into the cockpit, I was quick to notice that Jenny still enjoyed wearing the jewels and fashions she was born into. A horizontal nautical compass floated under the panel. A tiny crank on the right wall, it was explained to me, operated a booster spark coil, and you cranked it just after a helper gave Jenny's prop a swing, thereby shooting an extra bit of juice to the plugs. The system must work, because Jenny began to talk to us after only two tugs at her propeller. Her voice, coming as it did from the cylinders and stacks of a V-8, was husky but smooth, like one of those femme fatale French cabaret singers she had heard about back in '18. Even when goaded with the throttle, and she had every right to sound angry and raise her voice, only the rhythm and tenor changed; she still sang the same mellow, somehow sad, song.

GO TO PAGE TWO
For lots more pilot reports like this one go to PILOT REPORTS