---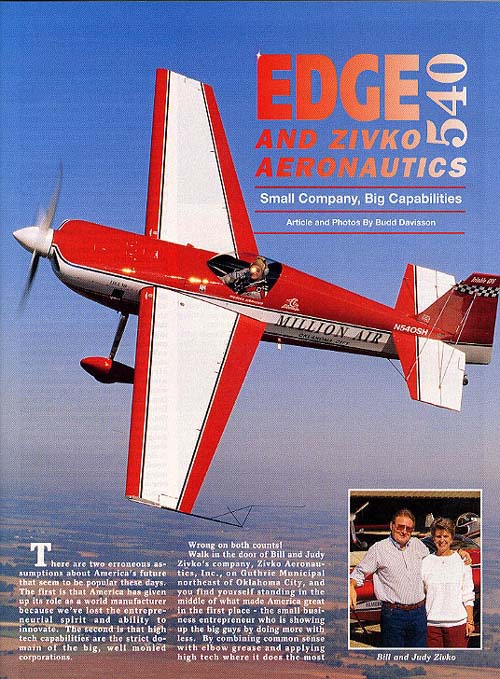 Zivko and the Edge 540: Home Grown Butt Kicker
There are two erroneous assumptions about America's future that seem to be popular these days. The first is that America has given up its role as a world manufacturer because we've lost the entrepenaurial spirit and ability to innovate. The second is that high tech capabilites are the strict domain of the big, well monied corporations.
Wrong on both counts!
Walk in the door of Bill and Judy Zivko's company, Zivko Aeronautics, Inc, on Guthrie Municipal northeast of Oklahoma City and you find yourself standing in the middle of what made America great in the first place; The small business entreprenaur who is showing up the big guys by doing more with less. By combining common sense with elbow grease and applying high tech where it does the most good, they are forging themselves into the type of company that is bound to survive the 90's while many larger, better funded companies may not. They are a small specialty house that produces not only the newest, hottest aerobatic monoplane in the business, but have developed a composite capability that is increasingly being called on by aerospace corporations to do the prototype work they can't do themselves economically.
Bill Zivko is an excellent study in how sport aviation technical fall-out is reaching past EAA-oriented markets to effect other parts of the economy, as well.
Bill is often mistaken as being extrmely quite. Maybe even a little shy. But what people don't realize is that he isn't just being quiet. He is listening. He is soaking up what's around him and learning. If he has one characteristic, that's probably the dominate one. He always appears to be learning.
Some time in the late 1960's Bill decided working for a Wisconsin FBO wasn't taking him where he wanted to go. An AI, he didn't want to look down the road at his future and see an endless string of annual inspections with an occassional radio installation here and there. He wanted something with more excitement and color.
He found it in Newton, Kansas with a guy named Jim Bede. At that time Bede was up to his neck in the famous BD-5 project and Zivko lent his talented hand in building up the mini-jets. The BD-5J. Since that day Zivko has never completely gotten away from the little jets. He worked with Bobby Bishop for years maintaining his airshow 5J and today still works with Leo Loudenslager on the Bud Lite Airforce's little kero-burner.
Bill wound up back in Wisconsin after the demise of the Bede project, but several years later received a phone call from another Bede alumnus, Burt Rutan, who asked Zivko to come work with him at Scaled Composites. They were just building up a head of steam to begin the Beech Starship project and Rutan needed people who knew how to get things done in a shop environment. Bill moved his family to the high desert of Mojave and he became shop manager for Scaled Composites. If he was looking for exciting projects, he was certainly in the right place.
Although Zivko's primary background had originally been in traditional aircraft materials, he was little by little moving deeper into the composites. By the time he left Scaled Composites in the mid 1980's he recognized the advantages of the materials and continued working with them in his own business.
Bill and Judy spent a number of years in the Oklahoma City area before deciding to relocate their shop into a brand new hangar/shop/office complex on the Guthrie airport. At that stage of the game they were already going in two directions at once, one of which came about from their friendship with the late Tom Jones, a well known aerobatic competitor and airshow pilot. It was through Jones they were exposed to the ever changing arena of unlimited aerobatic competition.
The high-G world of unlimited aerobatics was proving too much for the Stephens/Lazer type monoplane wings. Even though the wood wings used railroad-tie spars, they were delaminating and actually breaking. Even with all the mods worked into the wings by pilots such as Leo Loudenslager, the wing was still too marginal. It was a safety item they all worried about.
Besides being a safety item, getting wood of high enough quality and long enough to make the 24 foot spar wasn't easy and was becoming increasingly expensive.
Zivko looked at the wing and immediately saw an application for composites. He knew he could build a stronger, lighter wing and at the same time update the aerodynamics. The reason he had such confidence in himself was he had a cadre of friends, courtesy of his time with Scaled Composites and other similar projects, who were at the forefront of composites design and engineering.