Grassroots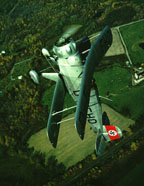 Budd Davisson, Plane and Pilot
---
Permanent Mergers
The music abruptly changed and I turned to look down the aisle. When I did, I swear I actually heard my breath catch in my throat. I had always known The Redhead was beautiful, but this time she was BEAUTIFUL! Knock down, yank-your-heart-out-and-stomp-on-it, beautiful.
"...and the bride wore a simple, but chic, barely off the shoulder full length white gown, tastefully adorned with lace across the front. Her full bodied hair was accented with a splash of white baby's breath blossoms curving up from one temple and her smile was of the traditional radiant variety..."
"...the groom wore a matre de's costume, polished Lucchese boots and a silly grin..."
Yessir, folks. We did it. She is now Misses Me and I am now Mr. Redhead. The Wedding was mercifully short, The Party, which was the real reason for the wedding in the first place, however, was not. More than that, it revealed a lot about aviation versus the real world.
The Redhead, AKA Marlene Davisson (Boy, is that ever weird sounding!), AKA Marlooney (she'll kill me when she reads this) and I have both done the wedding thing before. However, as with most folks, that first time we were barely grown-up children so our friends were the friends of youth. This time around, was different. This time we had a life time of friends who were every bit as important to us as family and we wanted them all there. Hence The Super Party.
There's a great line out of a Mel Gibson movie that sums it up : "Friends are at least as important as family because you pick your friends. You don't pick your family."
We put out the word and our friends came. The Long Distance Award went to Meynard from the Philippines but the Paxtons and Parrys from England weren't far behind. The I'll Be Damned If I'll Miss It Award, goes to Eric Madsen, who blasted through the lobby doors, looking as if he'd slept in a cement mixer, minutes before the flag went down: He had been in meetings in NYC and left that morning. The Gutsy Award goes to my niece Lisa who showed up with a cast on a recently shattered ankle and cradling Megan who was barely a month old. The I'm Glad I'm Alive For the Party Award went to Allan Steffey: A few months earlier he had bounced off a mountain in an N3N but he shuffled in under his own power with titanium holding his spinal column together.
The friendship borne emotion was overwhelming and the hug-meter was pegged all night.
An interesting phenomenon surfaced during the evening, however. Nearly all of my family was there and it suddenly dawned on me that they'd never seen me in my element. They've not even once seen me around an airplane, and, to my knowledge, my sisters don't even know I write this column.
The only thing my family knew was that just about every person in the room was "...a pilot." That was as far as it went. Oh yes, they knew Patty Wagstaff from her TV Commercials, but they couldn't know she and The Redhead were so simpatico I had to keep them apart for fear of losing control of the proceedings: Even I know having the police raid a wedding reception is bad form.
There were clearly two groups in attendance: Those who fly and those who don't. It was interesting watching the two groups stare at one another across an intangible no-man's land.
One of my brothers in-law commented "...you had to be a relative or a pilot to be invited." Although I'm certain he didn't mean it to be derogatory, I took it to mean that he saw pilots as being just that, pilots and nothing else.
I tried to explain that this was simply not the case, that every single one of those he saw as being limited to an aviation interest, was equally as passionate and knowledgeable about many, many other subjects. I tried to explain how aviation was just the common thread, not the defining trait. I heard or felt similar "...just a bunch of pilots" observations from others of my relatives. I don't think I ever got the message across.
My friends, staring back from the other side of the fence, were equally as quizzical. It was as if they could talk to, but not necessarily understand, my relatives. But then, what do they know? They're just pilots.
That evening, which stands out as the high point in a lifetime filled with marvelous, interesting, funny and over-achieving friends pointed out a basic fact about aviation versus the rest of the population: Those who live and breath aviation, especially edge of the envelope aviation as represented by this group, will always stand apart from those who don't. But, it's not the aviation interest that sets them apart. It is the level of passion and personality-defining interest in life in general, of which aviation is only one factor, which makes the difference.
There is no right or wrong here. There is, however, definitely a difference and a subliminal understanding of that difference is why birds of a feather flock together. That urge to be with others of your own kind is one of the ingredients that made "our" evening so special. We weren't with one group of family and another of friends...as far as we were concerned, both groups were family.