The differences in our thought patterns sometimes make it difficult for us to understand other people's fears and anxieties. The longer a pilot flies, the better he becomes at recognizing when a person needs kid glove treatment. A brand new pilot hasn't developed that understanding yet and, even if it's there, it is sometimes over-ridden by their excitement at showing what they've just learned. It's this urge to show what you know that sometimes leads to an uncomfortable flight for a passenger.

Going back to the passenger's lack of understanding: most fear or apprehension of any kind in any situation is based on a fear of the unknown. This is another way of saying they don't understand much of what is going on. If they did understand what was happening, it wouldn't be unknown and their apprehension wouldn't be as great. So, the best way to make them enjoy the flight is to work at eliminating the very cause of their difficulties, their lack of understanding. There are some things we can't cure, like a fear of heights, but we can definitely explain things in enough detail that they'll at least understand what's going on, and in so doing, fear it less.

It's not necessary a passenger know every little nit noid about the flight but a general understanding will go a long way and that can start with a gentle pre-flight briefing. You don't have to make it a formal or intense affair ("…and then I'll increase the back pressure and the nose will…". In fact, the more rigid you make it, the more likely it is that it'll raise apprehension, not lower it. Just make the flight and what they can expect part of your normal conversation as you get ready for the flight. Tell them a little about the airplane, "…this is a Cessna 172 and is probably the most common, most reliable airplane ever built. It is aviation's Chevy." Tell them a little about the operating environment, "…yeah, this is a busy airport, but I'll be talking to the tower all the time and they'll…." Try to give an image of what lies ahead without resorting to a chalkboard and bar charts.

To give a better understanding of the machine, have them peak over your shoulder while you're doing a preflight. This will do two things; first, it will help them understand how the airplane flies and second, it will help paint a picture of you as being more professional. Don't forget: most of those first passengers will be friends and family, none of whom will have ever seen you around an airplane. They only know you from their social contact with you and, for all you know, they think you're a flake. Doing a thorough pre-flight with them watching should strengthen your image, which in turn will make them more comfortable with the flight.


Be patient and explain everything to them while, at the same time, inspiring confidence because of your professionalism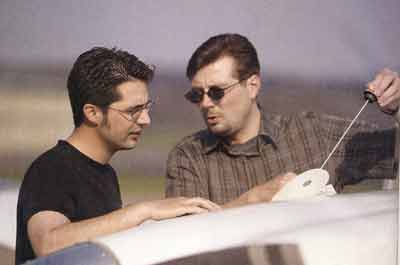 When you strap them in the airplane try to remember that even the panel of a lowly Cessna 152 can look complicated until it's explained. Rather than go through the flight with them totally in the dark, give them something to not only do, but also make them a part of the experience by letting them in on the secrets of the instrument panel. "This is the speedometer, this is a tachometer, and this tells us how high we are. The short hand is thousands the long hand is hundreds of feet…etc." It only takes about two minutes of explaining for the average airplane panel to suddenly become no more complicated than any luxury car on the market.
Incidentally, don't talk about a passenger getting sick unless they bring it up. Getting sick in an airplane is very much a mind game that can become self-fulfilling. If someone is convinced they are going to get sick, they probably will. The trick is to keep them diverted. If, before the flight, they make comments about getting sick, deflect them by saying something to the effect, "…oh, don't worry. That kind of thing virtually never happens. And it's largely in your mind, anyway."
It's your job as pilot to monitor your passenger's well being and, if he or she is looking a little queasy, give them something to do (let them fly), which will take their mind off their physical condition and make a bee-line for home without making it too obvious. Then direct all the air inlets in the cockpit directly on them and try to remember where you put the sick-sacs. This is why you keep one folded up in a shirt pocket where it can't be seen but you can get to it quickly. And don't think it's common for passengers to get sick, because it isn't. It's an extremely rare occurrence and it's up to you to make sure it doesn't happen.
For the entire flight, make it a regular procedure that before you do something, you give a short preamble as you talk your way through the sequence. It's not necessary to talk them through the start, however, unless they show an interest in the mechanics of the airplane. Once you're taxiing though, show them how moving the throttle affects the tachometer. At the same time, they'll hear how the noise changes.
While doing the run-up explain what you're doing. It'll add significantly to their comfort level if they see you are continually cross checking the machinery to make sure everything is okay. They have no way of judging whether you know what you're doing or not, but, if you at least look and act professional, they'll assume you're in control of the situation. Only you will know the truth.
Give a little explanation of the takeoff before you actually do it and don't try to narrate it as it happens. If you're a low-time pilot, you're going to be busy enough and don't need the distraction. Once you have more flight time you can give a blow-by-blow description during takeoff, but right now, we just want you to get off the ground safely and smoothly
Before you make your first turn climbing out of the pattern let them know it's coming. "I'm going to turn right and notice how, when the wing is down, you don't feel anything."
Don't do anything quickly or without telling them first. One of the real temptations as a young, new pilot is to show off what the airplane will do. Cranking the ailerons in for a snappy roll into a turn may make you feel good, but it doesn't do anything to raise the passenger's comfort level.
There's also the "watch this" syndrome where the two favorite activities are stalls and the ever-popular slight negative G push over. These are not passenger favorites. Ditto high G turns. Regardless of how much fun you're having, an unsuspecting passenger will definitely not going to be enjoying themselves. If you do things like this you deserve a good smack up along side the head for being such an uncaring dummy. Shame on you! They are up there at your invitation and they have placed their trust in you. Don't ruin that trust.
Treat the throttle as if it is connected directly to your passengers' nervous system because nothing will turn them white faster than an unannounced power cut will. It is surprising how few new passengers actually give any thought to engine reliability. In many cases the pilot is more concerned about the engine quitting than the passenger is. However, yank it closed just one time and you'll be amazed how quickly the specter of engine failure becomes very real to the rest of the folks in the airplane. In fact, of all the things that can catch them unawares and make them the most nervous, making a power change is it.
Even as you begin letting down into the pattern, let them know the power is coming back. Then, as you come up along side the runway on downwind, describe the pattern you will fly and talk about how the power is going to change several times. Then, even though you've given them plenty of warning, as you bring the power back, make sure you say, "…and now the power is coming off. Watch how we glide."
If there is a bottom line to all of this it is that we should act like sales people every minute we're in an airplane with passengers. Trying to prove what a superior pilot we are is ridiculous because non-pilots don't have the background necessary to judge if we are good or bad. All they know is whether they had fun or not. As sales people our goal should be to make them want to come back and sample our wares again. As they are walking away, we want to hear them say, "I can hardly wait to do this again."
BD